NASA 2024 NASA Conference— Exhibitors & Sponsors
Mark your calendars now to join us Thursday-Sunday, March 14-17, 2024 for the NASA 2024 NASA Conference at Oklahoma State University in Stillwater, Oklahoma.

#NASA2024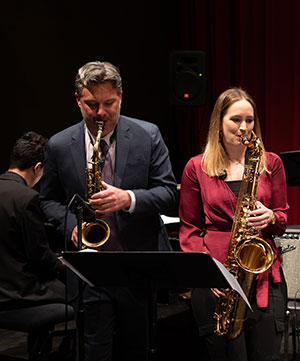 The North American Saxophone Alliance 2024 NASA Conference would not be possible with out the generous support of our sponsors, exhibitors, and advertisers. With nearly 1,000 saxophonist expected to attend this four-day event, it is a great opportunity for vendors to showcase their products to amateur and professional saxophonists from around North America. A limited number of Premium Sponsors will be available during the NASA 2024 NASA Conference. These sponsors will help support the prizes of the five competitions that are run during the conference and are a great way to support students' educational and performance achievements.
Premium Sponsors
Exhibitors
Exhibitor Details
Sponsors / Advertising
Exhibitor Schedule
Thursday, March 30 — LOAD-IN and SET-UP 2:00 PM - 5:00 PM
Friday, March 31 — SET-UP 8:00 AM - 9:30 AM
Exhibits OPEN 9:30 AM - 1:30 PM and 2:30 PM - 5:30 PM
Saturday, April 1 — Exhibits OPEN 9:30 AM - 1:30 PM and 2:30 PM - 5:30 PM
Sunday, April 2 — Exhibits OPEN 10:00 AM - 1:00 PM
LOAD-OUT 1:00 PM - 3:30 PM
Exhibitor Location
Thad Cochran Center — The University of Southern Mississippi
Conditions for All Exhibitors
All fees must be paid in full prior to the installation of any exhibit.
Each booth must be staffed at all times during open exhibit hours.
The main exhibit halls will be secured at the close of exhibit hours each day. During active exhibit hours, the exhibitors are responsible for securing and watching over their own exhibit spaces.
Completion and submission of exhibitor documents acknowledges that the Exhibitor, its officers, agents, employees, members, successors, and assigns, hereby release and hold harmless NASA, the University of Southern Mississippi, and their directors, officers, members, agents and employees from all claims, damages, liabilities, losses, and expenses (including attorney's fees), of any kind and nature whatsoever, arising from or related to Exhibitor's use of the facilities and presentation of Exhibitor's goods and services at the 2023 NASA Biennial Conference.
Shipping & Delivery
Materials may be scheduled for delivery prior to the conference between Thursday, March 16, 2023 to Wednesday, March 29, 2023.
Please note that deliveries that arrive prior to March 16, 2023 or after March 29, 2023 will not be accepted.
All materials received between March 16, 2023 and March 29, 2023 will be stored securely in a locked space on campus.
SHIPPING information:
Casey Taylor and Saxophone Conference
c/o University of Southern Mississippi
118 College Drive #5067
Hattiesburg, MS 39406
Cancellation Policy
If an exhibitor is unable to attend the conference, full refunds are available before March 2, 2023. Partial refunds will be considered on a case-by-case basis on or after March 2. No refunds will be issued after March 20, 2023. All cancellations need to be communicated to .
Online Payment
Exhibitors, sponsors, and advertisers who wish to pay online by credit card may do so by clicking the Pay Now button below. NOTE: Your online payment MUST be accompanied by the appropriate form from above. Please be sure to calculate your total on the appropriate form, make your payment online, then email your form(s) to . Whether you pay online or by check, your registration is not complete until we've received the form(s) and your payment.
#NASA2024