NASA 2022 Biennial Conference— Exhibitors & Sponsors
Mark your calendars now to join us Thursday-Sunday, March 10-13, 2022 for the NASA 2022 Biennial Conference at Oklahoma State University, Greenwood School of Music in Stillwater, Oklahoma.

#NASA2022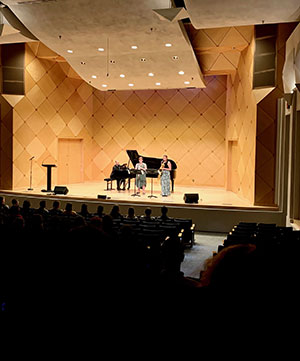 The North American Saxophone Alliance 2022 Biennial Conference would not be possible with out the generous support of our sponsors, exhibitors, and advertisers. With nearly 1,000 saxophonist expected to attend this four-day event, it is a great opportunity for vendors to showcase their products to amateur and professional saxophonists from around North America. A limited number of Premium Sponsors will be available during the NASA 2022 Biennial Conference. These sponsors will help support the prizes of the five competitions that are run during the conference and are a great way to support students' educational and performance achievements.
Premium Sponsors
Exhibitors
Exhibitor Location
School of Music — Arizona State University
Conditions for All Exhibitors
All fees must be paid in full prior to the installation of any exhibit.
Each booth must be staffed at all times during open exhibit hours.
The main exhibit halls will be secured at the close of exhibit hours each day. During active exhibit hours, the exhibitors are responsible for securing and watching over their own exhibit spaces.
Exhibitors will be limited to a maximum of 3 tables (with the exception of premium sponsors).
Completion and submission of exhibitor documents acknowledges that the Exhibitor, its officers, agents, employees, members, successors, and assigns, hereby release and hold harmless NASA, Arizona State University, and their directors, officers, members, agents and employees from all claims, damages, liabilities, losses, and expenses (including attorney's fees), of any kind and nature whatsoever, arising from or related to Exhibitor's use of the facilities and presentation of Exhibitor's goods and services at the 2020 NASA Biennial Conference.
Shipping & Delivery
The package should arrive during business hours — Monday - Friday, 9:00 a.m. - 12 p.m. and 1 p.m. - 5 p.m. Please have the delivery person call our front office at 480-965-3371. Someone from the School of Music office will meet them down at the loading dock.
Materials may be scheduled for delivery prior to the conference between February 20 and March 5, 2020. Please note that deliveries that arrive prior to February 20 or after March 5, 2020 will not be accepted.
All materials received between February 20 and March 5, 2020 will be stored securely in a locked space on campus.
SHIPPING information:
School of Music - Arizona State University
ATTN: NASA CONFERENCE
50 E Gammage Pkwy
Tempe, AZ 85281
Online Payment
Exhibitors, sponsors, and advertisers who wish to pay online by credit card may do so by clicking the Pay Now button below. NOTE: Your online payment MUST be accompanied by the appropriate form from above. Please be sure to calculate your total on the appropriate form, make your payment online, then either email your form(s) to . Whether you pay online or by check, your registration is not complete until we've received the form(s) and your payment.
#NASA2022