North American Saxophone Alliance 2022 Biennial Conference
Mark your calendars now to join us Thursday-Sunday, March 30 - April 2, 2023 for the NASA 2023 Biennial Conference at The University of Southern Mississippi in Hattiesburg, Mississippi.

#NASA2023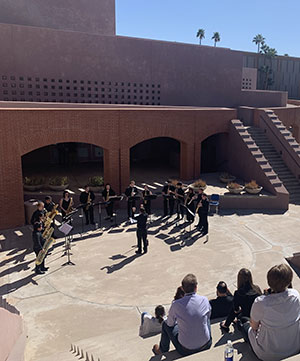 Biennial Conference Update
Dear NASA Membership,
We have made the difficult decision that the North American Saxophone Alliance Biennial Conference scheduled to be held at Oklahoma State University from March 10-13, 2022 will not take place as planned.
We did not arrive at this decision lightly and reviewed data points for numerous impactful considerations, including:
the health and safety of our membership and invested collaborators;
the financial impact of the conference;
member, collaborator, and vendor/exhibitor attendance; and
the time, dedication, and additional pandemic-inspired burdens of all those serving NASA, including the Program Committee, hosts, and other volunteer NASA members.
We appreciate that you may have questions, and we are working to have more information available soon, which we will share via the website, social media channels, and email. Those who have advanced in the NASA competitions and had anticipated live-round performances at the conference will receive communication in the coming days as well.
Finally, in recognition that many saxophonists renewed their membership in anticipation of the conference, all current (as of Jan 16, 2022) NASA memberships will be extended by one (1) year from their last renewal date.
We all look forward to the time when we can responsibly celebrate our beloved instrument together again.
Respectfully,
The North American Saxophone Alliance Executive Committee
PS — as of 01/21/2022, renewal dates have been updated as described above. If you have any questions, please contact us at .
---
North American Saxophone Alliance 2022 Biennial Conference
The University of Southern Mississippi
Hattiesburg, Mississippi
Thursday-Sunday, March 30 - April 2, 2023
Dannel Espinoza — Hosts
Please watch this page for additional information about the upcoming conference, including competitions, proposals, performers, guests, and the conference schedule.
NASA 2023 Biennial Conference Program Committee
Committee Chair: , University of Nevada Las Vegas
Andrew J. Allen, Georgia College
Nathan Bogert, Ball State University
Myles Boothroyd, University of Wisconsin-Stevens Point
Mia Gazley, Vancouver
Noah Getz, American University
Adrianne Honnold, Lewis University
Gabe Piqué, Baldwin Wallace University
Brandon Quarles, University of Georgia
Sarah Roberts, The University of Texas at Tyler
Adam Schroeder, University of Nevada Las Vegas
Gene Smith, GSO Jazz LLC
Alexa Tarantino, Jazz at Lincoln Center
Bobbi Thompson, The University of Western Ontario
Competitions
Click here for more information about the High School Solo, Quartet, and Collegiate Solo Competitions.
#NASA2023