2018 North American Saxophone Alliance Biennial Conference
Mark your calendars now to join us March 8-11, 2018 for the NASA 2018 Biennial Conference at University of Cincinnati College - Conservatory of Music in Cincinnati, Ohio.
James Bunte — Host
— Conference Program Committee Chair
— NASA Director of Marketing
#NASA2018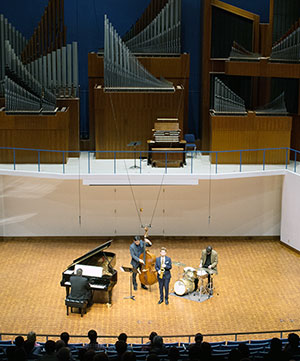 2018 North American Saxophone Alliance Biennial Conference
University of Cincinnati College - Conservatory of Music
Cincinnati, Ohio
March 8-11, 2018
James Bunte — Host
Please watch this page for information about the upcoming conference, including competitions, proposals, performers, guests, and the conference schedule.
NASA 2018 Biennial Conference Program Committee
Committee Chair: , University of Missouri
Competitions
Click here for more information about the High School Solo, Quartet, and Collegiate Solo Competitions.
Conference Registration
Registration for the conference will open on / about December 1st. Please check back here for registration links.
Conference registration includes access to all conference concerts, master classes, lectures, etc., on a FIRST COME FIRST SERVED BASIS.
Exhibiting and Advertising
The North American Saxophone Alliance 2018 Biennial Conference would not be possible with out the generous support of our sponsors, exhibitors, and advertisers. With nearly 1,000 saxophonist expected to attend this four-day event, it is a great opportunity for vendors to showcase their products to amateur and professional saxophonists from around North America. A limited number of Premium Sponsors will be available during the NASA 2018 Biennial Conference. These sponsors will help support the prizes of the five competitions that are run during the conference and are a great way to support students' educational and performance achievements. Please see our information on exhibitors and advertising for the NASA 2018 Biennial Conference.
#NASA2018