North American Saxophone Alliance 2020 Biennial Conference
Mark your calendars now to join us Friday-Monday, March 6-9, 2020 for the NASA 2020 Biennial Conference at Arizona State University in Tempe, Arizona.
— NASA Director of Marketing
#NASA2020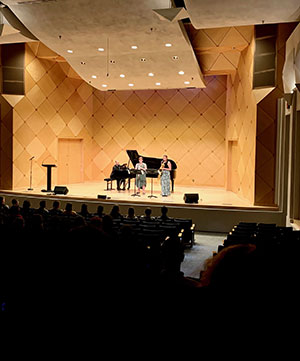 North American Saxophone Alliance 2020 Biennial Conference
Arizona State University
Tempe, Arizona
Friday-Monday, March 6-9, 2020

Please watch this page for additional information about the upcoming conference, including competitions, proposals, performers, guests, and the conference schedule.
NASA 2020 Biennial Conference Program Committee
Committee Chair: , Associate Professor of Music, Ohio Northern University
Roy Allen, Jr., Texas Woman's University / Brookhaven College
Dr. Pete Carney, State College of Florida
Dr. Shawna Pennock, Adjunct Professor of Classical Saxophone, University of Nevada, Las Vegas
Dr. Thomas Poole, Oklahoma State University
Dr. Heidi Radtke, Instructor of Saxophone, Butler University
Dr. Matthew Shevitz, College of DuPage
Dr. Gene Smith, GSO Jazz LLC
Dr. Mas Sugihara, Sam Houston State University
Jared Waters, Graduate Teaching Assistant, Arizona State University
Kristen Zelenak, Graduate Teaching Assistant, Arizona State University
2020 Biennial Conference Scavenger Hunt Prize Winners
Reserve Model Tenor Mouthpiece, courtesy of D'Addario — Jaden Brisco
Choice of reed and Légère T-shirt, courtesy of Légère — Mia Gazley
Ishimori Alto Saxophone Ligature, courtesy of Meridian Winds — Payton Kennemore
Claude Delangle Model Alto Mouthpiece, courtesy of Selmer — Laurette Roddin
Cryo4 Ligature and Ambipoly Reed, courtesy of Silverstein — Paul Lessard
Profile AP3 Alto Mouthpiece, courtesy of Vandoren — Greg Matusak
Soprano Venova and an Alto Venova, courtesy of Yamaha — Dannel Espinoza and Matt Escobedo
400 Series professional alto saxophone, courtesy of Buffet Crampon — Andrew Olivarez
Competitions
Click here for more information about the High School Solo, Quartet, and Collegiate Solo Competitions.
Conference Presenters & Schedule
The schedule for NASA 2020 Biennial Conference promises a rich variety of what our instrument has to offer. Click here for the conference schedule / list of presenters.
#NASA2020