2018 North American Saxophone Alliance Biennial Conference
Mark your calendars now to join us March 8-11, 2018 for the NASA 2018 Biennial Conference at University of Cincinnati College - Conservatory of Music in Cincinnati, Ohio.
James Bunte — Host
— Conference Program Committee Chair
— NASA Director of Marketing
#NASA2018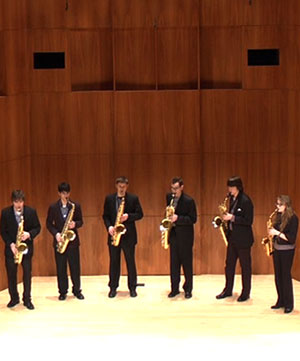 2018 North American Saxophone Alliance Biennial Conference
University of Cincinnati College - Conservatory of Music
Cincinnati, Ohio
March 8-11, 2018
James Bunte — Host
Please watch this page for information about the upcoming conference, including competitions, proposals, performers, guests, and the conference schedule.
NASA 2018 Biennial Conference Program Committee
Committee Chair: , University of Missouri
Competitions
Click here for more information about the High School Solo, Quartet, and Collegiate Solo Competitions.
NASA 2018 Biennial Conference Presentation Proposals Now Being Accepted
We're inviting all NASA members to submit a proposal to be a presenter at the NASA 2018 Biennial Conference. Click here and read the submission guidelines carefully. Then click on the link at the bottom of the page to fill out the online application. If you're not already logged in as a member, you'll be prompted to enter your user name (the email address you have on file in your membership profile) and password. If you haven't established a password or have forgotten your password, follow the instructions to either retrieve or establish a new password. The deadline to submit is Monday, October 23, 2017, but the sooner you send us your ideas the better! Questions? Email .
Conference Registration
Registration for the conference will open on / about December 1st. Please check back here for registration links.
Conference registration includes access to all conference concerts, master classes, lectures, etc., on a FIRST COME FIRST SERVED BASIS.
#NASA2018