NASA 2020 Biennial Conference Competitions
Mark your calendars now to join us Friday-Monday, March 6-9, 2020 for the NASA 2020 Biennial Conference at Arizona State University in Tempe, Arizona.
— NASA Director of Marketing
#NASA2020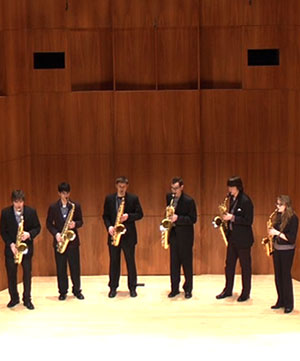 NASA 2020 Biennial Conference Competitions
Arizona State University
Arizona State University
March 4-9, 2020
— Competition Committee Chair
— Composition Competition Chair
All contestants (except for Composition Competition) must be current members of the North American Saxophone Alliance (NASA) as of March 8, 2020. Applicants for the Composition Competition do not have to be NASA members if they are not a saxophonist.
Composition Competition Winner
Kevin Alexander Day (b 1996) is the winner of the 2020 NASA Composition Competition with his composition Unquiet Waters.
He is winning the Grand Prize of $1000 and his piece will be performed by Nicki Roman — winner of the 2018 NASA Collegiate Solo Competition, soprano saxophonist in the Fuego Quartet, and Assistant Professor of Saxophone at the University of Wisconsin Milwaukee — at the 2020 Biennial Conference at Arizona State University.
Kevin Day is currently pursuing a Master of Music in Music Composition degree at the University of Georgia. He studies with composer Peter Van Zandt Lane and conductor Cynthia Johnston Turner.
Congratulations, Kevin!
High School Solo Competition Winners
1st Place — Sahil Mane
2nd Place — Austin Shilling
3rd Place — Thomas Tanner
Honorable Mention — Meagan Ballard
High School Jazz Competition Winners
1st Place — Andrew Gioannetti, Alto Saxophone, Tucson, AZ
2nd Place — Timothy Kohn, Alto Saxophone, Ann Arbor, MI
3rd Place — Ian Cruz, Tenor Saxophone, Las Vegas, NV
Collegiate Solo Competition Winners
1st Place — Salvador Flores
2nd Place — Julian Velasco
3rd Place — Landon Chang
Collegiate Jazz Competition Winners
1st Place — Dan Hitchcock, Tenor Saxophone, University of North Carolina-Greensboro
2nd Place — Rico Jones, Tenor Saxophone Manhattan School of Music
3rd Place — Alain Sullivan, Tenor Saxophone, University of Michigan
Quartet Competition Winners
1st Place — Versa Quartet
2nd Place — Fuse
3rd Place — helios_
Repertoire Lists
If you have any questions regarding this process, please contact regarding the performance competitions or for the composition competition. Semi-Finalists and Finalists may view the repertoire lists for Hannah Creviston and Casey Dierlam Tse. Any additional choice repertoire involving a staff pianist will require approval from .
2020 NASA Competition Semifinalists
Jazz Competition
Gus Arnold, Alto Saxophone
Kirby Davis, Tenor Saxophone
Brandon Douthitt, Alto Saxophone
Peter Fucinaro, Tenor Saxophone
Will Glausi, Alto Saxophone
Patrick Hill, Alto Saxophone
Dan Hitchcock, Tenor Saxophone
Rico Jones, Tenor Saxophone
William Nathman, Tenor Saxophone
Alain Sullivan, Tenor Saxophone
Collegiate Solo Competition
Allardyce, Jeffrey
Augustine, Scott
Bayard, David
Brown, Jamal
Chang, Landon
Connor, Joseph
Flores, Salvador
Forbes, Christopher
Ford, Brant
Fox, Matthew
Hart, Jonathan
Hong, Dylan
Kachur, Brian
Kleutgens, Philip
Koester, Matthew
Lilley, Charles
Miller, Sean
Schreck, David
Singh, Uday
Stine II, Robert
Velasco, Julian
Welp, Lindsey
Young, Tyler
Zhang, Jichen
Zheng, Eric
High School Solo Competition
Ballard, Meagan
Costello, Zachary
Hrinda, Matthew
Kato, Kyle
Leung, Darryl
Mane, Sahil
Mazumder, Arnav
Shilling, Austin
Simpson, Taylor
Thomas, Tanner
Viramontes, Josef
Wang, James
Quartet Competition
Cerulean Quartet — University of Michigan
Clap7 — Michigan State University
Codex Quartet — University of Oklahoma
Fuse — Northwestern University
Group 2 — Michigan State University
helíos_ — Arizona State University
Helix Saxophone Quartet — Youngstown State University
Kairos Quartet — Central Michigan University
Kefi Quartet — Central Michigan University
Ma'at Quartet — Hartt School of Music
Pyrrhic Quartet — University of Missouri - Kansas City
Ragusa Quartet — Florida State University
Saros Quartet — University of Oklahoma
Scio Quartet — Eastman School of Music
Soma Quartet — Indiana University
Sycamore Quartet — Michigan State University
Telos Quartet — Eastman School of Music
Versa Quartet — University of Illinois
Wisteria — Northwestern University
Xenon Quartet — University of Oklahoma
Deadlines, Guidelines, and Event Dates
#NASA2020