2018 North American Saxophone Alliance Biennial Conference Competitions
Mark your calendars now to join us March 8-11, 2018 for the NASA 2018 Biennial Conference at University of Cincinnati College - Conservatory of Music in Cincinnati, Ohio.
James Bunte — Host
— Conference Program Committee Chair
— NASA Director of Marketing
#NASA2018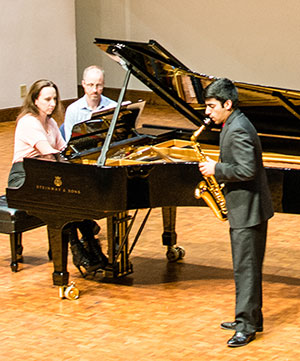 2018 North American Saxophone Alliance Biennial Conference Competitions
University of Cincinnati College - Conservatory of Music
University of Cincinnati College - Conservatory of Music / Northern Kentucky University
March 6-11, 2018
Paul Forsyth — Competition Committee Chair
Chris Creviston — Composition Competition Chair
2018 NASA High School Solo Competition, March 10, 2018
2018 NASA High School Jazz Competition, March 10, 2018
2018 NASA Quartet Competition, March 6-8, 2018
2018 NASA Collegiate Solo Competition, March 7-8, 2018
2018 NASA Collegiate Jazz Competition, March 7-10, 2018
All contestants* must be current members of the North American Saxophone Alliance (NASA) as of March 6, 2018. Contestants who are not current members of NASA must join online. Members whose memberships will expire prior to March 6, 2018 must renew their membership in order to be eligible.
You may read guidelines for the various competitions at https://app.getacceptd.com/nasa. Once you have finished reading the guidelines and verified your membership* will not expire prior to March 8, 2018 (or joined if you were not already a member), please go to https://app.getacceptd.com/nasa to begin your application.
If you have any questions regarding this process, please contact regarding the performance competitions or for the composition competition.
Deadlines and Guidelines
Applicants for the Composition Competition do not have to be NASA members.
#NASA2018