The Saxophone Symposium
The Saxophone Symposium is a scholarly, peer-reviewed journal devoted solely to the saxophone. A panel of professional performers, scholars, and pedagogues of the saxophone review all articles submitted for publication. Original, unpublished, research-based submissions in any category are welcome, including saxophone history, literature, pedagogy, jazz studies, contemporary practices, and interdisciplinary areas. Submitting materials for review, such as recordings, books, music, pedagogical materials, and other forms of media pertaining to the saxophone is also encouraged.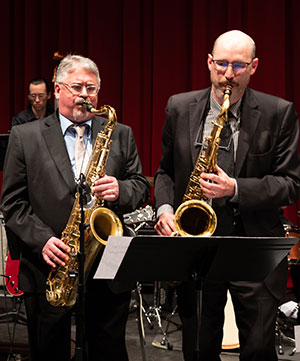 Current Issue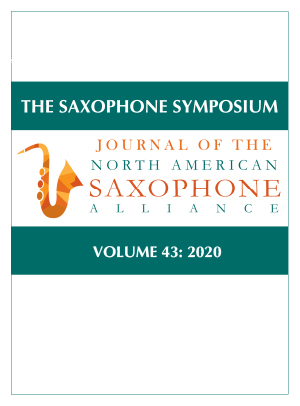 Volume 43 (Members Only) (53 MB) — Click here for a preview of this issue.
Articles

The Role of Peter Clinch and Clive Amadio in the Creation and Dissemination of Original Concert Saxophone Repertoire in Australia, by Nessyah Buder Gallagher
Lingual Exposé: An Ultrasonographic Observation of Saxophonists' Tongue Positions While Producing Front F Pitch Bends, by Ryan C. LeMoine
Eugene Coffin: The Making of a Nineteenth-Century Saxophonist, by Thomas Smialek and L. A. Logrande
Eric Wubbels: A Biographical Sketch and Analysis of This is This is This is for two Alto Saxophones and Piano, by Matthew Younglove
The Nineteenth-Century Brussels Saxophone School, by Kurt Bertels and Kristin Van den Buys
The Raschèrian Approach: Recontextualizing the Saxophone's Upper Register, by Andrew R. Steinberg

Reviews

Admiral Launch Duo, Launch, by Andrew J. Allen
Mark Watkins, From the Inside Out: An In-Depth Resource for the Development of Saxophone Sound, by Andrew J. Allen
Matthew Tracey and Yu-Ling Chen, Fantasy Pieces: The Music of Robert Schumann, by James Kalyn
Dave Camwell, Second Wind, by Stephen Fischer
Capitol Quartet with Hannah Creviston and Jun Okada, Mark Lanz Weiser: music for saxophone, by Julia Nolan
Manuscripts
Manuscripts should be submitted to the editor via email at the address listed below. Include a cover letter, which identifies yourself, shows the manuscript title, and certifies the manuscript as your own original work. The Saxophone Symposium will not consider any manuscripts that have been submitted simultaneously to another journal or that have been previously published elsewhere. Please note that submission length is limited to 8,000 words, inclusive of endnotes. In order to facilitate blind review, please remove your name, institutional affiliation, and any other identifying materials from the submitted paper.
Manuscripts should conform to the Chicago Manual of Style, 17th Edition. In addition to Chicago Manual requirements, authors must include an abstract (maximum length: 250 words) and up to five keywords describing the essential topic and content of the manuscript. Authors are responsible for obtaining permission for reproduction of musical examples from music publishers. Where appropriate, authors will be asked to provide proof of permissions from the appropriate authorities.
Please submit any questions about the review process, publication, and other concerns directly .
When submitting a manuscript, please include:
A cover letter (including your name, the manuscript title, and a declaration of the originality of the manuscript)
One copy of the manuscript with identifying information removed (your name, institutional affiliation, or any other identifying information should be removed before submission), in .doc or .docx format. Please use one-inch margins, double-spaced text, endnote citations, and Times New Roman font throughout.
Attachment files for tables, figures, and musical examples (if applicable)
Documentation of permissions for reproduction of musical examples from music publishers (if applicable)
Authors of accepted manuscripts will also be required to submit a brief biography (maximum length: 250 words — please do not send unless requested)
Submitting Materials for Review Consideration
If you would like to have a published review of your CD, book, or other materials in the next Symposium, please adhere to the following guidelines for submission:
Send an initial email to the Coordinating Editor of Reviews, , to indicate that you will be mailing materials for review and to request the appropriate mailing address.
In your package, include:

A cover letter (including your name, email address, a statement indicating that you would like these materials reviewed for publication in The Saxophone Symposium, and a description of the material(s) for review)
One copy of the material(s) for review
You will receive a confirmation of receipt via the email address you provide. Please email the Coordinating Editor for Reviews if you do not receive a confirmation of receipt within 2 weeks of mailing.
NOTE: We have a team of pre-selected writers for reviewing materials, and thus The Saxophone Symposium does not accept unsolicited reviews.
In order to be considered for publication in the 2021 volume, manuscripts are due by December 15, 2021. Materials for review are due by October 15, 2021.
Advertising
Questions about advertising in The Saxophone Symposium should be directed to Nathan Mertens, NASA Director of Marketing at .
Saxophone Symposium 2020 Advertising Form (Due May 16, 2021)
Back Issues
Click here to purchase back issues of The Saxophone Symposium.
Corrections
Click here for corrections from past issues of The Saxophone Symposium.