Honorary Life Members
Honorary Life Membership is a special membership that may be extended to individuals of distinction who have made outstanding contributions to the areas of saxophone performance, pedagogy, scholarship, and / or repertoire. Any voting member of the Alliance may nominate an individual by submitting a proposal to the President in writing. Upon majority approval of the Executive Committee, a nominee shall be placed before the general membership for election. The nominee shall be elected Honorary Life membership upon receiving a two-thirds vote of the voting members in a ballot election.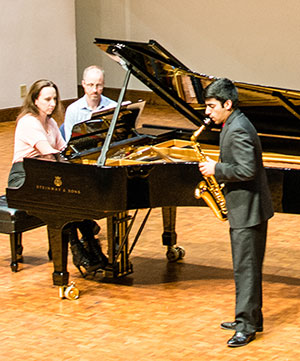 Click on any name to jump straight to their profile.
Jamey Aebersold
Honorary Life Member Since September 2008
Jamey Aebersold was born July 21, 1939, in New Albany, Indiana. He attended college at Indiana University and graduated in 1962 with a Masters Degree in Saxophone. He was awarded an Honorary Doctorate of Music by Indiana University in 1992. He also plays piano, bass and banjo.
In 1989, the International Association of Jazz Educators inducted Jamey into their Hall of Fame at the San Diego convention. With this award, Jamey joins other jazz luminaries such as Count Basie, Duke Ellington, Charlie Parker, Louis Armstrong and others.
Jamey is a internationally-known saxophonist and authority on jazz education and improvisation, and has developed a series of Play-A-Longs (book and cd sets (now numbering almost 130 volumes) as well as various other supplemental aids for the development of improvisational skills. The Aebersold book and recording sets allow a musician the opportunity to practice and improvise with well-known jazz personalities at home as well as in the classroom. The recordings employ some of the best jazz musicians in the world. This concept has been responsible for changing the practice habits of thousands of musicians around the world.
Jamey was one of the first to encourage small group classes which concentrate on jazz improvisation, and he is the director of the
Summer Jazz Workshops
which now have 40+ years on record. Jamey feels that improvisation is something all people can do — and his clinics and lectures concentrate on demonstrating how the creative and spontaneous nature of each person can be brought to light.
These week-long
Summer Jazz Workshops
are having a profound effect on musical communities around the world. The Workshops have traveled to Australia, New Zealand, Germany, England, Scotland, Denmark and Canada. Every summer there are at least two week-long Workshops in the U.S. These camps employ many of the finest player/teachers in jazz and are open to any serious jazz student regardless of ability or age.
In 2007, Jamey was awarded the Indiana Governor's Arts Award by Mitch Daniels, the Governor of Indiana.
On October 4, 1987, CBS' "Sunday Morning" with Charles Kuralt and Billie Taylor featured Jamey with the Summer Jazz Workshops in an exciting jazz educational segment.
Jamey has taught at three colleges and universities in the Louisville, Kentucky area and has made guest appearances in dozens of cities around the world. While conducting a jazz clinic in Brazil he produced a 110-minute DVD/video appropriately titled
"Anyone Can Improvise"
which has become a best-seller.
Jamey's hobby is listening to jazz, especially new young players. He also enjoys playing basketball (he has hit 50 free throws in a row!) and is very much interested in Metaphysics and spiritual pursuits as they apply to the growth of the individual. In December 2004, the Jazz Midwest Clinic bestowed upon Jamey the "Medal of Honor" in Jazz Education.
Jamey has been a driving force in America's native art form, Jazz, and continues to kindle the fires of musical imagination in those with whom he comes in contact.
Kenneth M. Fischer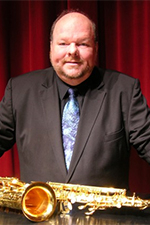 Kenneth Fischer, Professor of Saxophone at the University of Georgia School of Music (USA), was awarded the Doctor of Music Degree With Distinction in Saxophone Performance from Indiana University. His teachers included Dr. Eugene Rousseau and Dr. Larry Teal. Dr. Fischer appeared as clinician, soloist, and chamber musician throughout the United States, Canada, Germany, France, Japan, Italy, and Spain and performed as a soloist at numerous meetings of the World Saxophone Congress and the North American Saxophone Alliance. In 1985 he presented a recital of music for the soprano saxophone at the Eighth International Saxophone Symposium sponsored by the United States Navy Band, Washington, D.C.
Many composers throughout the United States have dedicated works to Kenneth Fischer. Among these are Shaking The Pumpkin by Frederick Fox and Concerto da Camera by Fisher Tull (compositions commissioned through a Consortium Commissioning Grant awarded by the National Endowment for the Arts), Declarations for Soprano Saxophone and Piano by William Davis (World Premiere Performance at the 1998 Biennial National Conference of the North American Saxophone Alliance), and New World Rising for Saxophone Quartet by Lewis Nielson (World Premiere Performance at the XIth World Saxophone Congress, Valencia, Spain).
In 1987, Dr. Fischer was awarded a Soloist Recording Grant from the National Endowment for the Arts for the production of a digital compact disc recording of original works for the saxophone. This recording was released by ACA Digital Recordings. His second CD, Surrealistic Portraiture, was released through ACA in 2001. His third CD, Essentials was released in 2010.
During November of 1994 Fischerrepresented the United States as a member of the jury of the First Adolphe Sax International Saxophone Competition in Dinant, Belgium. He received an invitation to be among the Comité d'Honneur for the Concours International Jean-Marie Londeix, held September 9-15, 1996. Several of Fischer's students won or placed in both national and international competitions, including the Music Teachers National Association, 1995 Geneva Concours, and the Second Adolphe Sax International Saxophone Competition. In addition, many of his pupils are presently teaching at colleges and universities throughout the United States.
During April of 1989, Dr. Fischer presented a lecture-recital at the Etats Généraux Mondiaux du Saxophone, celebrating the 150th anniversary of the invention of the saxophone held in Angers, France. In April of 1992, he was invited to present the world premiere performance of the Concerto for Soprano Saxophone and Wind Orchestra by Robert Linn at the National Conference of the Music Educators National Conference (MENC), held in New Orleans, Louisiana (USA). Dr. Fischer also presented the European Premiere of this Concerto at the Xlth World Saxophone Congress, Valencia, Spain.
Kenneth Fischer served both the Comité International du Saxophone(C.I.S.) and the North Arnerican Saxophone Alliance in the capacity of President. Besides teaching at the University of Georgia, he served as Guest Professor of Saxophone at the Indiana University School of Music. Dr. Fischer wrote a regular column entitled "Saxophone Performance Techniques" for the publication The Saxophone Journal. He is recorded on the Educational Music Service, Coronet Records, and ACA Digital Recording labels. Kenneth Fischer was a Yamaha Performing Artist.
Bio adapted from MulesRasch
Harry R. Gee
Frederick Hemke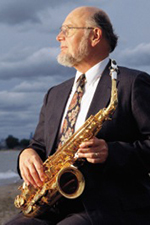 Dr. Frederick L. Hemke is the Louis and Elsie Snydacker Eckstein Emeritus Professor of Music in the Bienen School of Music, at Northwestern University, Evanston, Illinois. Dr. Hemke holds a Bachelor of Science degree from the University of Wisconsin, Milwaukee, a Master of Music degree from the Eastman School of Music and the Doctor of Musical Arts degree from the University of Wisconsin, Madison. He also is the first American to win a Premier Prix in Saxophone, from the Conservatoire National Supérieur de Musique, Paris in 1955, where he was a student of the eminent saxophonist and pedagogue, Marcel Mule.
Dr. Hemke is internationally recognized as an adjudicator, a master teacher, and a concert soloist. He led the Northwestern Saxophone Quartet on a three-month Cultural Exchange tour to the Far East for the United States Department of State in 1965. As an active recitalist and performer with orchestras and wind ensembles worldwide. Among others, he has recorded with the Chicago Symphony Orchestra, the Kronos String Quartet, the Stockholm Philharmonic, the Japan Radio Orchestra, the Korea Philharmonic Orchestra, the New Zealand National Symphony, The Rochester Philharmonic Orchestra, the Eastman Wind Ensemble, the Northwestern University Wind Ensemble, the University of Michigan Wind Ensemble, the University of Wisconsin Wind Ensemble, the Chicago Contemporary Chamber Players and the New Haven Symphony Orchestra. His latest three CD recordings Fascinating Rhythm for Saxophone and String Quintet. Simple Gifts for Saxophone and Organ and The American Saxophonist for Saxophone and Piano are issued on the EnF label.
He is an editor of music for saxophone solos and ensembles, author of many articles and educational materials. Dr. Hemke serves as a consultant to the Rico Corporation, the Conn-Selmer Corporation, and the Southern Music Company. Among other teaching and performance awards, he is the recipient of the Kappa Kappa Psi Distinguished Service to Music Award, Distinguished Service Award from the University of Wisconsin-Milwaukee, the Selmer Paris Lifetime Achievement Award and is an Honorary Alumnus of Augustana College. He has taught Master Classes in Saxophone Chamber Music Performance at Olavsfestdage in Trondheim, Norway. He presently teaches and coaches each summer at the Frederick L. Hemke Saxophone Institute at Snow Pond, The National Music Camp in Sydney, Maine.
Dr. Hemke is a consultant and Artist Representative for the Conn/Selmer Corporation and the D'Addario Corporation. Among other publications, Dr. Hemke is listed in Who's Who in America, International Who's Who, Who's Who in Music, the New Grove Dictionary of Music and Musicians, Baker's Biographical Dictionary of Music and Musicians, and the Encyclopédie de la Musique.
His students are to be found teaching and performing in major positions throughout the world.
James Houlik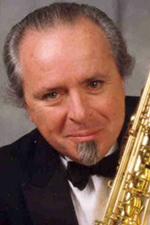 James Houlik is the leading performer on his instrument in the world. His pioneering efforts on behalf of the tenor saxophone have resulted in the composition of more than eighty-five new concert works for the instrument, and important performances around the world. From the East Room of the White House, to solo appearances with orchestras in London, Prague, Istanbul, Berlin, Chicago, Phoenix, and New York, to recitals in the music capitals of the world, James Houlik has redefined the role of the tenor saxophone. He has worked closely with many composers to foster the development of a repertoire for his previously neglected instrument. Among the more than 85 pieces composed for are concerti by Robert Ward, Morton Gould, David Ott, Sherwood Shaffer, Eric Ewazen, Walter S. Hartley, Russell Peck, Paul Harvey, Vache Sharafran, as well as dozens with band, piano, and in chamber settings.
Through the years, James Houlik has appeared in such major venues as Carnegie Hall, Lincoln Center, Town Hall in Toronto, The Smithsonian Institution, and London's Barbican. He regularly visits university campuses throughout the United States as a performer and as a teacher of clinics and master classes. His concerto performances have included those with the American Symphony Orchestra, the Grant Park Symphony, the London Symphony Orchestra, the Phoenix Symphony, the West Virginia Symphony, the San Remo Orchestra (Italy), the Istanbul Philharmonic, the North Carolina Symphony, the Chamber Orchestra of Milan, the New Art Philharmonic of Pretoria, South Africa, the Czech Philharmonic Chamber Orchestra, the United States Navy Band, to mention a few.
With a combination of landmark performances and tireless efforts to build a repertoire for his instrument, Houlik has taken the tenor saxophone to unimagined heights. Moreover, audiences and critics alike have celebrated the remarkable artistic achievements which have placed James Houlik among the leading saxophonists of our time: "Houlik is a genuinely brilliant player" —
New York Magazine
.
James Houlik is Professor of Saxophone at the Duquesne University Mary Pappert School of Music. He is a Yamaha artist, performing on the Yamaha Custom EX tenor saxophone, a James Houlik mouthpiece, and Alexander Superial D.C. reeds.
Cecil Leeson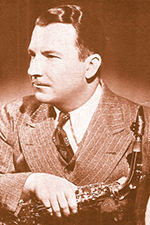 "Cecil Leeson, a musician and teacher who was widely credited with establishing the saxophone as a legitimate concert instrument, died Monday. He was 86 years old."
In 1937, Mr. Leeson was the first saxophonist to play at Town Hall in New York City. He was also one of the first saxophonists to appear as a soloist with major American symphony orchestras. More than 50 works for saxophone were written for him by composers like Leon Stein, Edvard Moritz, Paul Creston and Garland Anderson.
New York Times obituary originally published April 20, 1989
Thomas Liley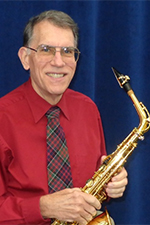 Honorary Life Member Since March 2014
Thomas Liley, who passed away on January 22nd, 2013, performed throughout the United States and in Canada, China, Eastern Europe, and Thailand in solo and chamber music recitals and as a soloist with well-known conductors such as Karel Husa, Sir Vivian Dunn, David Gregory, and James Barnes. Performances for the Yamaha Corporation and on his recordings for Delta Music and the Educational Music Service have included works written specifically for him by Claude Baker, James Barnes, David DeBoor Canfield, William Davis, and Frederick Fox, as well as standard works for saxophone. In 2007 Liley presented master classes and recitals at the Sichuan Conservatory of Music in Chengdu, China, where he returned in November 2011. In July, he returned to Hong Kong as a faculty member for the Hong Kong International Saxophone Symposium.
A charter member of the World Saxophone Congress, Liley served on the Comité International de Saxophone. He had long been involved with the North American Saxophone Alliance as a member of the Executive Board, serving as Director of Scholarly Publications. Articles and reviews by and about Liley have appeared in The Saxophone Symposium, The Saxophone Journal, Clarinet and Saxophone Society of Great Britain, The Instrumentalist, Bandworld, and various state music educators' magazines. Named "the acknowledged scholar of the saxophone" in England and "the saxophone encyclopedia" in China, he co-authored the highly acclaimed book The Cambridge Companion to the Saxophone, published by Cambridge University Press, authored A Brief History of the World Saxophone Congress, and edited the biography Larry Teal: There Will Never Be Another You. His most recent book, Eugene Rousseau: With Casual Brilliance, was published in 2011.
As a member of the U. S. Navy Band in Washington, DC, Liley toured the country and performed for dignitaries at the White House. He was awarded the degree of Doctor of Music in Saxophone with Distinction by Indiana University, where he studied with the internationally renowned virtuoso Eugene Rousseau. Liley has been Guest Professor of Saxophone at Indiana University, the University of Minnesota, Kansas State University, and the University of Iowa. He was a Professor of Music at Joliet Junior College in Illinois and a faculty member of the Shell Lake Arts Center in Wisconsin.
Jean-Marie Londeix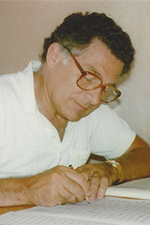 Honorary Life Member Since March 2010
Having given more than 600 concerts throughout the world, produced 200 works of music, most of which were written for him; realized 85 premiers, first auditions and re-creations; recorded 12 LPs and 10 CDs; having formed at the Conservatory of Bordeaux more than one-hundred highly skilled saxophonists, and, having published at least forty instructive works translated into several languages; Jean-Marie Londeix, considered by Edison Denisov as " un des plus grands musiciens de notre temps" ( "one of the greatest musicians of our time") and by the Festival 14 of Amsterdam as "A Living Legend"; Jean-Marie Londeix continues to work at making the saxophone a vital concert instrument deserving of the highest musical achievements and satisfaction.
Steven Mauk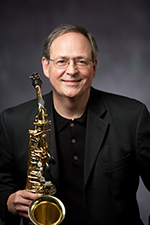 Honorary Life Member Since May 2012
Dr. Steven Mauk has served as Professor of Saxophone in the School of Music at Ithaca College since 1975. He has presented numerous solo, chamber music, and concerto performances in such international locales as the United Kingdom, China, Germany, France, the Netherlands, Japan, Australia, Canada, Russia, Italy, Belgium, Luxembourg, Croatia, Poland, and Slovenia. His performances in the US have included those in New York City, Los Angeles, St. Louis, Atlanta, Boston, San Francisco, Washington, Cleveland, and Chicago. Mauk has given three recitals at Weil Hall (formerly Carnegie Recital Hall), a concerto presentation at Alice Tully Hall (NYC), four concerto performances with the United States Navy in Washington, DC, and concerto presentations in Russia and China.
One of the foremost authorities on the soprano saxophone, Mauk is often invited to present lectures, recitals, and articles dealing with this member of the saxophone family. He is a founding member of the chamber groups Empire Saxophone Quartet, Troica, Remeleixo, and Tango de Cámara. Thirty works have been dedicated to him by such composers as Dana Wilson, Graham Fitkin, David Kechley, Meyer Kupferman, Lawrence Weiner, Marc Satterwhite, Gregory Woodward, Peter Rothbart, and David Deason.
Mauk has recorded 22 albums, written over 100 articles, and authored four books. The latter includes Saxophone Warm- Ups (Dorn Publications), A Practical Approach to Playing the Saxophone (Lyceum Music), as well as Medici Masterworks for Alto Saxophone, Vol. II, and Medici Masterworks for Tenor Saxophone, Vol. II (Medici Music Press). He is also a contributing author to the recently published Vandoren Etude and Exercise Book for Saxophone (Vandoren). Mauk is an artist/clinician for both Selmer and Vandoren, and presents numerous sessions dealing with saxophone performance and pedagogy. In the US he has presented master classes at many major universities, including Indiana University, Michigan State University, University of Illinois, the New England Conservatory, Cincinnati Conservatory, North Texas University, Bowling Green State University and the Oberlin Conservatory of Music. His European classes have been presented in cities including London, Glasgow, Edinburgh, Amsterdam, Luxembourg, Pesaro (Italy), Zagreb (Croatia), Ljubljana (Slovenia), Moscow, and Beijing.
As an active member of the North American Saxophone Alliance, Mauk has held the offices of President and Director of Scholarly Publications. In 2012, he was elected an Honorary Life Member, the highest honor bestowed by this professional organization. He has received a Dana Teaching Fellowship and a Dana Research Fellowship at Ithaca College for his excellence in teaching and research, as well as an Ithaca College President's Recognition Award. Mauk was the recipient of the 1995-98 National Artist Award from the Phi Kappa Phi Honor Society and received Ithaca College's Excellence in Teaching Award for 2001-2002.
Patrick Meighan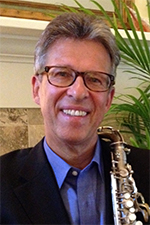 Patrick Meighan, the Albert N. Tipton Professor of Music at The Florida State University College of Music, was appointed the university's first artist-teacher of saxophone in 1974. Prior to joining the music faculty at Florida State, he was awarded 2nd place in the 1974 Kingsport Symphony Orchestra National Solo Competition. A native of Cleveland, Ohio, Mr. Meighan has concertized extensively as a soloist and ensemble recitalist, having appeared with orchestras, at music festivals, and on radio and television in Australia, Albania, Colombia, Croatia, Scotland, Germany, Japan, Kosovo, Macedonia, Peru, Poland, Puerto Rico, and Switzerland. He has been described in Musical America as ". . . most exceptional, with an otherworldly tone and fluid technique . . .", in The Western Australian as "a musician to the fingertips . . . a golden toned saxophonist incapable of an ugly sound...the nonchalance of mastery . . .", and on Zagreb Radio, Croatia as ". . . a firstrate musician with a beautiful silken quality of tone and superb technique." His engagements have taken him throughout the continental United States (including Lincoln Center), Canada, China, Europe, Hawaii, and South America. The Partners Of The Americas Program sponsored Mr. Meighan on a 1988 summer recital tour of eight major cities throughout Colombia. He has been a soloist with the Albanian Chamber Orchestra, the National Symphonic Band of Bogota, the Brevard Symphony Orchestra, the Florida State University Symphony Orchestra, the Sarasota Orchestra, the National Conservatory of Music Orchestra in Peru, and the Zagreb Philharmonic. His San Juan premiere performance of Frank Martin's Ballade with the Puerto Rico Symphony Orchestra in 2013 prompted El Nuevo Día to comment, "Patrick Meighan demonstrated grand virtuosity as a saxophone soloist, as he skillfully and fully explored all the possibilities of his instrument . . . a masterly performance."
As a recipient of a 1992 Fulbright Grant to Australia, he performed the Australian premiere of Concerto for Saxophone and Wind Orchestra by Paul Cooper and presented concerts and master classes in Brisbane, Melbourne, Perth, and Sydney as a member of the Trio Bel Canto. This chamber ensemble of alto saxophone, tenor saxophone, and piano was awarded the bronze medal at the 1993 First International Chamber Music Competition and Festa in Osaka, Japan. The European-based Raschèr Saxophone Orchestra invited Mr. Meighan to join the ensemble in the summer of 2000. The orchestra's debut concert took place that fall season at the prestigious Ludwigsburg Music Festival in Germany. The RSO's first CD (BIS-NL-CD 5023) was released in the fall of 2002; it was the first saxophone orchestra recording to achieve international distribution.
Mr. Meighan has served as principal saxophonist with The Tallahassee Symphony Orchestra, The Jacksonville Symphony, The Sarasota Orchestra, The Naples Philharmonic, and Keith Brion and His New Sousa Band. As a jazz/pop/rock instrumentalist, he has appeared with Sammy Davis Jr., Vic Damone, Larry Elgart, Joe Lovano, Steve Lawrence and Eydie Gormé, Three Mo' Tenors, Johnny Mathis, Bernadette Peters, Andy Williams, The Dells, The Fifth Dimension, The Four Tops, The Jackson Five, and The Temptations. In 1973, he was invited to join The Glenn Miller Orchestra.
In 1980, Mr. Meighan was selected to the Outstanding Young Men of America Program and has been referenced in three editions of Who's Who Among America's Teachers. He has been the recipient of two FSU Teaching Awards, in addition to being awarded a Named Professorship in 2005. Professor Meighan holds degrees from The Baldwin-Wallace College Conservatory of Music and The University of Michigan. He has studied saxophone with Samuel Pattie, Galan Kral, Larry Teal, and the classical saxophone pioneer Sigurd Raschèr.
His students have won national and international solo and chamber music competitions — including first place in the 1999 and 2007 MTNA Young Artist Chamber Music Competitions - and hold positions on college and university faculties in the United States and abroad. On April 25, 2009 the "Mana Quartet" from FSU became the first saxophone quartet to win the grand prize at the 63rd Annual Coleman International Chamber Ensemble Competition.
Singularity, a graduate saxophone quartet founded at FSU, gave their Carnegie Hall debut at Weill Recital Hall in May 2015. Three former students are currently members of the internationally recognized Raschèr Saxophone Quartet.
Sigurd Rascher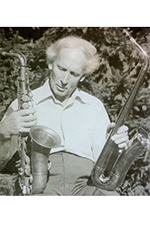 Sigurd Rascher was born in Elberfeld, Germany (now part of Wuppertal) where his father, Hans August Rascher (1880–1952), was temporarily stationed as a military physician. His schooling began in Arlesheim, Switzerland and continued in Stuttgart where he graduated from the first Waldorfschule. After having played piano for some time, he decided to study clarinet with Philipp Dreisbach at the Hochschule für Musik in Stuttgart (1928/1929) In an interview, Rascher said, "Obeying necessity, not following my inclination, I started to play saxophone in order to be in a dance band. As I did this for a couple of years, I became more and more unsatisfied. I started to practice furiously and slowly found out that it had more possibilities than was usually thought of."
In 1930 Rascher moved to Berlin where he was called upon when a saxophonist was needed to perform in the Philharmonic. This is where he met the composer and conductor Edmund von Borck, who composed a concerto for him in 1931. Borck's Concerto, Op. 6 for Saxophone and Orchestra was chosen to be performed at the General German Composers Festival in Hanover, Germany on October 3, 1932. It was such a success that the Berlin Radio Orchestra, under the baton of Eugen Jochum, gave a performance with Rascher in Berlin on January 6 of 1933. In the summer of the same year, Rascher performed the Borck concerto again in Strasbourg at Hermann Scherchen's International Musician's Working Conference, and in 1935 he performed it with the Amsterdam Concertgebouw under the baton on Eduard van Beinem.
As Hitler rose to power in 1933, Rascher's friend, Johan Bentzon, whom he had met in Strasbourg, invited him to Copenhagen, Denmark, where Rascher then taught at the Royal Danish Conservatory, 1934 also in Malmö, Sweden. Concert tours throughout Europe,(Norway, Italy, Spain, Poland,England, Hungary etc.) with the exception of Germany, followed, 1938 to Australia. In 1939 he moved to the United States.
Raschèr arrived in the United States in 1939 and made his American debut with the Boston Symphony Orchestra conducted by Serge Koussevitzky on October 20, 1939. On November 11 of the same year, he was a featured soloist in Carnegie Hall with the New York Philharmonic under the baton of Sir John Barbirolli. He was the first saxophonist to appear as a soloist in a subscription concert with both orchestras.
His career continued with solo appearances in Washington, D.C. and at New York City's Town Hall in the spring of 1940, which Toscanini attended and thereupon embraced Rascher. With war looming in Europe, he could not return to Germany. On the 4th of November 1941, his wife Ann Mari, of Swedish descent, joined him in the United States where they established their home on a small farm in the rural town of Shushan in northern New York, where they would reside for nearly 60 years.
Although he was born in Germany, publicity from the 1940s often refers to Raschèr as having come from Sweden. This reflected both his distaste for the Hitler regime, and reaction to American suspicion during that time of all things German. His international career as a soloist and his ability to gain residence and citizenship in many countries could have been damaged or destroyed if any suspicion arose about his background.
After World War II ended in 1945, Raschèr was invited to give concerts in Europe again, where he traveled for months on end, performing as soloist with many orchestras. As Raschèr's reputation grew in the United States, he also performed many orchestra concerts as soloist as well as with various university bands.
Raschèr went on to perform as soloist with more than 250 orchestras and wind ensembles worldwide, including concerts in Europe, Asia, Australia, Canada and the United States.
With his daughter Carina, Linda Bangs and Bruce Weinberger (currently still member), Rascher founded the Raschèr Saxophone Quartet in 1969, one of the first classical saxophone ensembles to perform world-wide. They appeared at major concert halls in Europe and the United States during the first ten years with Sigurd Rascher. The quartet was acclaimed as the "Uncrowned Kings of the Saxophone" (Wiener Zeitung). The Rascher Quartet has performed in all countries of Europe, the United States, Mexico, Canada, South East Asia and Australia. It is the longest existing saxophone quartet and is entirely self-supporting. Rascher's tireless pursuit of classical composers is continued by the quartet. Their impressive technical abilities and reputation led over 300 composers from more than 35 nations to dedicate works to the Raschèr Saxophone Quartet. The best known composers who have written for the group include Luciano Berio, Philip Glass, Iannis Xenakis, Sofia Gubaidulina, Charles Wuorinen, Giya Kancheli, Lera Auerbach, Pehr Henrik Nordgren, Miklos Maros, Mauricio Kagel, Cristobal Halffter etc.
His last saxophone solo performance was playing the Glazounov Concerto with the Vermont Symphony in 1977, on the eve of his 70th birthday. He died in Shushan, New York in 2001, aged 93.
During Raschèr's life, 208 works for saxophone were dedicated to him, many counted as among the most important 20th century works for the concert saxophone.
Bio from Wikipedia
Debra Richtmeyer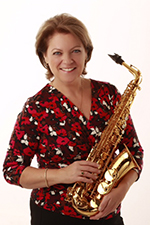 Honorary Life Member Since March 2014
Debra Richtmeyer, an internationally renowned saxophonist and pedagogue, has been Professor of Saxophone at the University of Illinois at Urbana-Champaign since 1991 and has performed as a soloist and clinician in the United States, Canada, England, France, Germany, Italy, Scotland, Spain, the Czech Republic, Slovakia, Thailand and China. She has performed or recorded as a concerto soloist with numerous bands and orchestras, including the Dallas Symphony Orchestra, The Slovak Radio Orchestra, The Scottish Chamber Orchestra and the Washington D.C. United States Navy Band. She was principal saxophonist with the Dallas Symphony Orchestra from 1981-1991 and with the St. Louis Symphony from 1992-2002. She is Past-President of the North American Saxophone Alliance and an Artist/Clinician for Conn-Selmer Incorporated.
Professor Richtmeyer has won numerous awards and prizes and has been an invited Juror for music competitions at all levels, including prestigious competitions such as the Fischoff National Chamber Music Competition in South Bend, Indiana, the International Adolphe Saxophone Competition in Dinant, Belgium and the 3rd Jean-Marie Londeix International Saxophone Competition in Bangkok, Thailand. She has premiered commissioned works at nine World Saxophone Congresses and in 1997 in Valencia, Spain she became the first woman to be invited to perform a concerto with orchestra at a World Saxophone Congress. In 2009 in Bangkok Thailand, she became the first woman to be invited to give a master class at a World Saxophone Congress. In 2012 she performed the Lee Actor Concerto with the Scottish Chamber Orchestra for the Final Gala concert at the World Saxophone Congress held in St. Andrews, Scotland. In 2014 she Co-Hosted the North American Saxophone Conference at the University of Illinois in Champaign-Urbana and performed the Glazounov Concerto with the U of I Symphony Orchestra for the opening evening concert. She also moderated a panel discussion with saxophone legends, Frederick Hemke, Eugene Rousseau and Steve Mauk and was voted by the membership to receive the North American Saxophone Alliance's most prestigious "Honorary Life Member" award.
Her solo CD, Extravaganza for Saxophone and Orchestra, released by Albany Records was reviewed as ". . . flawless . . . an extraordinary album . . ." by the American Record Guide. Her CD, World Without Words, Debra Richtmeyer and the University of Illinois Saxophone Studio released by Mark Records, was selected for the 2011 Grammy Entry List and was reviewed by internationally renowned French saxophonist, Jean-Marie Londeix as, "Remarkable . . . exemplary . . . Impeccable playing . . . It is proof one more time of her talents (including that of the conductor) and of the excellence of her teaching. Her university and students are very lucky to have her." In 2010 Professor Richtmeyer recorded the Lee Actor Concerto for Saxophone for his recently released CD by Navona records, which received equally favorable reviews by the American Record Guide.
In 1997 Richtmeyer received the University of Illinois College of Fine and Applied Arts Award for Outstanding Faculty. In 2002 she was given the University of Illinois' Campus Award for Excellence in Graduate and Professional Teaching and became the first of only three faculty members in the UIUC College of Fine and Applied Arts to receive this award. Richtmeyer's students and former students are leaders in the next generation of classical saxophonists and teachers and have won numerous prizes and awards at the local, state, national and international levels. Many have gone on to become saxophone professors, band directors and members of elite U.S. military bands and are teaching and performing throughout the United States, and in Canada, Europe, Singapore, Thailand and Taiwan.
In addition to her classical performing, from 1978-1991 Richtmeyer played backup for numerous entertainers, including Natalie Cole, Seals and Crofts, Bob Hope, Rich Little, Doc Severinsen, Andy Gibb, Sammy Davis Jr., Dionne Warwick, George Shearing, Jerry Lewis, Jim Nabors, the Mills Brothers and the Temptations. She was a saxophone professor at the University of North Texas from 1981-1991 and an instructor at Lawrence Conservatory from 1980-1981. Her degrees are from Northwestern University where she was a Teaching Assistant and student of Dr. Frederick L. Hemke. See illinoissaxophonestudio.com for more information regarding Professor Richtmeyer and her students.
Sonny Rollins
Sonny Rollins began his musical studies on piano, studied alto saxophone from about the age of 11, and then took up the tenor saxophone in 1946. In high school he led a group with Jackie McLean, Kenny Drew, and Art Taylor. He rehearsed with Thelonious Monk for several months in 1948, and from 1949 to 1954 recorded intermittently with a number of leading bop musicians and groups, including J. J. Johnson, Charlie Parker, Fats Navarro, Bud Powell, Max Roach, Art Blakey, Monk, and the Modern Jazz Quartet. His most frequent associate during these early years was Miles Davis, with whom he performed in clubs from 1949 and recorded from 1951. In one of these recording sessions with Davis, in 1954, he introduced three compositions of his own which later became jazz standards: Airegin, Doxy, and Oleo. In 1955, while overcoming his dependence on drugs, he worked in Chicago and, in December, joined the Clifford Brown-Max Roach Quintet. He remained with Roach until May 1957, then performed briefly in Davis's quintet; thereafter, however, he has led his own groups.
In 1956 came the first of a series of landmark recordings issued under Rollins's own name: Valse Hot introduced the practice, now common, of playing bop in 3/4 meter; St. Thomas initiated his explorations of calypso patterns; and Blue 7 was hailed by Gunther Schuller as demonstrating a new manner of "thematic improvisation," in which the soloist develops motifs extracted from his theme. Way Out West (1957), Rollins's first album using a trio of saxophone, double bass, and drums, offered a solution to his longstanding difficulties with incompatible pianists, and exemplified his witty ability to improvise on hackneyed material (Wagon Wheels, I'm an Old Cowhand). It Could Happen to You (also 1957) was the first in a long series of unaccompanied solo recordings, and The Freedom Suite (1958) foreshadowed the political stances taken in jazz in the 1960s. During the years 1956 to 1958 Rollins was widely regarded as the most talented and innovative tenor saxophonist in jazz. Nevertheless, he was discontented: he could not find compatible sidemen, saw shortcomings in his own playing, and suffered from poor health. For these reasons he voluntarily withdrew from public life from August 1959 to November 1961. During this period of retirement his habit of practicing on the Williamsburg Bridge in New York became legendary.
On resuming his career Rollins had improved his already prodigious skills, but his style was now considered conservative. In an effort to rejoin the vanguard of jazz fashion he began, in mid-1962, collaborating with Don Cherry, Billy Higgins, and other musicians playing free jazz; East Broadway Run Down (1966) illustrates the furthest extent to which he incorporated noise elements into his playing. During these years, as Rollins continued to struggle with changing personnel and instrumentation, he focused increasingly on unaccompanied playing, and by the end of the decade he had become famous for his extended, "stream-of-consciousness" extemporizations on traditional tunes and on his own calypso songs.
In 1965 Rollins wrote the film score for Alfie (apart from the title song, which is by Burt Bacharach). He pursued spiritual interests in India for five months in 1968, and abandoned music altogether from September 1969 to November 1971. From 1972, when he resumed playing once more, he has led various groups of young, lesser-known musicians, performing in a commercial vein and making use of electronic instruments and African-American dance rhythms; a film made the following year, Sonny Rollins Live, captures the exuberance of a concert performance. Rollins has continued to experiment, recording on soprano saxophone in 1972 and on lyricon in 1979. However, touring the USA in 1978 as a member of the Milestone Jazzstars (with McCoy Tyner, Ron Carter, and Al Foster), he demonstrated that, as an individual, he remained essentially true to the bop tradition, an aspect of his playing that was again especially apparent in an acclaimed solo performance at the Museum of Modern Art in New York in 1985. Except for a six-month hiatus in 1983, after he collapsed from exhaustion, Rollins remained active through the late 1980s, touring the USA, Europe, and Japan, and recording a fusion of bop and soul music with his quintet.
He won his first performance Grammy for This Is What I Do (2000), and his second for 2004's Without a Song (The 9/11 Concert), in the Best Jazz Instrumental Solo category (for "Why Was I Born"). In addition, Sonny received a Lifetime Achievement Award from the National Academy of Recording Arts and Sciences in 2004. Additional honors include: 2006 Rollins - Academy of Achievement; 2009 - Austrian Cross of Honor for Science and Art; 2010 - election to American Academy of Arts and Sciences; 2010 - Edward MacDowell Medalist; 2011 - Medal of Arts awarded by President Barack Obama. On December 3, 2011 Sonny Rollins was one of five 2011 Kennedy Center honorees, alongside actress Meryl Streep, singer Barbara Cook, singer/songwriter Neil Diamond and cellist Yo-Yo Ma. Rollins said of the honor, "I am deeply appreciative of this great honor. In honoring me, the Kennedy Center honors jazz, America's classical music. For that, I am very grateful."
Bio from PBS's Jazz and SonnyRollins.com
Eugene Rousseau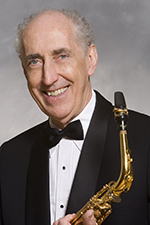 Honorary Life Member Since (unknown)
Eugene Rousseau has performed across North America and on five continents since his Carnegie Hall debut. The legendary saxophonist Marcel Mule described Rousseau as "a brilliant saxophonist and distinguished artist," and critics the world over have echoed Mule's praise.
Rousseau's artistry has inspired many "firsts." He gave the first solo saxophone recitals in Paris, Berlin, Vienna, London and Amsterdam. He has given a yearly master course at the prestigious Mozarteum in Salzburg during 1991-2001, marking the first time that the saxophone was included at that institution. He has premiered numerous works written for him, including the Partita by Juan Orrego-Salas (with the Haydn Trio of Vienna), Jindřich Feld's Sonata for alto saxophone and piano, and Concerto for saxophones and orchestra, Bernhard Heiden's Fantasia Concertante for alto saxophone and winds, Hear Again in Memory, by Frederick Fox, Don Freund's Skyscrapings for alto saxophone and piano, and Concertos by Libby Larsen, Claude Baker, and David DeBoor Canfield.
Rousseau has appeared with the Minnesota Orchestra under Leonard Slatkin, the Pan-American Festival Orchestra under Lukas Foss, the Indianapolis Symphony under Raymond Leppard and Phillipe Entremont, the BBC Orchestra in London, the Janácek Philharmonic (Czech Republic), the Prague Symphony, the Kansai Philharmonic (Osaka), the Santiago Philharmonic (Chile), the recitals and master classes throughout the world on a variety of topics related to his instrument. His solo performances include appearances with the U.S. Army Band at Kennedy Center, the Budapest Strings in Hungary, and the Tokyo Bach Band, as well as the Hamamatsu International Wind Instrument Festival in Japan.
The Chicago-born Rousseau's service to the saxophone community is of long standing. Since 1972, he has been the Yamaha Corporation's chief consultant for saxophone research, contributing to the development of acoustic improvements in saxophones and mouthpieces. In 1985, he recorded a video program for Yamaha, Steps to Excellence. Rousseau co-founded the World Saxophone Congress in 1969 and has been President of both the North American Saxophone Alliance (1979-80) and the Comité International du Saxophone (1982-85). In May 1998, he was honored as a Distinguished Alumnus by the University of Iowa, at which institution he earned the Ph.D. degree, his principal teacher being Himie Voxman. He holds the title of Distinguished Professor of Music at Indiana University, having served on the IU faculty from 1964 to 2000. Dr. Rousseau joined the faculty of the University of Minnesota School of Music in fall 2000. In 1993, Eugene Rousseau was designated an honorary faculty member of the Prague Conservatory. In 2003, Rousseau and the University of Minnesota School of Music hosted the 13th World Saxophone Congress Convention. He left his position at the University of Minnesota in 2015 to pursue continued performances, master classes, recording and writing.
Additional information is available on his website, www.eugene-rousseau.com, including a list of awards and recognitions, publications, and recordings.
John Sampen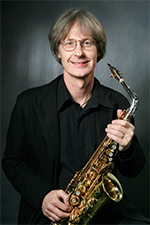 Honorary Life Member Since May 2012
As one of America's leading concert saxophonists, John Sampen is particularly recognized as a distinguished artist in contemporary literature. He has commissioned over one hundred new works, including compositions by Adler, Babbitt, Bolcom, Cage, Rzewski, Rands and Shrude and has premiered saxophone versions of music by Lutosławski, Stockhausen and Tower.
In 1970, Sampen was recitalist and certificate winner at the prestigious International Geneva Concours in Switzerland. He has soloed with ensembles from all over the world, including the Nürnberg Symphony Orchestra, Orchestra Internazionale d'Italy, New Mexico Symphony and Pittsburgh New Music Ensemble.
As recipient of NEA and Meet the Composer grants, John Sampen has been involved with commissions and premieres of new music by Albright, Babbitt, Martino and Subotnick. His London premiere of Subotnick's In Two Worlds with the Electric Symphony featured him as the first classical performer to solo on Yamaha's WX7 Wind Controller. The performance inspired an English critic to write of "the excellence, the musicianship and the total involvement of John Sampen . . . tremendous passion and eloquence."
Sampen has recorded with Belgian and Swiss National Radio and is represented on the Orion, CRI, Albany, AMP and Capstone record labels. A clinician for the Conn-Selmer Company, he has presented masterclasses at important universities and conservatories throughout Europe, Asia and North America.  In addition to contemporary literature, Sampen regularly performs traditional saxophone repertoire in recital with pianist/composer Marilyn Shrude. He holds degrees from Northwestern University and has studied with Frederick Hemke, Donald Sinta and Larry Teal. Dr. Sampen is a Distinguished Artist Professor at Bowling Green State University and is Past President of the North American Saxophone Alliance.
Donald Sinta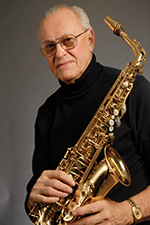 Donald J. Sinta, is the Earl V. Moore Emeritus Professor of Saxophone at The University of Michigan School of Music, Theater and Dance. Formerly on the faculties of the Hartt School of Music and Ithaca College, he has been active for decades as an acclaimed soloist and clinician throughout the United States, Asia and Canada, having also recently completed his 40-year tenure at Michigan. Sinta has premiered more than 40 works by major American composers, and in 1969 he was the first elected chair of the World Saxophone Congress. He is the former director of the All-State Program at Interlochen, the Michigan Youth Ensembles Program and the UMSMTD MPulse Saxophone Institute.
In addition to the Moore Professorship, he held an Arthur Thurnau Professorship at Michigan for outstanding instruction at the undergraduate level. Having taught hundreds of saxophonists, many of whom have enjoyed decorated teaching careers themselves, Sinta's teaching concepts and groundbreaking work in altissimo pedagogy have influenced countless performers and teachers in the US and abroad.
Sinta may be heard on recent recordings of William Walton's
Façade
with the Lincoln Center Chamber Players and George Crumb's
Quest
with Speculum Musicale of New York City, as well as several recordings with the Detroit Symphony Orchestra on the Chandos label. Currently in re-release, his recording
American Music for the Saxophone
for Mark Records is known throughout the world.
James Stoltie
James Stoltie is Dean Emeritus of The Crane School of Music, State University of New York College at Potsdam where he taught saxophone for over 22 years and served as Dean for 11 years. Prior to coming to Potsdam, he taught instrumental music in the Iowa City, Iowa Public Schools and taught woodwinds at Susquehanna University. He is also the retired Director of Music, New England Music Camp, Sidney, Maine where he also taught saxophone.  He received the B.A. degree in music from Knox College, Galesburg, IL and the M.A. degree in saxophone performance and the Ph.D. in woodwind literature and pedagogy from the University of Iowa.  His studies have included work with Don Ross, Sigurd Rascher, Himie Voxman, Eugene Rousseau, Bernard Garfield, Larry Teal, Jean-Marie Londeix and C. Robert Reinert.
Dr. Stoltie is past editor of the World Saxophone Congress Newsletter, past Coordinator of the Eastern Region of the North American Saxophone Alliance and host for three Eastern saxophone conferences for the WSC and NASA.  As Director of Scholarly Affairs for the WSC, he was responsible for gaining permission from the Belgian Government Information Service for the WSC to reprint the booklet on Adolph Sax, "Sax and His Saxophone."  He wrote the Preface to the reprint, which continues to be available from NASA.
Stoltie has appeared in numerous saxophone recitals, performed with bands and orchestras at various WSC events including the Sixth World Saxophone Congress at Northwestern University in 1979, the North American Saxophone Convention held at Arizona State University in 1981 and the University of North Carolina Saxophone Convention in 1987.  He also performed at the U.S. Navy Band Symposium in Washington, D.C. in 1984, in London, England, at the Guildhall and the Royal Festival Hall in 1985 and at several regional NASA conferences since that time.  He was the Principal bassoonist of the Harrisburg Symphony in the 60's and was a member of the Orchestra of Northern New York from its founding in 1988 through its 2000-2001 season. He has performed with the Manasota Saxophone Quartet, the Anna Maria Island Concert Chorus and Orchestra where he is President of its Board of Directors and the Sarasota Suncoast Band and has performed with the Tampa Bay Symphony as well as the Sarasota and Venice Concert Bands.
Besides having a number of compositions dedicated to him and his support of three World-Wide Concurrent Premieres and Commissioning Fund projects, James Stoltie has written many saxophone-related reviews, articles and recording notes and has two successful recordings, Music for Saxophone Alone and Lyrical Music for Saxophone and Piano to his credit. As Dean of The Crane School of Music he was co-founder of the Community Performance Series and served as its President for 10 years.  He is a lifetime member of that Association and the North American Saxophone Alliance (NASA).
Laurence Teal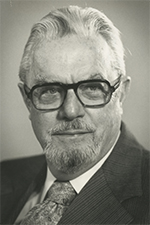 Laurence Lyon (Larry) Teal earned a Bachelor's degree in Pre-Dentistry from the University of Michigan. Although he came to the University of Michigan to study dentistry, he soon became involved with Wilson's Wolverines—a jazz band with a more than local following. He toured Europe with them for several years and later returned to the States only to be recruited by Glen Gray's Casa Loma Orchestra of Toronto, one of the important society orchestras of the period. He later earned a Doctor of Music from the Detroit Institute of Musical Arts in 1943.
Teal carved out his own niche in Detroit's musical life. He was a member of radio station WJR's live studio orchestra and he was a member of the Detroit Symphony Orchestra (DSO) from 1943 to 1964. Not only did he play sax, as one might expect, but he also performed on clarinet and was the DSO's first desk flutist, a rare enough feat then and almost unheard of now. Additionally, he opened his own music studio and staffed it with players from the orchestra. It was one of the most reputable, demanding and prestigious of its kind in the country. His studio near Wayne University where many high school and collegiate students studied saxophone. Don Sinta was one of those students who was considered a virtuoso in saxophone by many while he was a music major at Wayne. Mr. Teal was highly sought after as a professional musician by both classical and popular musical organizations.
He became the first full-time professor of saxophone at any American university when he was appointed to the faculty of the University of Michigan-Ann Arbor in 1953. He remained the professor of saxophone there until he retired in 1974, at which time he was given the title "professor emeritus."
During his 21 years at the university, Teal taught over 100 college saxophone students, many of whom went on to become successful teachers and performers. In this way he had an unusual degree of influence over the direction and quality of classical saxophone teaching in America. Teal was not only a significant figure in the musical life of Michigan in this century but the single most important figure in having the sax become accepted as a "legitimate" instrument.
Bio from Wikipedia
Dale Underwood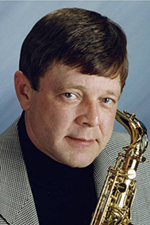 A frequent guest soloist with leading orchestras throughout the United States and abroad, Mr. Underwood has performed with the Boston Pops Orchestra, the National Symphony Orchestra, Australian Wind Orchestra, and the National Conservatory Orchestra in Sao Paolo, Brazil, among others. In 1993, Mr. Underwood made his Carnegie Hall debut in a program featuring Claude T. Smith's Fantasy and A Gershwin Fantasy, both written especially for Mr. Underwood.
In addition to being a sought after soloist, Mr. Underwood is also a noted recording artist. He has amassed a prolific discography of classical and contemporary works by leading composers Paul Creston, Jay Chattaway, Robert Muczynski, and Maurice Whitney. His vast repertoire includes all of the standard saxophone concerti, as well as over thirty original works written for him by noted American composers such as Walter Hartley, Clare Grundman, Jay Chattaway, Alan Vizzutti, and Ralph Martino.
A frequent clinician at universities, conservatories, and music festivals in the United States and Europe, Mr. Underwood is a highly respected instructor of the saxophone. He is currently saxophone professor at the
Frost School of Music
, University of Miami.
Born in Cortland, NY, Mr. Underwood began his saxophone studies at the age of nine. He received his early music education at Ithaca College in New York and further pursued studies at Texas Tech University. 
In 1967, Mr. Underwood enlisted and was appointed saxophone soloist with the premier band of the United States Navy, a position he held for 29 years until his 30-year service retirement in 1997. During his years as soloist for the US Navy Band in Washington, DC, Mr. Underwood gained the distinction of performing for every president from Lyndon B. Johnson until William J. Clinton. As the preeminent saxophone soloist of all musical ensembles of the US Armed Forces, Mr. Underwood was presented the Meritorious Service Medal by the President of the United States in 1997. The citation reads in part: "An extraordinary saxophonist . . . Underwood distinguished himself as a soloist on the National Concert Tours and in many prestigious venues, including Carnegie Hall, the Kennedy Center, and Meyerhoff Symphony Hall. His exciting performances repeatedly drew standing ovations."