Message from the President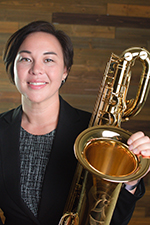 Dear NASA members,
I am thrilled to begin my term as President of NASA and to work with the dedicated members of the Executive Committee (EC) in service of our mission to inspire, educate, and support saxophonists throughout North America. With these three pillars in mind, my time in office will be dedicated to engagement, communication, and impact.
NASA's members, and indeed those of us on the EC, have begun to demand more from the organization beyond conference hosting (no small feat in and of itself), and we are eager to respond to this call with increased opportunities for engagement. Engagement has come previously in the form of The Saxophone Symposium, and the Committee for Gender Equity (CGE) (formerly the Committee on the Status of Women) and the new Committee on Diversity, Equity, Inclusion, Belonging, and Accessibility (CDEIBA), and the services initiated by these standing committees of NASA. The NASA Archive announced in this newsletter will prove another invaluable service and touchpoint for those looking to expand research on the saxophone, and we thank Matthew Younglove (Membership Director) and Stephen Page for their work to compile and digitize many years' worth of material. The EC will continue exploring how best to serve NASA members through other engagement and professional development opportunities in the coming months, and how to continue to build on the robust history of biennial and regional conferences hosted by devoted members of our organization, beginning with the 2023 Biennial Conference in Hattiesburg, Mississippi, hosted by Dannel Espinoza at the University of Southern Mississippi.
Beginning with this newsletter, we will continue to work to improve communication throughout the NASA community. Keeping communication flowing is an ongoing challenge that each President and EC has faced, especially as technologies shift and change as they have so often in recent history. Thanks to the work of past NASA leadership, we are well positioned to evaluate effectiveness and efficiencies in our web, social, and email communications, and we have the outstanding support of Austin McFarland (Marketing Admin) and Alexia McLean (Social Media Outreach) to capitalize on our findings.
As noted in the Message from the Past President, NASA is fortunate enough to have been able to begin a modest endowment during the last EC cycle. Along with Nathan Mertens (Director of Marketing and Development), NASA leadership will continue to build relationships with industry contacts, saxophonists, and saxophone enthusiasts to increase our impact on the saxophone community. The annual hosting of the Archive is one example of impact, as are the recent commissions of works for saxophone by Roshanne Etezady, Jennifer Higdon, and Christian McBride. For those wishing to make an impact today, consider selecting the North American Saxophone Alliance as your charity when you shop AmazonSmile, a website operated by Amazon with the same products, prices, and shopping features as Amazon.com, and the added bonus that Amazon donates 0.5% of the purchase price to NASA. Using AmazonSmile is a simple and automatic way to support NASA's mission to inspire, educate, and support saxophonists throughout North America every time you shop.*
Finally, acknowledgement and many thanks are owed to those who have taken on new roles or recently cycled off the EC: Andrew Allen will serve as President-Elect and Bobbi Thompson will serve as Secretary; Jess Voigt Page moved from President to Past President; Christopher Creviston cycled off after serving as President-Elect, President, and Past President; and Stephen Page cycled off after serving as Secretary. Thanks also go to those who continue EC service: Noa Even as Treasurer, Julia Nolan as Director of Scholarly Publications, and Gene Smith as Jazz Coordinator. Service to NASA is a labor of love—love for our instrument, our collegial collaborations, and our shared vision—and we thank you for all the time and love you've given over these past years.
All best wishes for an amazing 2023, and looking forward to seeing you all in Hattiesburg,
Kim Loeffert
President
North American Saxophone Alliance
*Currently, AmazonSmile is only available to those who shop from the United States.
Our Mission
The North American Saxophone Alliance (NASA) is a Non-profit organization comprised of performers, teachers, students, scholars, and enthusiasts of the saxophone.

The mission of the Alliance is to provide resources for saxophonists at all levels of skill, of all ages and backgrounds, and of varied musical styles by disseminating information about saxophone performance and pedagogy, by providing opportunities for music making, by fostering and facilitating the creation of new repertoire, by providing a communication network, and by promoting the musical activities of its members.