2021 North American Saxophone Alliance — Region 6 Conference
In the alternating years that NASA does not have its Biennial Conference, each region hosts its own Regional Conference.
If you are interested in sponsoring the Regional Conferences at the national level, please work in conjunction with Nathan Mertens, NASA Director of Marketing at . For local sponsorship, you may work directly with your Conference Host.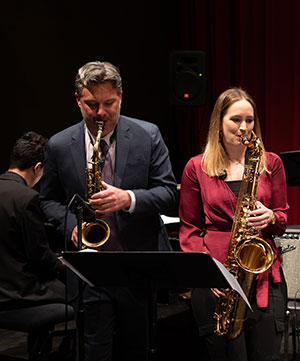 The 2023 Biennial Conference will be held at the University of Southern Mississippi in Hattiesburg, March 30 - April 2, 2023. In addition, NASA regions 4 & 9 will have their regional conferences.
Region 4 Conference
Dates: April 13th-16th, 2023
Location: University of Texas at Arlington, in Arlington, Texas.
Hosts: Tim Ishii and Mike Nguyen
For more information, check out https://go.uta.edu/nasa2023.
Region 9 Conference
Dates: February 16-18, 2023
Location: University of Alberta Department of Music
Hosts: Allison Balcetis and William Street, supported by the Kilburn Concert Series
Guest artists: Saxophonist Claude Delangle and Pianist Odile Delangle, and Composer Philippe Leroux
Proposals are now being accepted at https://www.ualberta.ca/music/index.html.
We can't wait to see everyone in person at one or all of these great events.