Committee for Gender Equity
The Committee on the Status of Women was voted into existence as a standing committee in March 2018 at the general membership meeting during the 2018 Biennial Conference in Cincinnati, Ohio. During that meeting, the President of NASA appointed the committee's first Chair. At the online 2022 Biennial Conference Annual General Meeting, the CSW's amendment to change its name to the Committee on Gender Equity was voted into the bylaws.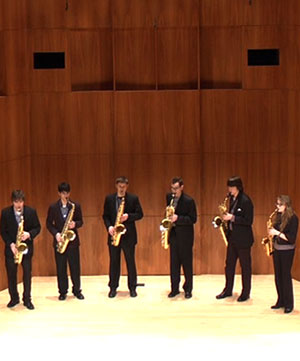 Submit Feedback to Committee for Gender Equity
Wish to submit feedback or comments to the CGE on current or new initiatives? You can do so one of two ways:
Email any of the CGE members at the addresses linked below. Once an email is received, it will be discussed with the CGE and a timely reply will be sent.
Fill out this feedback form. Note that the feedback form can be submitted anonymously; however the CGE encourages identification as we appreciate the opportunity to reply directly to you to share the result of the feedback discussion and ask any follow-up questions that may prove helpful.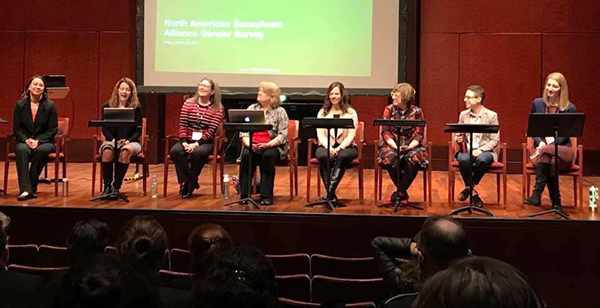 Volunteer for Committee for Gender Equity
Wish to be involved with CGE and support its mission and initiatives? Fill out this volunteer form to let us know how you're willing to help and the specific skills you can offer.
---
Committee Co-Chair: , Associate Lecturer, University of Alberta
Committee Co-Chair: , Associate Professor of Saxophone, University of Massachusetts Amherst
Director of Mentorship Program:

Advisors:
Julia Nolan, Lecturer of Saxophone, University of British Columbia, Vancouver; Director of Scholarly Publications, NASA
Debra Richtmeyer, Professor of Saxophone, University of Illinois; Past-President, Honorary Life Member, NASA
Ad Hoc Committee: Women's Mentoring Program
Jennifer Blackwell, Assistant Professor of Instrumental Music Education, University of Hawai'i, Mānoa; Editor, Saxophone Symposium
Noa Even, Assistant Professor of Saxophone, Kent State University
Diane Hunger, Saxophone Instructor, Syracuse University and State University of NY at Fredonia
Kim Loeffert, Clinical Assistant Professor of Music Theory, Oklahoma State University
Idit Shner, Associate Professor of Saxophone and Jazz Studies, University of Oregon
Mission Statement
The Committee on Gender Equity (CGE) promotes gender equity in areas related to saxophone, supports the professional development of gender diverse people in the North American Saxophone Alliance, and serves as a repository of resources and information about women and gender minorities and saxophone. The CGE serves the North American Saxophone Alliance in matters that are critical to all saxophonists.​​​
CGE Website
Go to CGE's website to learn more about its initiatives and activities, members, and how to get involved.
CGE Mailing List
Click here to sign up for the Committee for Gender Equity Updates and Newsletters.
CGE Scholarship Fund Donation
A donation to the CGE Scholarship Fund will support student, early-career professional, and unsupported or under-supported women, non-binary, gender nonconforming, and transmasculine NASA members through conference travel grants, mentoring program grants, and other grants as needed specific to CGE's initiatives.
If you would like to help NASA fulfill its educational mission and support these members, please click here to make a donation to NASA's CGE Scholarship Fund using a secure online form.
The North American Saxophone Alliance is a 501(C)(3) not-for-profit organization, and the full amount of your donation is deductible for Federal income tax purposes as allowed by law. For more information, please contact the current NASA President at .
Current Initiatives
Mentoring Program: With the goal of strengthening support for the professional development and mentoring of women, transgender, or non-binary members in the North American Saxophone Alliance and our field, the Mentoring Program is an annual bedrock initiative of the CGE that pairs mentees and mentors within our organization. Applications for mentees and mentors open in the early fall each year.

"CGE Presents": Members of the CGE will make presentations at all NASA Regional and Biennial Conferences to present the CGE's work to date and to gather feedback and suggestions on our current and future initiatives from the NASA membership in attendance at those presentations.

Digital Resources: CGE plans to develop resources and live databases to highlight the accomplishments and contributions of women, transgender, or non-binary people in the saxophone field, including performances, recordings, commissions, scholarship and publications, teaching positions at all levels, along with geographical locations, as well as compositions for saxophone by women, transgender, or non-binary people.
CGE Duties and Terms of Membership
Click here to learn about CGE's duties and terms of membership.