NASA 2020 Biennial Conference Presenter — Andrew Steinberg
Mark your calendars now to join us Friday-Monday, March 6-9, 2020 for the NASA 2020 Biennial Conference at Arizona State University in Tempe, Arizona.
— NASA Director of Marketing
#NASA2020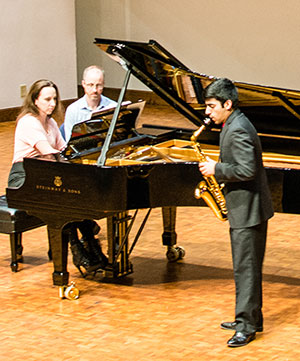 You may click on the photo for a higher resolution version of the photo.
Name:
Andrew Steinberg
Website:
http://www.andrewrsteinberg.com
Presentation Date:
Saturday, March 7, 2020 10:00 AM
Presentation Venue:
Ravenscroft
Presentation Title:
The Rascherian Approach: A Critical Analysis of the Performance Practice of Sigurd Manfred Rascher
Type of Presentation:
Non-Performance: Classical Lecture
Proposal Duration:
45
Bio:

Saxophonist and conductor Andrew R. Steinberg has been recognized for his "beautiful tone" as well as his "astute and refined leadership" throughout North America, Asia, and Europe. A graduate of New England Conservatory's DMA program, Dr. Steinberg has lectured and presented classes at Boston University, Memorial University, Georgia State University, Brookline Adult & Community Education, and the Metropolitan Museum of Art. The scope of his research has focused on topics including The Life of Adolphe Sax, The Saxophone in the Weimar Republic, Historically Informed Performance Practice of the Saxophone Repertoire, and The "Raschèrian" Approach.




Dr. Steinberg serves as the Director of Wind Studies at San Diego School of Creative and Performing Arts, Artist-Faculty at Usdan Summer Camp for the Arts, and is Founder and Music Director of the Megalopolis Saxophone Orchestra.

Pieces to Be Performed

---

No Pieces to Be Performed found.