NASA 2018 Biennial Conference Presenter — Elizabeth Rosinbum
Mark your calendars now to join us March 8-11, 2018 for the NASA 2018 Biennial Conference at University of Cincinnati College - Conservatory of Music in Cincinnati, Ohio.
James Bunte — Host
— Conference Program Committee Chair
— NASA Director of Marketing
#NASA2018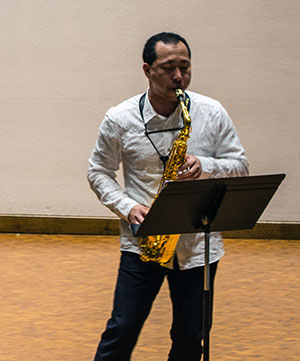 Click here for the overall Conference Schedule. NOTE: The closing concert is on Sunday, March 13, at 3:00 PM in Hemmle Recital Hall. We hope you will make plans to be with us for this special performance.
You may click on the photo for a higher resolution version of the photo.
Name:
Elizabeth Rosinbum
Website:
http://www.elizabethrosinbum.com
Presentation Date:
Sunday, March 13, 2016 10:00 AM
Presentation Venue:
Senate Room
Presentation Title:
It's Not Just a Job: How to Make Teaching or Other Musical Ventures Musically Fulfilling
Type of Presentation:
Non-Performance: Classical Lecture
Proposal Duration:
45
Bio:

Concert saxophonist Elizabeth Rosinbum is an avid performer, educator, and lecturer. Rosinbum has performed nationally and internationally, most recently at the Navy Band Saxophone Symposium, New England Saxophone Symposium, World Saxophone Congress, Université Européenne de Saxophone, and several NASA Conferences.

In November 2014, she made her concerto debut as the featured soloist with Austin Symphonic Band, performing Claude T. Smith's "Fantasia." In July 2015 at SaxOpen, she performed world premieres by Texas-based composers Rob Smith and Michael Mikulka. Her upcoming recording project features the music of central Texas composers.

Additionally, Rosinbum is a D'Addario Reserve Method Artist and maintains a private studio. Committed to educating the next generation of musicians through masterclasses and workshops, she co-founded Saxophone Academy Austin to teach and inspire young saxophonists. She holds degrees from the University of Massachusetts, Amherst and Arizona State University. Her primary instructors are Lynn Klock and Timothy McAllister.

Pieces to Be Performed

---

No Pieces to Be Performed found.