NASA 2022 Biennial Conference Presenter — Sean Murphy
Mark your calendars now to join us Thursday-Sunday, March 10-13, 2022 for the NASA 2022 Biennial Conference at Oklahoma State University, Greenwood School of Music in Stillwater, Oklahoma.

#NASA2022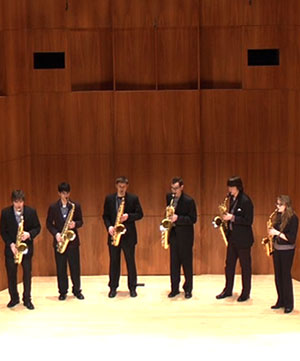 You may click on the photo for a higher resolution version of the photo.
Name:
Sean Murphy
Website:
http://www.seanmurphysaxophone.com
Presentation Date:
Saturday, March 7, 2020 2:00 PM
Presentation Venue:
Gammage 311
Presentation Title:
Saxo-preneurship : A Panel Discussion on Monetizing the Instrument
Type of Presentation:
Non-Performance: Panel Discussion
Proposal Duration:
50
Bio:
Dr. Sean Murphy currently serves as Assistant Professor or Arts Management & Entrepreneurship at Baldwin Wallace University in Cleveland, Ohio. He is the owner of Murphy Music Press, a publishing company specializing in music for saxophone, a Selmer Paris performing artist, and maintains an active private studio. His debut album, Rediscovering Bauzin is planned for release in 2020. For more information please visit

www.seanmurphysaxophone.com

Other Performers / Participants

---

Jess Voigt-Page

Panel Member

Bio:

After graduating from The University of Iowa in 2013, Jessica relocated to Austin, Texas where she quickly gained recognition in the local scene as a talented performer, established Saxophone Academy Austin and joined the faculty at Baylor University as Adjunct Instructor of Saxophone. Currently serving as President-Elect for the North American Saxophone Alliance.

Jessica founded the Abundant Musician Project in 2015 to guide young musicians through the process of engineering their careers in the arts, and has presented lectures on Music Entrepreneurship and career development at various Universities and conferences around the US. Jessica initiated the Compass Labs Series at Baylor University's School of Music to help guide and inspire students to design their futures, and works with students individually to help prepare job application materials and digital presence.

Jessica Voigt-Page is a Yamaha Artist, D'Addario Woodwinds Performing Artist, Key Leaves Artist and Beaumont Music Artist.





Steven Banks

Panel Member

Bio:

Steven Banks is a classical saxophonist, chamber musician, music educator, advocate for diversity and inclusion in classical music, and composer. Banks serves proudly as the Assistant Professor of Saxophone at Ithaca College.

Banks is the baritone saxophonist of the award-winning Kenari Quartet. They enjoy a regular performance schedule at chamber music series and universities around the country. The group has earned top prizes at 7 national and international chamber music competitions. Their debut album, French Saxophone Quartets, was released in December 2016 under the Naxos Records label. Kenari is represented by Jean Schreiber Management.





Scott Campbell

Panel Member

Bio:

Dr. Scott Campbell has performed as a soloist and presented master classes in Australia, China, Finland, France, Germany, Norway, Sweden, and throughout the United States. He has appeared with various ensembles, including Dallas Pops, Plano Symphony, Odysseus Chamber Orchestra and performed with musicians such as The O'Jays, Martina McBride, and Ben Folds.

Currently, Dr. Campbell serves as Woodwind Category Manager for Conn-Selmer. In this position he oversees the company's woodwind portfolio including product development, marketing, manufacturing, sales, quality, customer service, procurement, and the artist roster.

Dr. Campbell has served on the faculty of Southwestern Adventist University and Mountain View College and maintained a large private studio that averaged between 80-100 private students in Texas. Dr. Campbell holds a DMA in saxophone performance from the University of North Texas and has been featured as an interviewee in The Instrumentalist, Southwestern Musician, The Wave, and served as a clinician for Vandoren.





Dan Gelok

Panel Member

Bio:

Saxophonist and educator Dan Gelok is internationally recognized and sought-after as an outstanding young performer and teacher of classical saxophone music. He currently holds the title of Assistant Professor of Saxophone at the University of Houston.

.

As an educator, Mr. Gelok also maintains a private studio of students ranging in experience from beginner to the collegiate level. Internationally sought-after as a teacher, he has received masterclass and lecture invitations from the Northeast Texas Saxophone Symposium, The New England Saxophone Symposium, the Singapore Saxophone Symposium, the Artists Academy (Singapore) Summer Workshop Series, the Belles Artes Music Festival (Medellin, Colombia), and various universities throughout the United States. . In addition, he founded and continues to serve as Director of the Houston Underground Competition, the country's largest independent chamber music contest for high school saxophonists.

Mr. Gelok is a Yamaha Performing Artist.