NASA 2020 Biennial Conference Presenter — Timothy McAllister
Mark your calendars now to join us Friday-Monday, March 6-9, 2020 for the NASA 2020 Biennial Conference at Arizona State University in Tempe, Arizona.
— NASA Director of Marketing
#NASA2020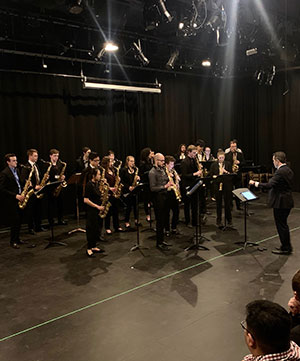 Name:
Timothy McAllister
Website:
http://www.timothymcallister.com
Presentation Date:
Sunday, March 8, 2020 1:00 PM
Presentation Venue:
Katzin Concert Hall
Presentation Title:
Masterclass
Type of Presentation:
Non-Performance: Master Class
Proposal Duration:
50
Bio:

Saxophonist Timothy McAllister is one of today's premier wind soloists and a member of the 2018 GRAMMY® Award-winning PRISM Quartet, credited with 45 recordings and 200 premieres of compositions by eminent and emerging composers worldwide.

He has appeared with over forty of the world's top orchestras and ensembles in over twenty countries, with recordings on major labels including Nonesuch, ECM, Deutsche Grammophon, Berlin Philharmonic Recordings, Naxos, New Focus and more. McAllister won a 2015 GRAMMY® Award with the St. Louis Symphony Orchestra as soloist on the album "John Adams: City Noir" featuring the Saxophone Concerto. His recording of Kenneth Fuchs's RUSH, with the London Symphony Orchestra appears on the 2019 GRAMMY® winning album, "Spiritualist."

A revered teacher of his instrument, he is regularly invited to appear at the world's leading institutions. He was appointed Professor of Saxophone at the University of Michigan in September 2014, succeeding his legendary mentor, Donald Sinta.