NASA 2020 Biennial Conference Presenter — Mark Watkins
Mark your calendars now to join us Friday-Monday, March 6-9, 2020 for the NASA 2020 Biennial Conference at Arizona State University in Tempe, Arizona.
— NASA Director of Marketing
#NASA2020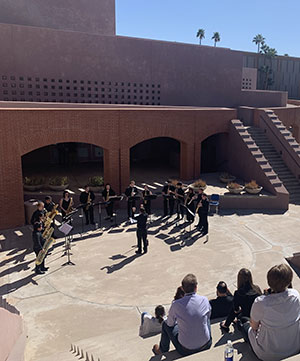 You may click on the photo for a higher resolution version of the photo.
Name:
Mark Watkins
Website:
http://www.watkinsmusicstudios.com
Presentation Date:
Monday, March 9, 2020 9:00 AM
Presentation Venue:
Gammage 311
Presentation Title:
From the Inside Out: An In-Depth Resource for the Development of Saxophone Sound
Type of Presentation:
Non-Performance: Classical Lecture
Proposal Duration:
50
Bio:

= Mark Watkins is the author of the revelutionary book, From the Inside Out. He has performed in 20+ countries as a soloist and in professional ensembles including the saxophone quartet FOUR. His compositions have received much praise and are carried by Walrus, Jazz Lines, FOURjazz, Dorn, and Roncorp/Northeastern. Watkins has produced nine albums, with his latest, FOUR: There You Go Thinking Again, a collaboration with the Miami, Zagreb, Saxitude, Richard Ingham, and Utah saxophone quartets. He holds a doctorate in five woodwinds from Indiana University and has studied saxophone with C. Raymond Smith, Eugene Rousseau, Daniel Deffayet, and Yushi Ishiwata. In 1994, Dr. Watkins was offered a position in the US Army Field Band, but visual disability prevented his enlistment. Watkins has published in journals including The Saxophone Symposium and JAZZed Magazine. He is currently Professor of Saxophone and Director of Jazz Studies at Brigham Young University–Idaho.

Pieces to Be Performed

---

No Pieces to Be Performed found.