NASA 2020 Biennial Conference Presenter — Bruno Medina Pegoraro
Mark your calendars now to join us March 6-9, 2020 for the NASA 2020 Biennial Conference at Arizona State University in Tempe, Arizona.
— NASA Director of Marketing
#NASA2020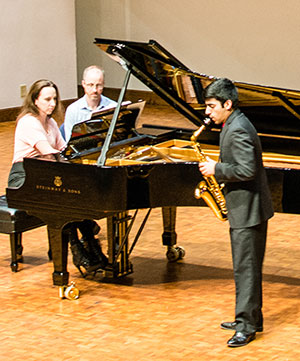 You may click on the photo for a higher resolution version of the photo.
Name:
Bruno Medina Pegoraro
Website:
http://brunomedina.com.br
Presentation Date:
Friday, March 9, 2018 10:00 AM
Presentation Venue:
1340 CC
Presentation Title:
Melodic Patterns for improvisation in Brazilian Jazz — Practicing and improvising using music elements from Brazilian styles such as choro, samba, bossa-nova, baiao and frevo
Type of Presentation:
Non-Performance: Jazz Lecture
Proposal Duration:
50
Bio:

Bruno Medina Pegoraro is the winner of the International Prize "Premio Massimo Molinero" (Italy - 2005) and holds a Master´s of Music Degree and Bachelor of Arts with jazz concentration from the University of Louisville (USA) and a Performance Graduate Diploma from the Universidade de Brasília (Brazil).

He is a former teacher from Universidade de Brasília and Escola de Música de Brasília and played in festivals such as Vienna Jazz fest (Austria), Brazilian Festival in Istanbul (Turkey), La Plata Jazz Festival (Argentina), Petra Jazz Festival Ilhabela (Brazil), the Jazz Week (Louisville - USA).

In Volume 124 of Jamey Aebersold play-along series, Bruno performed the demonstration saxophone solos and his name appears as a reference among the Brazilian saxophonists.

Bruno was coordinator of the II Saxophonists Meeting of Brasília (2014) and musical director of the Brasília Sax Fest 2015. He conceived and directed The International Saxophone Competition Victor Assis Brasil.

Pieces to Be Performed

---

No Pieces to Be Performed found.