NASA 2020 Biennial Conference Presenter — Jonathan Helton
Mark your calendars now to join us Friday-Monday, March 6-9, 2020 for the NASA 2020 Biennial Conference at Arizona State University in Tempe, Arizona.
— NASA Director of Marketing
#NASA2020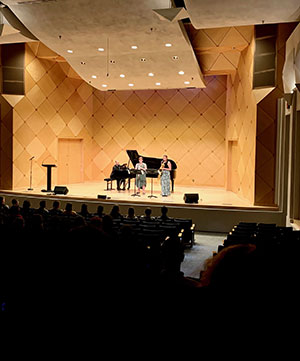 Name:
Jonathan Helton
Website:
http://www.jonathanhelton.com/
Presentation Date:
Saturday, March 7, 2020 1:00 PM
Presentation Venue:
Gammage 311
Presentation Title:
The Life and Legacy of Frederick L. Hemke
Type of Presentation:
Non-Performance: Panel Discussion
Proposal Duration:
50
Bio:
Jonathan Helton is Professor of Saxophone and Woodwind Area Head at the University of Florida. As a concert saxophonist he has performed on six continents, appearing with orchestras and wind ensembles, and in numerous chamber concerts

His performance credits include concerto appearances in New York City, Chicago, North Carolina, Georgia, Washington D.C., and with the Twelfth and Fifteenth World Saxophone Congress Wind Orchestras.

He is featured in solo and chamber music performances on eleven compact discs from Centaur, Elf, Innova, and Mark Records. His recording of the Dahl Concerto was a "Top 100" Grammy-nominated album.

Helton's principal teachers include Frederick Hemke, James Houlik, Daniel Deffayet, Jean-Marie Londeix, and Joe Allard.

From 1992 to 1999, he served on the faculty at Northwestern University teaching saxophone and chamber music.

Dr. Helton is an Artist/Clinician for Selmer Paris and for Conn-Selmer. He is a past President of the North American Saxophone Alliance.


Other Performers / Participants

---

Susan B. Nourse

Bio:

Susan Nourse met Fred Hemke as a high school student at Interlochen Arts Academy. She went on to study with him at Northwestern University, receiving her bachelors in music education. Her career path changed, but music and the saxophone remained important.

Susan stayed in contact with Dr. Hemke and his family. A few years ago, she asked him (and Nita) to tell his story, to tell how he came to play the saxophone and how its study expanded to so many colleges and universities. Through a series of interviews, Dr. Hemke's legacy to the music world was revealed. Now encapsulated in book form, others can hear the story in his own words.

Susan Nourse lives and works in Freeport, Maine where she stills plays the saxophone and enjoys music of all types.





John Sampen

Alto Saxophone

Bio:

As one of America's leading concert saxophonists,

John Sampen

is particularly recognized as a distinguished artist in contemporary literature. He has commissioned over one hundred new works and has soloed with ensembles from all over the world. Sampen has recorded with Belgian and Swiss National Radio and is represented on the Orion, CRI, Albany and Capstone record labels. A clinician for the Conn-Selmer Company, he has presented masterclasses at important universities and conservatories throughout Europe, Asia and North America.

In addition to contemporary literature, Sampen performs traditional saxophone repertoire in recital with pianist/composer Marilyn Shrude.

Dr. Sampen is currently a Distinguished Artist Professor at Bowling Green State University and is Past President of the North American Saxophone Alliance.





William Street

Alto Saxophone

Bio:

William Street

has performed and lectured in Belgium, Canada, Russia, France, Great Britain, Japan, Mexico Spain, Taiwan, Thailand, Ukraine, and the USA. He tours frequently with pianist Roger Admiral and the Quatuor International de Saxophones. From 2009-2013, Bill served as Associate Dean of Arts at the University of Alberta and from 2013-2015 he was Associate Dean of Humanities and Arts at San Jose State University. In 2015, he was appointed Chair of the Music Department at the University of Alberta.


Strongly influenced by his former teachers Etheridge, Hemke and Londeix, Street has sought to make heard the music of today's composers. He is featured on compact disc recordings performing concertos, music for saxophone and piano, chamber music, and saxophone quartets.

Street has participated as jury member and organizer for numerous international competitions in Belgium, France, Malta, Russia, Thailand, Ukraine and the USA.

He served as President of NASA from 1992-1994.