NASA 2020 Biennial Conference Presenter — Nikolai Klotchkov
Mark your calendars now to join us Friday-Monday, March 6-9, 2020 for the NASA 2020 Biennial Conference at Arizona State University in Tempe, Arizona.
— NASA Director of Marketing
#NASA2020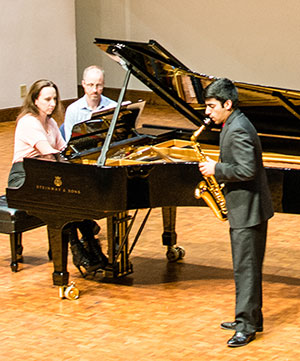 Name:
Nikolai Klotchkov
Website:
Presentation Date:
Monday, March 9, 2020 10:00 AM
Presentation Venue:
Gammage 209
Presentation Title:
Applications of scientific research in saxophone playing and pedagogy
Type of Presentation:
Non-Performance: Classical Lecture
Proposal Duration:
50
Bio:

A native of Moscow (Russia), Nikolai Klotchkov believes that only an excellent musician is able to create a valid scientific description of music phenomenon. Through his research of musicians' physiology and cognitive processes associated with music, he hopes to create better methods to teach beginning instrumentalists and to improve the performance of mature musicians. Nikolai started playing classical saxophone at the age of twelve. Before moving to the U.S., he studied saxophone with Aleksey Volkov at Ippolitov-Ivanov Institute. In May 2018 Nikolai graduated from Auburn University with the BM - classical saxophone under Dr. Michael Pendowski, and BS in Interdisciplinary Studies. Also in 2018, Nikolai won the GCSS Concerto Competition and the first prize in the Rising Talents of Americas International Competition. Now a first-year graduate student at Peabody Conservatory he studies saxophone under Gary Louie and conducts scientific research. Nikolai performs regularly both in the United States and Russia.

Pieces to Be Performed

---

No Pieces to Be Performed found.