NASA 2020 Biennial Conference Presenter — Preston Duncan
Mark your calendars now to join us Friday-Monday, March 6-9, 2020 for the NASA 2020 Biennial Conference at Arizona State University in Tempe, Arizona.
— NASA Director of Marketing
#NASA2020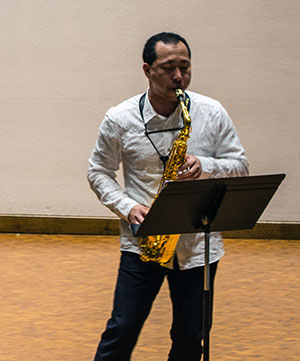 Name:
Preston Duncan
Website:
http://prestonsaxophone.com
Presentation Date:
Sunday, March 8, 2020 3:00 PM
Presentation Venue:
Ravenscroft
Presentation Title:
Duncan Master Class
Type of Presentation:
Non-Performance: Master Class
Proposal Duration:
50
Bio:

An internationally acclaimed performer and educator based out of Minneapolis, Preston Duncan has been hailed as "displaying his saxophone mastery" (The Indianapolis Star) with "virtuosic brilliance" (the Muncie Start/Press) as a "terrific talent" (Marvin Hamlisch).

He was awarded a Fulbright Fellowship and performed internationally and given master classes at The Royal Conservatory (Brussels), , UNAM Conserrvatory (Mexico City), National University (Taipei), National Conservatory (Montevideo), National Conservatory (Zagreb), the National Conservatory (San Jose), Superior School (Lisbon), the The University of Montreal, The University of British Columbia, Conservatory of Music (Perugia), Ticino Musica (Lagano), the New England Conservatory (Boston) and the Manhattan School of Music.

Duncan currently teaches saxophone at the University of Minnesota. His students have been prizewinners in national competitions including the Yamaha Young Performing Artists Competition, The Vandoren Emerging Artists Competition and the Plowman Chamber Music Competition.