NASA 2018 Biennial Conference Presenter — Michael Chamberlin
Mark your calendars now to join us March 8-11, 2018 for the NASA 2018 Biennial Conference at University of Cincinnati College - Conservatory of Music in Cincinnati, Ohio.
James Bunte — Host
— Conference Program Committee Chair
— NASA Director of Marketing
#NASA2018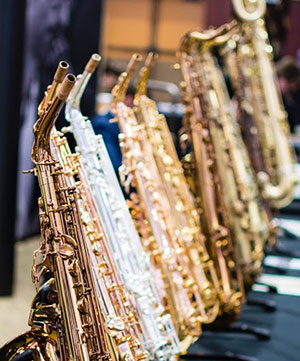 Click here for the overall Conference Schedule. NOTE: The closing concert is on Sunday, March 13, at 3:00 PM in Hemmle Recital Hall. We hope you will make plans to be with us for this special performance.
You may click on the photo for a higher resolution version of the photo.
Name:
Michael Chamberlin
Website:
http://www.chamberlinsax.com
Presentation Date:
Saturday, March 12, 2016 3:00 PM
Presentation Venue:
Senate Room
Presentation Title:
Bebop Scales and Jazz Improvisation: Approach and Application
Type of Presentation:
Non-Performance: Jazz Lecture
Proposal Duration:
45
Bio:

Dr. Michael Chamberlin is an alumnus of the University of Maryland (DMA), the University of North Texas (MM), and Bowling Green State University (BA) where he studied saxophone performance, jazz, and education. He is a versatile musician, a sought after clinician, and has presented on numerous occasions throughout the world. Dr. Chamberlin joined the United States Army Band as a saxophonist in 2013 and is currently stationed in Sembach, Germany

. Dr. Chamberlin

recently presented a jazz lecture at the 2015 World Saxophone Congress in Strasbourg, France. In 2014, while stationed in Seoul, South Korea, Dr. Chamberlin presented a jazz lecture

at the United States Embassy in conjunction with Jazz Appreciation Month.

He has an extensive background as a performer leading a jazz combo, including experience as a show band musician for Carnival Cruise Lines. As an educator, Dr. Chamberlin taught extensively throughout the Washington, DC metro area.

Pieces to Be Performed

---

No Pieces to Be Performed found.