NASA 2018 Biennial Conference Presenter — Christopher Walker
Mark your calendars now to join us March 8-11, 2018 for the NASA 2018 Biennial Conference at University of Cincinnati College - Conservatory of Music in Cincinnati, Ohio.
James Bunte — Host
— Conference Program Committee Chair
— NASA Director of Marketing
#NASA2018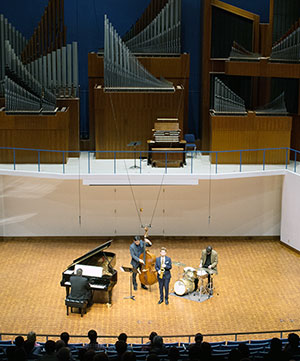 Click here for the overall Conference Schedule. NOTE: The closing concert is on Sunday, March 13, at 3:00 PM in Hemmle Recital Hall. We hope you will make plans to be with us for this special performance.
You may click on the photo for a higher resolution version of the photo.
Name:
Christopher Walker
Website:
Presentation Date:
Saturday, March 12, 2016 4:00 PM
Presentation Venue:
Senate Room
Presentation Title:
The Art of War for the Saxophone Teacher
Type of Presentation:
Non-Performance: Classical Lecture
Proposal Duration:
45
Bio:
Dr.
Christopher Walker has performed as a soloist in eleven
countries, spanning three continents, and has shared the stage with
such great performers as Frederick Fennell, The Charlie Daniels Band,
Huey Lewis and the News, and The Unites States Air Force Academy Band
and has performed for the Vice President of the United States.
Recently, Dr. Walker performed a tour of Norway in honor of the 200th anniversary of the Norwegian constitution, giving performances and presenting guest lectures. Dr. Walker serves on the faculties of Darton State College and Georgia Southwestern State University. His former students are active performers and educators in the Unites States, Europe, and the Caribbean. In military bands, Master Sergeant Walker has served as a saxophone, flute, and clarinet soloist, conductor, and musical group leader. He has played in concert bands, rock bands, jazz bands, polka bands, and many woodwind chamber ensembles, including the Garde Américain Saxophone Quartet.



Pieces to Be Performed

---

No Pieces to Be Performed found.