NASA 2018 Biennial Conference Presenter — Kristen McKeon
Mark your calendars now to join us March 8-11, 2018 for the NASA 2018 Biennial Conference at University of Cincinnati College - Conservatory of Music in Cincinnati, Ohio.
James Bunte — Host
— Conference Program Committee Chair
— NASA Director of Marketing
#NASA2018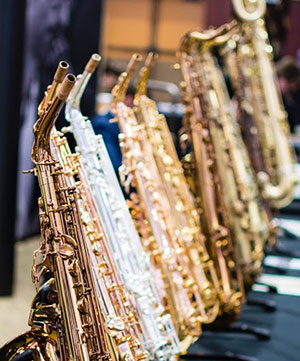 Click here for the overall Conference Schedule. NOTE: The closing concert is on Sunday, March 13, at 3:00 PM in Hemmle Recital Hall. We hope you will make plans to be with us for this special performance.
You may click on the photo for a higher resolution version of the photo.
Name:
Kristen McKeon
Website:
http://www.newthreadquartet.com
Presentation Date:
Friday, March 11, 2016 2:00 PM
Presentation Venue:
Matador Room
Presentation Title:
Playing Fearlessly: A Retrospective on Why You're Here, and Why That's All That Matters
Type of Presentation:
Non-Performance: Classical Lecture
Proposal Duration:
50
Bio:

NYC-based saxophonist, Kristen McKeon, is a member of D'Addario & Company's Woodwind Division. She serves as Woodwind Product Specialist, Reserve Method Program Director, and Lead Product Development Advisor for concert saxophone accessories.




A founding member of New Thread Quartet, Kristen is committed to the creation and performance of new music. Interactions with composers are collaborative throughout the commissioning lifecycle—from initial concepts, to premiers. Kristen has worked with composers Benjamin Hjertmann, Richard Carrick, Luke Schwartz, Roberto Kalb, Kathryn Salfelder, and others. She has been featured on recordings of works by Craig Sheppard, David Claman, and Elliott Sharp.




Kristen has enjoyed appearing on festivals including thingNY's Seven Immediacies Series, the New England Conservatory Composers' Series, Composers Now Festival, Music for Contemplation, Bushwick Open Studios, and the Monadnock Music Festival.




An experienced speaker, Kristen leads global discussions on instrument accessories manufacturing, entrepreneurial thinking, and effective collaboration methods with the larger music industry.

Other Performers / Participants

---

| | | |
| --- | --- | --- |
| Name | Instrument | Bio |
| Connie Frigo | Co-Presenter | Not Provided |

Pieces to Be Performed

---

No Pieces to Be Performed found.