NASA 2018 Biennial Conference Presenter — James Skretta
Mark your calendars now to join us March 8-11, 2018 for the NASA 2018 Biennial Conference at University of Cincinnati College - Conservatory of Music in Cincinnati, Ohio.
James Bunte — Host
— Conference Program Committee Chair
— NASA Director of Marketing
#NASA2018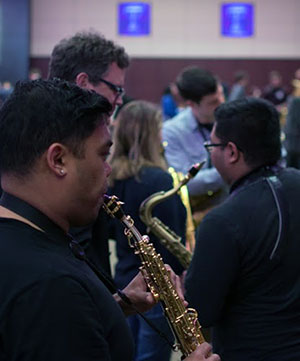 Click here for the overall Conference Schedule. NOTE: The closing concert is on Sunday, March 13, at 3:00 PM in Hemmle Recital Hall. We hope you will make plans to be with us for this special performance.
You may click on the photo for a higher resolution version of the photo.
Name:
James Skretta
Website:
Presentation Date:
Friday, March 11, 2016 4:00 PM
Presentation Venue:
Senate Room
Presentation Title:
Recipient of Thomas Liley Scholarship: Phenomenal Meter vs. Notated Meter: The Case of Rodney Rogers's Lessons of the Sky
Type of Presentation:
Non-Performance: Classical Lecture
Proposal Duration:
40
Bio:

James Skretta is actively engaged in both the saxophone and music theory communities. As a saxophone soloist he is a First Prize Winner in the MTNA Young Artist Competition, a two-time winner of the Central College concerto competition, and was recently a featured soloist with the Central College Symphonic Wind Ensemble and the University of Iowa University Band.




James recently earned the Doctor of Musical Arts degree from the University of Iowa. His saxophone mentors include Kenneth Tse and Cynthia Doggett, having had additional studies with Eugene Rousseau and Thomas Liley. James is also pursuing a Ph.D. in Music Theory at the University of Iowa where he teaches undergraduate music theory curriculum. His theoretical research focuses on issues of pedagogy, metric theory, phenomenology, and music perception and cognition. James is currently on faculty at Cornell College (Mt. Vernon, IA).

Pieces to Be Performed

---

No Pieces to Be Performed found.