NASA 2020 Biennial Conference Presenter — Robert Brooks
Mark your calendars now to join us Friday-Monday, March 6-9, 2020 for the NASA 2020 Biennial Conference at Arizona State University in Tempe, Arizona.
— NASA Director of Marketing
#NASA2020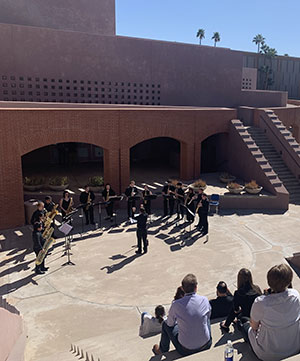 Name:
Robert Brooks
Website:
http://www.robertbrooksjazz.com
Presentation Date:
Saturday, March 7, 2020 3:00 PM
Presentation Venue:
Gammage 301
Presentation Title:
Better Together: Duet Playing to Improve Improv
Type of Presentation:
Non-Performance: Jazz Lecture
Proposal Duration:
50
Bio:
Dr. Robert D. Brooks is a jazz saxophonist and music educator from Michigan. He holds a DMA and MM from the University of Illinois Urbana-Champaign under the direction of Chip McNeill and David Harris and a BM from Central Michigan University under the direction of John Nichol and Rob Smith. He has served on faculties at Bradley University, the University of Illinois- Springfield and is currently the Director of Jazz Studies at Friends University in Wichita, KS. Robert's most recent releases, "Accidental Nomad" and "New Standard Duo" on Ropeadope Records, have been received with critical acclaim and he has toured with Reginald Chapman's "Pressure Fit", Sun Stereo, and The Lake Effect, throughout the midwest and east coast. Robert is a Ropedope Records Artist.

Other Performers / Participants

---

Jordan VanHemert

Alto Saxophone

Bio:

Dr. Jordan VanHemert's research is focused on the intersectionality of classical and jazz saxophone pedagogy and how these two musical traditions can inform each other in the lesson studio through audiation.

As an educator, Dr. VanHemert's many areas of performance expertise allow him to serve as a clinician for a myriad of groups, including jazz ensembles, saxophone sections and other woodwind chamber ensembles. Dr. VanHemert is frequently invited to serve as an adjudicator and clinician for MSBOA district and state jazz festivals, as well as Central Michigan University's annual Jazz Weekend. In addition, Dr. VanHemert has been invited to present his work at the Michigan Music Conference and North American Saxophone Alliance Biennial and Regional Conferences.





Pieces to Be Performed

---

No Pieces to Be Performed found.