NASA 2022 Biennial Conference Presenter — Erik Elmgren
Mark your calendars now to join us Thursday-Sunday, March 10-13, 2022 for the NASA 2022 Biennial Conference at Oklahoma State University, Greenwood School of Music in Stillwater, Oklahoma.

#NASA2022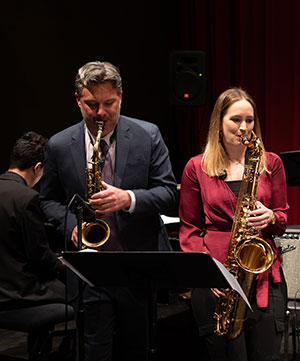 You may click on the photo for a higher resolution version of the photo.
Name:
Erik Elmgren
Website:
Presentation Date:
Monday, March 9, 2020 10:00 AM
Presentation Venue:
Gammage 311
Presentation Title:
Creative Placemaking and Saxophone in Higher Education: Music with Social Benefit
Type of Presentation:
Non-Performance: Classical Lecture
Proposal Duration:
30
Bio:

Erik Elmgren is a concert saxophonist, chamber musician, and educator dedicated to sharing music with audiences of all types from concert halls to community centers. Currently, Erik is pursuing a Doctor of Musical Arts Degree in Saxophone Performance and Literature as well as a certificate in Nonprofit Management and Leadership at the University of Georgia, where he also serves as a teaching assistant in the saxophone studio and UGA's Arts Career and Entrepreneurship Space. He participated in the Graduate School's Emerging Leaders program during the 2018-2019 school year. He maintains and active performing schedule and has won prizes at numerous competitions as both a soloist and as alto saxophonist with the award-winning Fuego Quartet. Erik's research focus deals with creating a model for students in higher education to engage with creative placemaking as a valuable artistic and educational framework.




Pieces to Be Performed

---

No Pieces to Be Performed found.