NASA 2022 Biennial Conference Presenter — Nicholas Bissen
Mark your calendars now to join us Thursday-Sunday, March 10-13, 2022 for the NASA 2022 Biennial Conference at Oklahoma State University, Greenwood School of Music in Stillwater, Oklahoma.

#NASA2022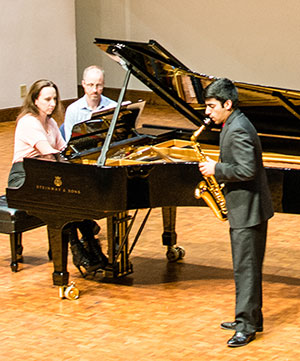 Name:
Nicholas Bissen
Website:
http://nicholasbissen.com
Presentation Date:
Monday, March 9, 2020 9:00 AM
Presentation Venue:
W 218
Presentation Title:
A Performer's Guide To Score Study
Type of Presentation:
Non-Performance: Classical Lecture
Proposal Duration:
50
Bio:

Nicholas Bissen is a freelance teacher and performer in Houston, TX, teaching a full studio across the city. Nicholas's teaching values lead him to frequently conduct and arrange for saxophone. His arrangement of Delibes's "Flower Duet" was recently featured on the trio album by James Bunte, Nathan Nabb, and Hyun Ji Oh, "Jamnaji," and his edition of Fernande Decruck's Sonata in C# was performed by James Bunte at the opening concerto concert for the 2018 NASA Biennial conference in Cincinnati. Nicholas's newest adaptation is Khachaturian's Violin Concerto in D Minor for Alto Saxophone.

Nicholas received his BME from the University of Central Missouri, MM from the University of Cincinnati, Performance Certificate from Stephen F. Austin State University, and received four years of additional instruction from the Frederic L. Hemke Saxophone Institute. These teachers respectively are, James Gai, James Bunte, Nathan Nabb, Frederic Hemke, John Sampen, and Gail Levinsky.

www.nicholasbissen.com

Pieces to Be Performed

---

No Pieces to Be Performed found.