NASA 2020 Biennial Conference Presenter — Zachary Woolhouse
Mark your calendars now to join us Friday-Monday, March 6-9, 2020 for the NASA 2020 Biennial Conference at Arizona State University in Tempe, Arizona.
— NASA Director of Marketing
#NASA2020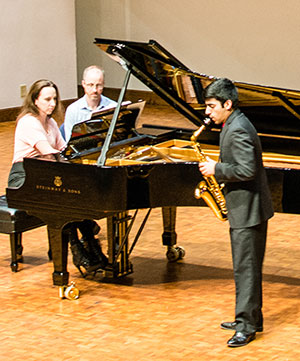 Name:
Zachary Woolhouse
Website:
http://www.ysicamps.com
Presentation Date:
Saturday, March 7, 2020 4:00 PM
Presentation Venue:
Ravenscroft
Presentation Title:
Let's Get Started! Setting up your saxophone student for success in the first year
Type of Presentation:
Non-Performance: Classical Lecture
Proposal Duration:
50
Bio:

Zach Woolhouse is band director at Hillwood Middle School in Fort Worth, Texas, as well as the owner and operator of The Young Saxophonist's Institute, a summer camp for middle and high school students.




Mr. Woolhouse graduated from the University of Houston magna cum laude in 2015 and is currently pursuing his masters in music education at Southern Methodist University. While attending UH, he was a member of the UH Wind Ensemble, Jazz Orchestra and Seraphim Saxophone Quartet.




Mr. Woolhouse currently resides in Fort Worth, Texas with his wife Sarah Woolhouse, where they enjoy spending time with family and traveling.

Pieces to Be Performed

---

No Pieces to Be Performed found.