NASA 2018 Biennial Conference Presenter — Frank Bongiorno
Mark your calendars now to join us March 8-11, 2018 for the NASA 2018 Biennial Conference at University of Cincinnati College - Conservatory of Music in Cincinnati, Ohio.
James Bunte — Host
— Conference Program Committee Chair
— NASA Director of Marketing
#NASA2018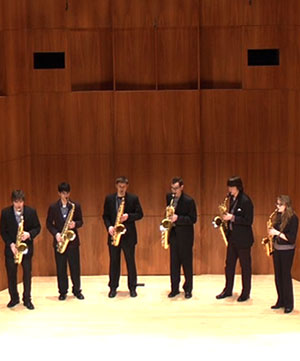 Click here for the overall Conference Schedule. NOTE: The closing concert is on Sunday, March 13, at 3:00 PM in Hemmle Recital Hall. We hope you will make plans to be with us for this special performance.
You may click on the photo for a higher resolution version of the photo.
Name:
Frank Bongiorno
Website:
http://uncw.edu/music/faculty/bongiornof/index.html
Presentation Date:
Saturday, March 12, 2016 3:00 PM
Presentation Venue:
Choir Hall
Presentation Title:
Master Class
Type of Presentation:
Non-Performance: Master Class
Proposal Duration:
50
Bio:

Frank Bongiorno is Professor and Chair of the Department of Music at the University of North Carolina Wilmington where he has taught saxophone, as well as jazz studies since 1982. During his tenure at UNCW, his saxophone students have received numerous awards in classical and jazz performance, and he has been recognized for his contributions to teaching at receiving the 2006 J. Marshall Crews Distinguished Faculty Award, the UNCW 2010 Distinguished Teaching Professorship Award, and the 2011 North Carolina Board of Governors Award for Excellence in Teaching.

His performances have taken him throughout the country and abroad, including performances with professional and college bands and orchestras. Bongiorno's solo recordings include the critically acclaimed Classic Saxophone, Classic Saxophone, Vol. 2, and Images, as a member of the Ryoanji Duo. He has numerous publications, including classical transcriptions, jazz compositions, paper presentations, pedagogical DVDs and CDs, as well as over 150 articles and reviews.