NASA 2020 Biennial Conference Presenter — Myles Boothroyd
Mark your calendars now to join us Friday-Monday, March 6-9, 2020 for the NASA 2020 Biennial Conference at Arizona State University in Tempe, Arizona.
— NASA Director of Marketing
#NASA2020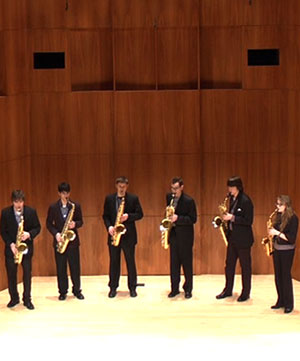 You may click on the photo for a higher resolution version of the photo.
Name:
Myles Boothroyd
Website:
http://mylesboothroyd.com
Presentation Date:
Monday, March 9, 2020 10:00 AM
Presentation Venue:
Ravenscroft
Presentation Title:
Publishing with The Saxophone Symposium
Type of Presentation:
Non-Performance: Panel Discussion
Proposal Duration:
50
Bio:

Myles Boothroyd is a performing artist dedicated to promoting the versatility of the saxophone across traditional genre boundaries. He has earned top national prizes in the MTNA solo and chamber competitions, as well as first prize in the NASA collegiate solo competition. He serves as assistant editor for The Saxophone Symposium and has presented at conferences across the United States and Canada.


Boothroyd teaches as Assistant Professor of Saxophone and Music Theory at the University of Wisconsin-Stevens Point. He holds a Doctor of Musical Arts degree in saxophone performance and literature, a Master of Music degree in saxophone performance and literature, and a Master of Arts degree in music theory pedagogy from the Eastman School of Music. He also holds a bachelor's degree in music education from Central Michigan University. His former teachers include Chien-Kwan Lin and John Nichol.