NASA 2020 Biennial Conference Presenter — Phil Scarff
Mark your calendars now to join us Friday-Monday, March 6-9, 2020 for the NASA 2020 Biennial Conference at Arizona State University in Tempe, Arizona.
— NASA Director of Marketing
#NASA2020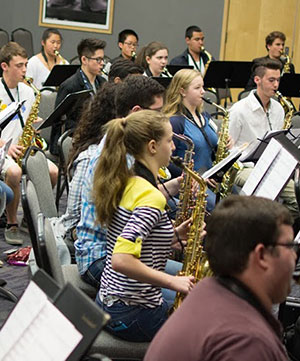 You may click on the photo for a higher resolution version of the photo.
Name:
Phil Scarff
Website:
http://philscarff.com/
Presentation Date:
Saturday, March 7, 2020 1:00 PM
Presentation Venue:
W 218
Presentation Title:
Extended Techniques for Saxophone Adapted from North Indian Classical Music
Type of Presentation:
Non-Performance: Classical Lecture
Proposal Duration:
50
Bio:

Saxophonist and composer Phil Scarff (www.philscarff.com) performs Indian classical music and contemporary jazz, and leads the world-jazz groups Natraj and the Lewis Porter-Phil Scarff Group. Phil pioneers the performance of North Indian classical music on soprano saxophone, exquisitely capturing the subtlety and depth of this music. His performance at India's legendary Tansen Samaroh, Gwalior, India, with Saskia Rao de Haas was "The highlight of the festival." [Dainik Bhaskar]. Indian classical appearances also include India's Nehru Center (Mumbai); Ramakrishna Mission Institute of Culture (Kolkata); and ICCR Theater (Delhi). Phil has presented workshops on jazz, Indian classical music, and world music at institutions such as New England Conservatory, Indian Musicological Society (Mumbai), Berklee College, Tufts Univ., Kalakshetra Foundation (Chennai, India), Univ. of North TX, Univ. of OK, Lawrence Univ., Bowdoin College, Dartmouth College, Guelph Jazz Festival, Univ. of RI, MIT, LearnQuest Festival, Boston Univ., and Berks Jazz Fest.

Pieces to Be Performed

---

No Pieces to Be Performed found.