NASA 2020 Biennial Conference Presenter — Tessa Welterlen
Mark your calendars now to join us Friday-Monday, March 6-9, 2020 for the NASA 2020 Biennial Conference at Arizona State University in Tempe, Arizona.
— NASA Director of Marketing
#NASA2020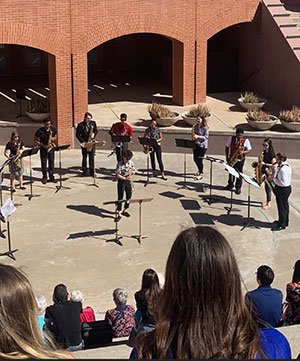 Name:
Tessa Welterlen
Website:
http://www.tessaraewelterlen.com
Presentation Date:
Saturday, March 7, 2020 3:00 PM
Presentation Venue:
Gammage 311
Presentation Title:
Code-Switching: Approaching Jazz as a Classical Saxophonist
Type of Presentation:
Non-Performance: Classical Lecture
Proposal Duration:
50
Bio:

Tessa Rae graduated in May of 2014 from the University of New Mexico with her Master of Music degree in Saxophone Performance, under the tutelage of Dr. Eric Lau. Experienced in jazz, contemporary, and classical music, Tessa has performed at several NASA conferences, and abroad in Brazil, France, and Germany.

She is a graduate of the University of Iowa, where she earned a Bachelor of Music degree in Performance and Music Education with Dr. Kenneth Tse. Tessa has also had the opportunity to study with teachers including Glenn Kostur, Dr. Eugene Rousseau, and Dr. Thomas Liley.

Tessa Rae is the saxophone instructor at Chemeketa Community College and Corban University in Salem, Oregon. She teaches a private saxophone studio, and is an educator in jazz and beginning band. She performs regularly with the Eugene Composer's Big Band, the Salem Little Big Band, and BossSax duo with her husband, Sam Reid.

Pieces to Be Performed

---

No Pieces to Be Performed found.