NASA 2020 Biennial Conference Presenter — Adrianne Honnold
Mark your calendars now to join us Friday-Monday, March 6-9, 2020 for the NASA 2020 Biennial Conference at Arizona State University in Tempe, Arizona.
— NASA Director of Marketing
#NASA2020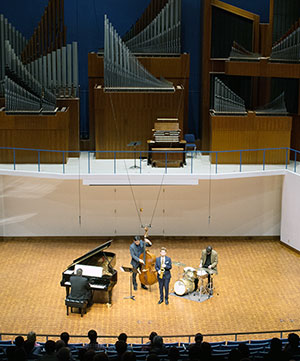 Name:
Adrianne Honnold
Website:
http://www.adriannesaxophone.com
Presentation Date:
Saturday, March 7, 2020 1:00 PM
Presentation Venue:
Gammage 301
Presentation Title:
Gendered Identities, performativity, and other cultural considerations relating to the saxophone in popular music
Type of Presentation:
Non-Performance: Jazz Lecture
Proposal Duration:
50
Bio:

Adrianne Honnold has performed as a saxophonist all over the world including at Royal Albert Hall, the Berlin Philharmonie and the Salle Pleyel in Paris. She taught saxophone at universities in St. Louis from 2005 to 2015, and currently teaches American popular music history courses at Maryville University and St. Louis Community College. She received both her Bachelor and Master of Music degrees from the University of Illinois at Urbana-Champaign where she was a student of Debra Richtmeyer and Chip McNeill, and she is currently a PhD candidate in Musicology/Popular Music Studies at the University of Birmingham in the UK. Ms. Honnold has performed with the Saint Louis Symphony Orchestra, the Opera Theatre of Saint Louis, the Lyric Opera of Kansas City, the Kansas City Symphony Orchestra, the Illinois Symphony Orchestra, the USAF Band of Mid-America, Sessions Big Band, the St. Louis Jazz Orchestra, and the NATO Jazz Orchestra.

Pieces to Be Performed

---

No Pieces to Be Performed found.