NASA 2022 Biennial Conference Presenter — Raphael Silva
Mark your calendars now to join us Thursday-Sunday, March 10-13, 2022 for the NASA 2022 Biennial Conference at Oklahoma State University, Greenwood School of Music in Stillwater, Oklahoma.

#NASA2022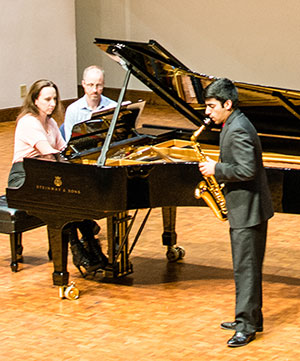 Name:
Raphael Silva
Website:
http://raphaelferreira.net
Presentation Date:
Sunday, March 8, 2020 3:20 PM
Presentation Venue:
W 218
Presentation Title:
Saxofone Performance in Jazz-Oriented Brazilian Popular Music
Type of Presentation:
Non-Performance: Jazz Lecture
Proposal Duration:
50
Bio:

Raphael Ferreira is a Brazilian saxophonist, composer and arranger. Between projects as a soloist or co-leader, he has released eight albums.

As an instrumentalist, Ferreira is part of the Latin Grammy Award-winning Hermeto Pascoal Big Band. In collaborations or as a sideman, he has worked with Airto Moreira, Flora Purim, Arismar do Espírito Santo, Phil DeGreg, Letieres Leite and Rosa Passos, having toured South and North Americas, Europe and Morocco. As a composer, he received the Nascente award (USP/Brazil) in 2006.





Raphael Ferreira earned Master (2009) and Doctorate (2016) degrees in music by State University of Campinas/Brazil (Unicamp), and holds a Bachelor of Music degree by University of São Paulo/Brazil (USP). Currently, Ferreira lives in Denton/TX where he is a Visiting Postdoctoral Scholar at the Division of Jazz Studies of University of North Texas; he is also an Associate Professor at Institute of Arts of Federal University of Uberlandia/Brazil.

Pieces to Be Performed

---

No Pieces to Be Performed found.