NASA 2018 Biennial Conference Presenter — Roy Allen, Jr.
Mark your calendars now to join us March 8-11, 2018 for the NASA 2018 Biennial Conference at University of Cincinnati College - Conservatory of Music in Cincinnati, Ohio.
James Bunte — Host
— Conference Program Committee Chair
— NASA Director of Marketing
#NASA2018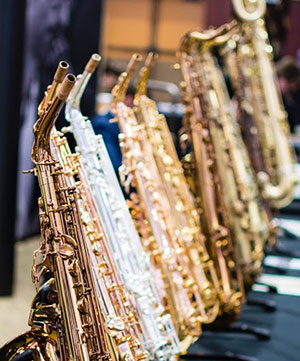 Click here for the overall Conference Schedule. NOTE: The closing concert is on Sunday, March 13, at 3:00 PM in Hemmle Recital Hall. We hope you will make plans to be with us for this special performance.
You may click on the photo for a higher resolution version of the photo.
Name:
Roy Allen, Jr.
Website:
Presentation Date:
Saturday, March 12, 2016 10:40 AM
Presentation Venue:
Kent Hance Chapel
Presentation Title:
Roy Allen, Jr., Alto Saxophone and theTexas Woman's University Woodwind Quintet
Type of Presentation:
Professional Classical Chamber Music Performance
Proposal Duration:
18
Bio:



Mr. Roy Allen, Jr. is currently Adjunct Professor of Saxophone at Texas Woman's University and the Director of Instrumental Studies/Professor of Saxophone at Brookhaven College in Dallas.





Mr. Allen has performed extensively with the East Texas, Mesquite, Garland, Las Colinas, Waco and the Dallas symphony orchestras – as well as the TAMU-Commerce Wind Ensemble, Brookhaven College/TWU Woodwind Quintet and Camerata Woodwind Quintet. Mr. Allen has been a tenured member of the Dallas Wind Symphony (Dallas Winds) since 1992 and has performed on 11 internationally released recordings with the group. Mr. Allen is an active clinician and adjudicator state-wide. His professional organization affiliations include the North American Saxophone Alliance (NASA), Texas Music Educators Association (TMEA), Texas Community College Band Directors Association (TCCBDA) and Kappa Kappa Psi – National Honorary Band Fraternity. Mr. Allen received his Bachelor and Master degrees from Baylor University, where he was a student of Dr. Michael Jacobson.

Ensemble Bio:

Texas Women's University Woodwind Quintet





Dr. Pamela Youngblood is Professor of Flute/Chair of the Department of Music and Drama at TWU. Dr. Youngblood is an active member of the National Flute Association, which she currently serves as Professional Flute Choir Coordinator, and the Texas Flute Society.





Dr. James Hobbs has been Adjunct Professor of Oboe at Texas Woman's University since 2002.





Dr. Danielle Woolery is Assistant Professor of Clarinet at Texas Woman's University.





Ms. Anna May Ghaly is Adjunct Professor of Bassoon at Texas Woman's University.





Mr. Brandon K. McDannald joined the brass faculty of TWU as Adjunct Professor of Horn in the fall of 2015.





Other Performers / Participants

---

| | | |
| --- | --- | --- |
| Name | Instrument | Bio |
| Pam Youngblood | flute | undefined . . . |
| Danielle Woolery | clarinet | undefined . . . |
| James Hobbs | oboe | undefined . . . |
| Stephanie Magnus | bassoon | undefined . . . |
| Brandon McDannald | horn | undefined . . . |

Pieces to Be Performed

---

| | | |
| --- | --- | --- |
| Title | Composer | Duration |
| Chamber Music | Walter S. Hartley | 7 |
| Intrada | Bernhard Heiden | 11 |