NASA 2022 Biennial Conference Presenter — James Buennig
Mark your calendars now to join us Thursday-Sunday, March 10-13, 2022 for the NASA 2022 Biennial Conference at Oklahoma State University, Greenwood School of Music in Stillwater, Oklahoma.

#NASA2022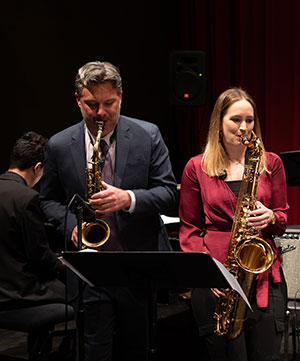 Name:
James Buennig
Website:
http://www.jimbuennig.com
Presentation Date:
Monday, March 9, 2020 8:00 AM
Presentation Venue:
Gammage 209
Presentation Title:
Vincent Herring as a Model for the Aspiring Improviser
Type of Presentation:
Non-Performance: Jazz Lecture
Proposal Duration:
50
Bio:

A native of Geneseo, Illinois, Jim Buennig [BYOO-nig] is a saxophonist, educator, composer, and recording artist based in Iowa City, Iowa, specializing in a range of musical styles with his main focus being jazz. He received a Bachelor of Music degree in Jazz Studies from Western Illinois University and a Master of Arts degree in Jazz Studies from The University of Iowa.

Jim currently teaches at Black Hawk College in Moline, Illinois and is completing his final project for the Doctor of Musical Arts degree at The University of Texas at Austin Butler School of Music.

Buennig's latest album is entitled Smoke & Mirrors and was released in January of 2019. It consists entirely of original compositions and features his quintet based in Austin, Texas.

​Jim Buennig is a D'Addario Woodwinds artist.

Pieces to Be Performed

---

No Pieces to Be Performed found.