NASA 2020 Biennial Conference Presenter — Crystal Alexander-Duckett
Mark your calendars now to join us Friday-Monday, March 6-9, 2020 for the NASA 2020 Biennial Conference at Arizona State University in Tempe, Arizona.
— NASA Director of Marketing
#NASA2020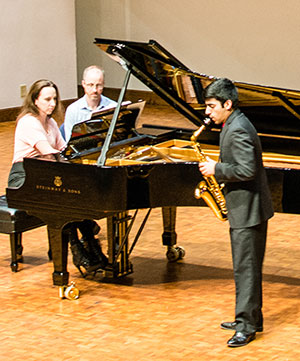 Name:
Crystal Alexander-Duckett
Website:
http://www.crystalalexanderduckett.com
Presentation Date:
Monday, March 9, 2020 8:00 AM
Presentation Venue:
Ravenscroft
Presentation Title:
Step-wise Motion: Propel Your Practice Forward with Mindfulness and Self Care
Type of Presentation:
Non-Performance: Classical Lecture
Proposal Duration:
50
Bio:

Crystal Alexander-Duckett is an Austin based saxophonist, educator and composer. In 2018, Crystal's saxophone quartet Code Seis was premiered the Les Bois Quartet at Texas State University. In 2015, Crystal was a guest artist at the 6th Sax Fest Costa Rica Internacional. Here, Crystal performed as a featured soloist with the Banda de Conciertos de San Jose. She also taught master classes in chamber music and electronic music at the Universidad de Costa Rica and the Instituto Nacional de Musica. An active member of NASA, Crystal continues to premiere new music and lecture on topics including the integration of Tai Chi for musicians. Crystal is a member of the Austin Saxophone Ensemble, and has performed with other musical groups such as the Midwest Winds, and the Round Rock and Topeka Symphony Orchestras.

Pieces to Be Performed

---

No Pieces to Be Performed found.