NASA 2020 Biennial Conference Presenter — Ellie Parker
Mark your calendars now to join us Friday-Monday, March 6-9, 2020 for the NASA 2020 Biennial Conference at Arizona State University in Tempe, Arizona.
— NASA Director of Marketing
#NASA2020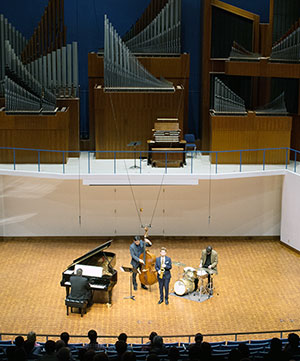 Name:
Ellie Parker
Website:
http://www.ellieparker.net
Presentation Date:
Monday, March 9, 2020 8:00 AM
Presentation Venue:
Gammage 311
Presentation Title:
I Am My Future - A collaborative residency in a Youth Detention Facility
Type of Presentation:
Non-Performance: Classical Lecture
Proposal Duration:
50
Bio:

British saxophonist Ellie Parker is an active advocate of new music and creative collaboration. She is the recipient of the inaugural Laura Buss Sayavedra Award for Citizen Artistry in the city of Houston, as well as being a second-year Da Camera Young Artist. She is Adjunct Professor of Saxophone at Sam Houston State University where she teaches undergraduate music performance and music education majors. Ellie is Assistant Director and saxophonist for AURA contemporary music.

Ms. Parker is in the final year of a Doctor of Musical Arts in Saxophone Performance with a minor in Musicology at the University of Houston where she studies with Dan Gelok. She also studied at Birmingham Conservatoire with Naomi Sullivan, and completed a Masters of Music at Sam Houston State University studying with Dr. Masahito Sugihara with additional study at the Koninklijk Conservatorium Brussel through the Eurasmus Exchange.

Pieces to Be Performed

---

No Pieces to Be Performed found.