NASA 2022 Biennial Conference Presenter — Ryan LeMoine
Mark your calendars now to join us Thursday-Sunday, March 10-13, 2022 for the NASA 2022 Biennial Conference at Oklahoma State University, Greenwood School of Music in Stillwater, Oklahoma.

#NASA2022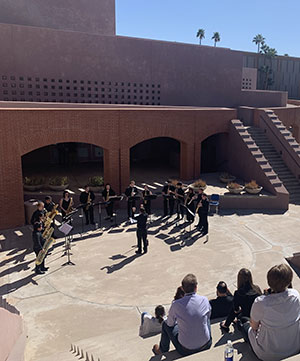 Name:
Ryan LeMoine
Website:
Presentation Date:
Monday, March 9, 2020 11:00 AM
Presentation Venue:
Ravenscroft
Presentation Title:
Lingual Exposé: 2.0 - Ultrasonographic Observations of the Tongue During Saxophone Performance
Type of Presentation:
Non-Performance: Classical Lecture
Proposal Duration:
60
Bio:
Dr. Ryan LeMoine

is a saxophonist and educator based in the Phoenix metro area, and has performed and taught throughout the United States and Europe. He is an award-winning performer, recognized at the Music Teachers National Association Chamber Music Competition (2015) and the inaugural NASA Saxophone Quartet competition (2008). As a researcher, LeMoine conducted an ultrasound study of saxophonists' tongue motions during pitch bends; he has presented on his findings at regional and national North American Saxophone Alliance conferences. An Adjunct Faculty at Paradise Valley and Estrella Mountain Community Colleges, LeMoine also maintains a private lesson studio and is the resident saxophone instructor at Rosie's House Music Academy.

Other Performers / Participants

---

Joshua Gardner

Ultrasound Operator

Bio:

Joshua Gardner

mso-ascii-theme-font:minor-latin;mso-fareast-font-family:Calibri;mso-fareast-theme-font:
minor-latin;mso-hansi-theme-font:minor-latin;mso-bidi-font-family:"Times New Roman";
mso-bidi-theme-font:minor-bidi;mso-ansi-language:EN-US;mso-fareast-language:
EN-US;mso-bidi-language:AR-SA'>is Clinical Associate Professor of Music and Director of the Performance Physiology Research Laboratory at Arizona State University, where he has taught since 2011. He maintains an active performance career, performing with several ensembles, including the internationally recognized Paradise Winds and Égide Duo. Gardner has a strong interest in woodwind pedagogy and research. He won first prize at the International Clarinet Association Research Competition in 2008 and has presented lectures on tongue motion during clarinet performance throughout the US. He is currently exploring the use of ultrasound for quantified research and performance diagnostics. Dr. Gardner received Bachelor's degrees in Music Education and Clarinet Performance from the University of Kentucky and the Doctor of Musical Arts degree from Arizona State University. Gardner is a Silverstein Pro Team Artist, a Henri Selmer Paris/Conn-Selmer Artist playing Privilege clarinets, and uses Vandoren mouthpieces.



Pieces to Be Performed

---

No Pieces to Be Performed found.