NASA 2020 Biennial Conference Presenter — Courtney Long
Mark your calendars now to join us Friday-Monday, March 6-9, 2020 for the NASA 2020 Biennial Conference at Arizona State University in Tempe, Arizona.
— NASA Director of Marketing
#NASA2020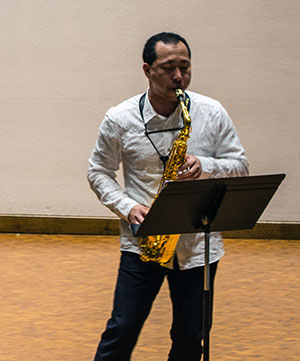 Name:
Courtney Long
Website:
http://courtneylongmusic.com
Presentation Date:
Monday, March 9, 2020 9:00 AM
Presentation Venue:
Gammage 209
Presentation Title:
An Analytical Approach for Performance of Dorothy Chang's Two Preludes for alto saxophone and piano: Trichord Transformation and a Quest for Symmetry
Type of Presentation:
Non-Performance: Classical Lecture
Proposal Duration:
50
Bio:

Courtney Long is currently pursuing her Doctor of Arts degree from the University of Northern Colorado in Saxophone Performance with a secondary emphasis in Music Theory (ABD). Prior to her studies at UNC, Long earned her Master of Music degree in Music Theory and Composition from Wichita State University and her Bachelor of Music degree in Saxophone Performance from Friends University in Wichita, Kansas. She has studied saxophone under Lisa Hittle, Jean Lansing, Robert Young, and Andrew Dahlke. Long has performed at the Biennial Conference of the North American Saxophone Alliance in 2018 and North American Saxophone Alliance Region 2 Conference in 2017 as a member of the Front Range Saxophone Quartet and of the Ursa Duo. Long has served on the faculties of Bethany College and Friends University. She currently teaches saxophone at Colorado Christian University in Lakewood, Colorado.

Pieces to Be Performed

---

No Pieces to Be Performed found.