NASA 2022 Biennial Conference Presenter — Alexia Perez
Mark your calendars now to join us Thursday-Sunday, March 10-13, 2022 for the NASA 2022 Biennial Conference at Oklahoma State University, Greenwood School of Music in Stillwater, Oklahoma.

#NASA2022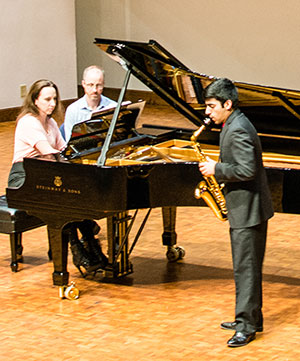 You may click on the photo for a higher resolution version of the photo.
Name:
Alexia Perez
Website:
Presentation Date:
Saturday, March 7, 2020 2:00 PM
Presentation Venue:
Ravenscroft
Presentation Title:
Why Pursue Music? Understanding the Arts Career Stereotypes and How to Combat Them
Type of Presentation:
Non-Performance: Classical Lecture
Proposal Duration:
50
Bio:

Alexia Perez: An active performer, a dedicated educator in the Baton Rouge area, and online as a highly praised instructor on the TakeLessons website. She was the Lessons Manager at Guitar Center, having the highest student enrollment in the nation in January 2019. Alexia is currently the School of Music Recruiter at LSU, where she oversees recruitment, outreach efforts, and music admissions. As an active NASA member, Alexia serves as Social Media Coordinator in the CSW.

Alexia has performed at the 2017 NASA Region 6 Conference, and with the BRSO. She placed first in the graduate division of the 2018 NOLA Chamberfest with the Magnolia Saxophone Quartet. Alexia currently performs as a soloist and has recently performed in Duo Vim. The saxophone duet provided a masterclass and performed a Guest Artist Recital at the University of North Florida.

Alexia recently earned her Master of Music degree from Louisiana State University.

Pieces to Be Performed

---

No Pieces to Be Performed found.