NASA 2018 Biennial Conference Presenter — Elizabeth Rosinbum
Mark your calendars now to join us March 8-11, 2018 for the NASA 2018 Biennial Conference at University of Cincinnati College - Conservatory of Music in Cincinnati, Ohio.
James Bunte — Host
— Conference Program Committee Chair
— NASA Director of Marketing
#NASA2018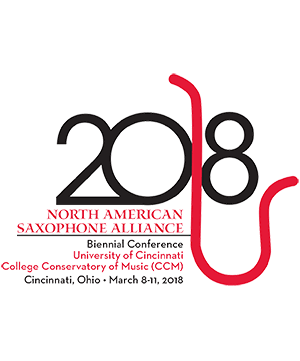 You may click on the photo for a higher resolution version of the photo.
Name:
Elizabeth Rosinbum
Website:
http://www.elizabethrosinbum.com
Presentation Date:
Saturday, March 10, 2018 1:00 PM
Presentation Venue:
3225 MEH
Presentation Title:
The Multifaceted Musician: Creating a Career You Love
Type of Presentation:
Non-Performance: Classical Lecture
Proposal Duration:
50
Bio:

Elizabeth maintains a multi-faceted career as an educator, speaker, and clinician. She is the head private instructor in one of the top band programs in Texas with a studio of over 50 students. She has spoken at several music conferences and at universities throughout Texas, Michigan, and Illinois. The first ever saxophonist in the D'Addario Woodwinds Method Program, Elizabeth gives hundreds of educational masterclasses to students in middle school, high school, and college, and counsels other clinicians. She thrives on mentoring individuals and helping others expand their interests and skillsets.

After her undergraduate studies in Music and Psychology and earning her Master's Degree in Saxophone Performance, she made it her life's work to educate young musicians and empower others to perform their best in work and on stage. Her lectures inspire artists to build confidence, create a clear vision for their future, and develop skills to build a thriving business.

Pieces to Be Performed

---

No Pieces to Be Performed found.