NASA 2018 Biennial Conference Presenter — Mark Harris
Mark your calendars now to join us March 8-11, 2018 for the NASA 2018 Biennial Conference at University of Cincinnati College - Conservatory of Music in Cincinnati, Ohio.
James Bunte — Host
— Conference Program Committee Chair
— NASA Director of Marketing
#NASA2018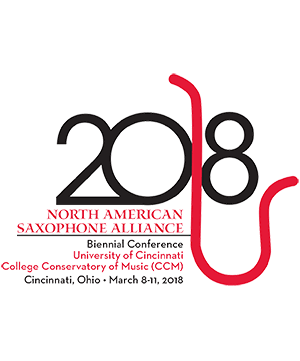 You may click on the photo for a higher resolution version of the photo.
Name:
Mark Harris
Website:
Presentation Date:
Saturday, March 10, 2018 1:00 PM
Presentation Venue:
1630 CC
Presentation Title:
Spontaneous Creation with Soundpainting
Type of Presentation:
Non-Performance: Classical Lecture
Proposal Duration:
50
Bio:

Mark Harris is Assistant Professor of Studio Saxophone and Improvisation at MSU Denver. He also directs sax quartets, and teaches an Improvisation for Classical Musicians class. He has worn many musical hats, and improvised in many musical situations while backing artists from Bob Hope and Roger Waters, to working with original music bands in Afro-Pop, Electronic, Big Band, Avant Garde, Art Rock, Classical Chamber, Children's Music, and other uncategorizable styles.

Mark earned a soundpainting certification with Walter Thompson in January, 2013. He has presented demonstrations on improvising to the North American Saxophone Alliance, the Colorado Music Educators Association yearly conference, and the Colorado State Music Teachers conference, College Music Society conferences in Denver, Tacoma Washington, San Antonio Texas, and professional development sessions for Boulder, Jefferson and Denver Public School ensemble directors. He spends much time visiting schools sharing improvisation with music students of all levels.

Other Performers / Participants

---

| | | |
| --- | --- | --- |
| Name | Instrument | Bio |
| Ben Jiron | Soprano Saxophone | undefined . . . |
| Ryan Depinto | Alto Saxophone | undefined . . . |
| Veronica Kreeger | Tenor Saxophone | undefined . . . |
| Justin Rogers | Baritone Saxophone | undefined . . . |

Pieces to Be Performed

---

No Pieces to Be Performed found.