NASA 2018 Biennial Conference Presenter — Heidi Radtke
Mark your calendars now to join us March 8-11, 2018 for the NASA 2018 Biennial Conference at University of Cincinnati College - Conservatory of Music in Cincinnati, Ohio.
James Bunte — Host
— Conference Program Committee Chair
— NASA Director of Marketing
#NASA2018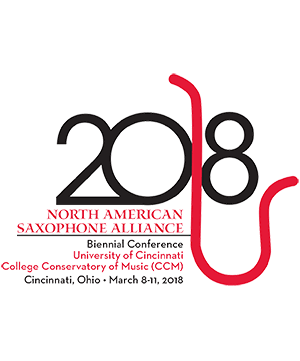 You may click on the photo for a higher resolution version of the photo.
Name:
Heidi Radtke
Website:
http://legacy.butler.edu/music/bios-faculty-staff/heidi-radtke/
Presentation Date:
Saturday, March 10, 2018 2:00 PM
Presentation Venue:
1630 CC
Presentation Title:
Saxophone Quartet Pedagogy: Resources and Exercises for Coaches and Developing Ensembles
Type of Presentation:
Non-Performance: Classical Lecture
Proposal Duration:
50
Bio:

Indianapolis-based saxophonist Heidi Radtke is in her fourth year as the Instructor of Saxophone at Butler University and is the private saxophone teacher for Carmel-Clay schools. An avid chamber musician, Heidi performs with fellow saxophonist Henning Schröder as part of the Hiding Duo and frequently collaborates with Classical Music Indy. She has been a recent soloist with the Butler University Wind Ensemble and has performed with the Indianapolis Chamber Orchestra, Lafayette Symphony Orchestra, and the Columbus Indiana Philharmonic. Prior to moving to Indianapolis, Heidi served as an Associate Instructor of Saxophone for the Indiana University Jacobs School of Music, where she is currently a doctoral candidate. She completed bachelor degrees in political science and saxophone performance along with master degrees in library science and music performance from the University of Illinois Urbana-Champaign. Her primary teachers include Debra Richtmeyer and Otis Murphy. Heidi Radtke is a Vandoren Artist.


Other Performers / Participants

---

| | | |
| --- | --- | --- |
| Name | Instrument | Bio |
| Julian Orem | Soprano Saxophone | Julian Orem grew up in Greenwood, IN and currently resides in Indianapolis. He received his B.A. in . . . |
| Zachary Weiler | Baritone Saxophone | Zachary Weiler is a saxophonist originally from Noblesville, IN. He is currently pursuing an Ar . . . |
| Nathaniel Higdon | Tenor Saxophone | Saxophonist Nathaniel Higdon is from Carmel, IN. He is currently pursuing an undergraduate degree in . . . |
| Coleman Rowlett | Alto Saxophone | Coleman Rowlett is a composer and saxophonist from Winchester, VA. He holds a B.M. in Music Composit . . . |

Pieces to Be Performed

---

No Pieces to Be Performed found.