NASA 2020 Biennial Conference Presenter — Andy Wright
Mark your calendars now to join us March 6-9, 2020 for the NASA 2020 Biennial Conference at Arizona State University in Tempe, Arizona.
— NASA Director of Marketing
#NASA2020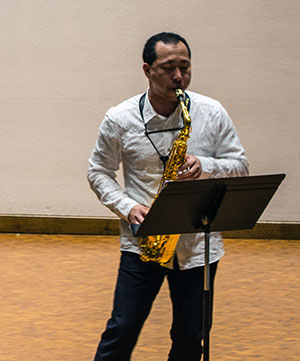 You may click on the photo for a higher resolution version of the photo.
Name:
Andy Wright
Website:
http://drandywright.com
Presentation Date:
Friday, March 9, 2018 11:00 AM
Presentation Venue:
1630 CC
Presentation Title:
Listen and Learn: Creating a solid foundation for your jazz saxophone student
Type of Presentation:
Non-Performance: Jazz Lecture
Proposal Duration:
50
Bio:

Dr. Andy Wright received his doctorate degree in saxophone performance and a Masters of music degree in jazz studies from the University of North Texas along with a Bachelors in music education from the University of Central Arkansas. Currently, he maintains a studio of over 60 students in the DFW area. These students often earn positions in the All-State and All-Region bands. Additionally, his students have been semi-finalists for competitions at the North American Saxophone Alliance biennial conference.

Dr. Wright has appeared with the Lone Star Wind Orchestra, the Plano Symphony Orchestra, Odysseus Chamber Orchestra, the Les Elgart Orchestra. He can be heard on multiple recordings from the North Texas Wind Symphony including: Canvases, Composer's Collection: George Gershwin, Reconstructions and Conclave. Dr. Wright has performed with Ray Charles, Chris Vadala, Steve Houghton, Marc Nuccio and Andy Martin.

Andy Wright is a Yamaha Performing Artist and plays Yamaha instruments exclusively.

Pieces to Be Performed

---

No Pieces to Be Performed found.