NASA 2020 Biennial Conference Presenter — David Detweiler
Mark your calendars now to join us March 6-9, 2020 for the NASA 2020 Biennial Conference at Arizona State University in Tempe, Arizona.
— NASA Director of Marketing
#NASA2020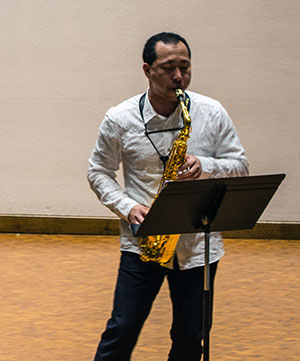 You may click on the photo for a higher resolution version of the photo.
Name:
David Detweiler
Website:
http://daviddetweiler.com
Presentation Date:
Sunday, March 11, 2018 10:00 AM
Presentation Venue:
1340 CC
Presentation Title:
Going Deeper Into The Jazz Transcription Process
Type of Presentation:
Non-Performance: Jazz Lecture
Proposal Duration:
50
Bio:

David Detweiler, Assistant Professor of Jazz Saxophone, joined the faculty at Florida State University in 2016 after serving as Director of Jazz Studies at Nazareth College (Rochester, NY). He has performed at many of New York City's premier live-music venues such as The Blue Note, Birdland, The Knitting Factory and The Iridium. His first record as a leader, New York Stories, recorded in Tallahassee with Leon Anderson, Clarence Seay, Chris Pattishall, and Rick Lollar, received a favorable review by Scott Yanow. His second record as a leader, The Dave Detweiler Trio featuring Fumi Tomita and Alex Patrick, was released in August 2015.

Dr. Detweiler received the DMA degree from the Eastman School of Music in 2015 and the MM degree from Florida State University in 2010. He also studied at both the University of North Texas and William Paterson University, receiving the BM degree from William Paterson.

Pieces to Be Performed

---

No Pieces to Be Performed found.