NASA 2020 Biennial Conference Presenter — Debra Richtmeyer
Mark your calendars now to join us March 6-9, 2020 for the NASA 2020 Biennial Conference at Arizona State University in Tempe, Arizona.
— NASA Director of Marketing
#NASA2020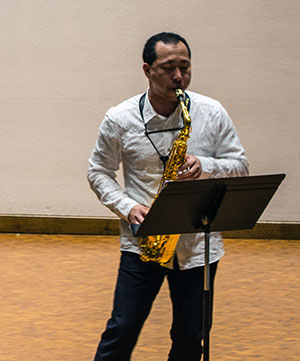 You may click on the photo for a higher resolution version of the photo.
Name:
Debra Richtmeyer
Website:
http://www.illinoissaxophonestudio.com
Presentation Date:
Saturday, March 10, 2018 1:00 PM
Presentation Venue:
Werner
Presentation Title:
Master Class by Debra Richtmeyer
Type of Presentation:
Non-Performance: Master Class
Proposal Duration:
60
Bio:

Debra Richtmeyer, has been Professor of saxophone at the University of Illinois since 1991 and has performed recitals and clinics in North America, Europe, China and Thailand. She has commissioned and premiered numerous compositions and was the first woman to perform a featured concerto with orchestra and give a master class at a World Saxophone Congress. She has recorded multiple CDs and performed concertos with ensembles such as the Dallas Symphony Orchestra, The Slovak Radio Orchestra, The Scottish Chamber Orchestra and the Washington D.C. United States Navy Band. She has adjudicated national and international competitions and received prestigious awards including the University of Illinois "Campus Award for Excellence in Graduate and Professional Teaching". Her students have won numerous national and international prizes and her degrees are from Northwestern University where she studied with Dr. Frederick Hemke. Professor Richtmeyer is a Selmer Artist and Honorary Life Member and Past-President of NASA.