NASA 2020 Biennial Conference Presenters & General Schedule
Mark your calendars now to join us Friday-Monday, March 6-9, 2020 for the NASA 2020 Biennial Conference at Arizona State University in Tempe, Arizona.
— NASA Director of Marketing
#NASA2020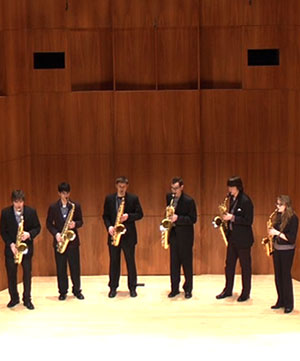 The NASA 2020 Biennial Conference will be held Friday-Monday, March 6-9, 2020 in beautiful Tempe, Arizona, home of our host Arizona State University. The event will take place from Friday-Monday, March 6-9, 2020. We anticipate saxophonists, exhibitors, collaborative musicians, family members, and guests from around the world to attend the concerts, seminars, workshops, lectures, panel discussions, masterclasses, exhibits, and ensembles. In addition, NASA will be holding solo, jazz, quartet, and high school solo performance competitions.
As a non-profit organization that puts its revenues back to work for its membership, we rely on NASA members to help make the conference a great experience for everyone who attends. We are grateful for the many presenters over the years who have donated their time, travel, and talent as a way of giving back to the saxophone community.
The following is a tentative list of conference presenters, subject to change. Click on a Presentation Title to see more information about the presenter and their presentation.
General Schedule
Date / Time
Event
Venue
Friday, March 6
TBA
Registration
7:30 PM
Opening Gala Concert
Mesa Arts Center
Saturday, March 7
TBA
Registration
9:00 AM
Committee on the Status of Women Panel Discussion
Evelyn Smith Theatre
9:30 AM - 1:30 PM
2:30 PM - 5:30 PM
Exhibits Open
12:00 PM - 1:00 PM
Lunch (on your own)
7:30 PM
Jazz Concert
Evelyn Smith Theatre
Sunday, March 8
TBA
Registration
9:30 AM - 1:30 PM
2:30 PM - 5:30 PM
Exhibits Open
11:00 AM
Hemke Tribute
Evelyn Smith Theatre
12:00 PM - 1:00 PM
Lunch (on your own)
7:30 PM
NASA Competition Winners' Concert
Evelyn Smith Theatre
Monday, March 9
TBA
Registration
10:00 AM - 1:00 PM
Exhibits Open
12:00 PM - 1:00 PM
Lunch (on your own)
1:00 PM - 2:00 PM
General Meeting
Filter By Presentation Type:
Saturday, March 7, 2020

Name
Presentation Title
Time / Venue
Marcus Ballard
Fujin NASA 2020 Proposal
8:00 AM
Gammage 301
Rulon Brown
The Most Disgusting Science Every Sax Player Should Know
8:00 AM
W 218
Joel Ferst
Music for Saxophone, by composer Matthew Ramage
8:00 AM
Ravenscroft
Glen Gillis
Divergence for Alto Saxophone and Piano
8:00 AM
Recital Hall
Gail Levinsky
Saxophone performance, solo and solo w/electronics
8:00 AM
Evelyn Smith Theatre
AJ Pratt
Modern Concerti for Saxophone
8:00 AM
Gammage 311
Brian Rodesch
Bach to Wanamaker: Unaccompanied works for tenor saxophone
8:00 AM
Katzin Concert Hall
Emily Brewer
Deconstruct
8:20 AM
Ravenscroft
Aaron Burr
Hari Om by Jonathan Annis and [Pop Music] by Caleb Westby
8:20 AM
Gammage 301
Samantha Canon
The Cynical Duo
8:20 AM
Gammage 311
Yiqun Chen
Rhapsody on Japanese Folk Songs
8:20 AM
Recital Hall
Noah Getz
Hats and Ghungroos: Discovering Virtuosic Solo Works for Saxophone
8:20 AM
Katzin Concert Hall
Emi Kondo
JG Saxophone Quartet from Tokyo
8:20 AM
Organ Hall
John Sampen
A Quiet Protest in a Troubled Time
8:20 AM
Evelyn Smith Theatre
Dave Camwell
Three Conversations With Matisse (for Saxophone and Piano)
8:40 AM
Recital Hall
Justin Evangelist
A City Moving Forward - Sonata for Alto Saxophone and Piano
8:40 AM
Gammage 311
Paul Forsyth
Tesseract: New Work for Alto Saxophone and Marimba
8:40 AM
Katzin Concert Hall
Parker Fritz
Tales My Father Told Me
8:40 AM
Ravenscroft
Sarah Hetrick
Tonia Ko's Highwire for soprano saxophone and electronics
8:40 AM
Evelyn Smith Theatre
Wonki Lee
Dynamic Duo plays Rhapsody in Blue adaptation for three saxophones and piano by Jun Nagao
8:40 AM
Gammage 301
Amy McGlothlin
Triage Contemporary Winds
8:40 AM
Organ Hall
Gregory Dewhirst
Wright-Dewhirst Saxophone Duo
9:00 AM
Katzin Concert Hall
Connie Frigo
The Committee on the Status of Women Presents...
9:00 AM
Evelyn Smith Theatre
Benjamin Sorrell
Premiere and Transcription
9:00 AM
Recital Hall
Rick VanMatre
New Third Stream Quartet – Rick VanMatre, James Bunte, Peter Sommer, James Romain – Performs Premieres of Commissioned Jazz/Classical Works
9:00 AM
Organ Hall
Brent Weber
Saxophone, Cello and Piano
9:00 AM
Gammage 209
Don-Paul Kahl
Break Point
9:20 AM
Katzin Concert Hall
Philip Kleutgens
Modern Michigan Maestros
9:20 AM
Gammage 209
Ting Hua Liang
Soma Quartet
9:20 AM
Organ Hall
Erik Steighner
A New Work for Baritone Saxophone and Piano by Sachie Kobayashi
9:20 AM
Recital Hall
Wade Howles
Binary
9:40 AM
Recital Hall
AJ Pratt
Contemporary Works for Saxophone and Clarinet
9:40 AM
Gammage 209
Alex Sellers
We Shall Overcome
9:40 AM
Katzin Concert Hall
Douglas Tiller
Augmented Triad Mixed Wind Trio
9:40 AM
Organ Hall
Matthew Dardick
Premiere: New Works for Saxophone Duo
10:00 AM
Organ Hall
Rami El-Farrah
New Solo Work and Duo with Joshua Bryant
10:00 AM
Gammage 301
Adam McCord
Steve Rouse's MOVE for alto saxophone and piano, Arizona Premiere
10:00 AM
Recital Hall
Gemma Peacocke
Gemma Peacocke's The Canticles: Imbrium
10:00 AM
Evelyn Smith Theatre
John Salinas
VOLAR for Alto Saxophone by Stephen L. Syverud
10:00 AM
Gammage 311
Johnny Selmer
Solo Works on Saxophone
10:00 AM
Gammage 209
Jeffrey Siegfried
Salvador Brotons - Sonata for Alto Saxophone and Piano
10:00 AM
Katzin Concert Hall
Andrew Steinberg
The Rascherian Approach: A Critical Analysis of the Performance Practice of Sigurd Manfred Rascher
10:00 AM
Ravenscroft
Nathan Bogert
Nathan Bogert Solo Proposal
10:20 AM
Recital Hall
Matt Floeter
Collider Duo
10:20 AM
Gammage 209
Brandon Quarles
~Nois performs the music of Gemma Peacocke and Pauline Oliveros
10:20 AM
Evelyn Smith Theatre
Matthew Younglove
A pair of modern works for soprano saxophone and piano: SPP by Philippe Leroux and Night Set by Gregory Wanamaker
10:20 AM
Katzin Concert Hall
Thomas Zinninger
The Ecclectic Sonata
10:20 AM
Gammage 311
Brandon Douthitt
Solo Jazz Saxophone w/ DAW (Logic Pro X) accompaniment
10:40 AM
W 218
Jonathan Helton
Helton-Thomas Duo
10:40 AM
Recital Hall
Lucas Hopkins
Bass Saxophone and Electronics
10:40 AM
Gammage 301
Jeremy Howell
Sonata for the Baritone Saxophonist
10:40 AM
Katzin Concert Hall
Andrew Hutchens
New Music for Solo Soprano Saxophone
10:40 AM
Gammage 311
Paul Nolen
New Works for Saxophone Ensemble by Zare, Magnuson, Collins
10:40 AM
Nelson Fine Arts Center Plaza
Elizabeth Rosinbum
Untitled
10:40 AM
Gammage 209
Jessica Voigt-Page
Sillage: Fernande Decruck's Chant Lyriques.
10:40 AM
Evelyn Smith Theatre
Roy Allen, Jr.
Trio for Flute, Alto Saxophone and Piano by Russell Peterson
11:00 AM
Recital Hall
Taiki Azuma
New Work for Saxophone and Lighting Design
11:00 AM
Gammage 311
Katherine Campbell
Confluence: A Convergence of Peoples and Rivers
11:00 AM
Gammage 209
Geoffrey Deibel
FSU Saxophone Orchestra
11:00 AM
Nelson Fine Arts Center Plaza
Adam Estes
Music for Bari Sax and Bass Flute
11:00 AM
Organ Hall
Parker Fritz
CONNIE FRIGO: Codex Quartet Masterclass
11:00 AM
Evelyn Smith Theatre
Thomas Poole
Extra Rhythmic Gears: An Analysis of How Chris Potter and Jerry Bergonzi Use Metric Modulations When Improvising
11:00 AM
Ravenscroft
Jonathan Steltzer
Fire Truck Duo: New Works for Clarinet and Saxophone Duo
11:00 AM
W 218
Eric Troiano
Viridian Saxophone Quartet
11:00 AM
Katzin Concert Hall
Taylor Barbay Assad
Works from the Red Stick: Vision and Flight of the Birds
11:20 AM
Gammage 311
Emily Brewer
Concerto for Saxophone Quartet and Orchestra by Philip Glass
11:20 AM
Gammage 209
Dan Graser
Solo Soprano works of Ibert and Mead
11:20 AM
Katzin Concert Hall
Lois Hicks-Wozniak
New Voices for Saxophone and Bass Trombone
11:20 AM
Organ Hall
Justin Rollefson
Zinnia
11:20 AM
Recital Hall
Rachel Wolz
CONNIE FRIGO: Sonata for Cello and Piano in E Minor Op. 38 No. 1- Johannes Brahms
11:25 AM
Evelyn Smith Theatre
Dannel Espinoza
Palate Cleanser by Clare Shore
11:40 AM
Organ Hall
Emily Loboda
East Tennessee State University Saxophone Ensemble with Soloist Bradley Karas
11:40 AM
Nelson Fine Arts Center Plaza
Neal Postma
Music by Mark Lewis
11:40 AM
Gammage 311
John Wardlaw
Paradosis Duo
11:40 AM
W 218
Kendra Wheeler
Alecto Duo and Duo featuring Charlie Chadwell and Kendra Wheeler
11:40 AM
Katzin Concert Hall
Drew Whiting
Coalescent Quartet performs Decruck and Browning
11:40 AM
Recital Hall
Derek Brown
Extreme Articulation: New Approaches to Percussive-, Double-, and Triple-Tonguing
1:00 PM
Organ Hall
Jonathan Hart
Nuee ardente
1:00 PM
Recital Hall
Jonathan Helton
The Life and Legacy of Frederick L. Hemke
1:00 PM
Gammage 311
Adrianne Honnold
Gendered Identities, performativity, and other cultural considerations relating to the saxophone in popular music
1:00 PM
Gammage 301
Clifford Leaman
Clifford Leaman Masterclass
1:00 PM
Katzin Concert Hall
Elizabeth Rosinbum
How to Win Jobs and Affect People
1:00 PM
Ravenscroft
Phil Scarff
Extended Techniques for Saxophone Adapted from North Indian Classical Music
1:00 PM
W 218
Jonathan Steltzer
CLIFF LEAMAN: Master Class on Karel Husa's Elegie et Rondeau
1:00 PM
Katzin Concert Hall
Bobbi Thompson
Dialogues for Alto Saxophone and Electric Guitar (2017) by Paul SanGregory
1:00 PM
Evelyn Smith Theatre
Michael Warner
Deer Valley Unified School District Saxophone Orchestra
1:00 PM
Nelson Fine Arts Center Plaza
Preston Duncan
Preston Duncan
1:20 PM
Recital Hall
Joseph Lulloff
Strayhorn
1:20 PM
Evelyn Smith Theatre
Carlos Tinoco
University of Calgary Saxophone Ensemble
1:20 PM
Nelson Fine Arts Center Plaza
Jessica Small
CLIFF LEAMAN: SQUF Masterclass
1:25 PM
Katzin Concert Hall
Paul Lessard
Song and Dance: Music for Alto Saxophone & Piano
1:40 PM
Recital Hall
Andrew Steinberg
The Music of Biggs and De Marez Oyens
1:40 PM
Evelyn Smith Theatre
James Besaw
Steve Reich WTC 9/11
2:00 PM
Gammage 209
James Flowers
West Penn Trio
2:00 PM
Recital Hall
Matthew Howell
Oklahoma State University Paradigm Octet
2:00 PM
Organ Hall
David Larsen
The Music of Gerry Mulligan
2:00 PM
Gammage 301
Ryan LeMoine
Composers Improvisers Big Band
2:00 PM
Evelyn Smith Theatre
Michael Mortarotti
Discourse & Parkland
2:00 PM
Katzin Concert Hall
Sean Murphy
Saxo-preneurship : A Panel Discussion on Monetizing the Instrument
2:00 PM
Gammage 311
Alexia Perez
Why Pursue Music? Understanding the Arts Career Stereotypes and How to Combat Them
2:00 PM
Ravenscroft
Baljinder Sekhon
Compositional Systems in Sekhon's Compositions for Saxophone
2:00 PM
W 218
Christopher Kocher
The Frane-Kocher Duo
2:20 PM
Evelyn Smith Theatre
Shawna Pennock
University of Nevada, Las Vegas Saxophone Studio plays the works of Las Vegas based composers: Michael Torke and Jennifer Bellor
2:20 PM
Nelson Fine Arts Center Plaza
Om Srivastava
Rasa: A Sonic Tribute to Forgotten Humanist Bollywood
2:20 PM
Katzin Concert Hall
Christopher Anderson
Christopher Anderson Solo Proposal
2:40 PM
Recital Hall
Dan Graser
Sinta Quartet plays Beethoven
2:40 PM
Katzin Concert Hall
Larry Panella
The Gestures Project
2:40 PM
Evelyn Smith Theatre
Taimur Sullivan
Northwestern University Saxophone Ensemble
2:40 PM
Nelson Fine Arts Center Plaza
Robert Brooks
Better Together: Duet Playing to Improve Improv
3:00 PM
Gammage 301
Evan Clark
Romantic Weimar: Dance Forms for Saxophone by Sigfrid Karg-Elert and Gustav Bumcke
3:00 PM
Recital Hall
Clifford Leaman
University of South Carolina Saxophone Ensemble
3:00 PM
Nelson Fine Arts Center Plaza
Thomas Luer
Jazz Performance-Tom Luer Quartet
3:00 PM
Evelyn Smith Theatre
James Umble
New Works for Saxophone and Piano
3:00 PM
Katzin Concert Hall
Emily Verschoor-Kirss
#Relevant: Social Media for the Freelance Musician
3:00 PM
W 218
Tessa Welterlen
Code-Switching: Approaching Jazz as a Classical Saxophonist
3:00 PM
Gammage 311
Christopher Charbonneau
Duo Charbonneau Performance: From the Skyline for Tenor Saxophone and Piano by, Mischa Zupko
3:20 PM
Recital Hall
Jeffrey Leung
Oh whose authority? (Spencer Arias) - World Premiere
3:20 PM
Katzin Concert Hall
Tracy Patterson
Tracy Patterson & Adam Snow Jazz Duo
3:20 PM
Evelyn Smith Theatre
Eric Troiano
University of Arkansas Saxophone Ensemble
3:20 PM
Nelson Fine Arts Center Plaza
Paul Cotton
Paul Cotton and Hanah Charbonneau
3:40 PM
Recital Hall
Diane Hunger
Stephen Dankner's new Konzertstück
3:40 PM
Katzin Concert Hall
Kyle Hutchins
Chamber Works for Flute, Saxophone, and Piano
3:40 PM
W 218
David Larsen
Borrowed Time - Music from the new album by David Larsen
3:40 PM
Evelyn Smith Theatre
Kenneth Tse
Iowa Saxophonists' Workshop Concert
3:40 PM
Nelson Fine Arts Center Plaza
chris beaty
DDAT with special guest Chris Beaty
4:00 PM
Evelyn Smith Theatre
Andrew Dahlke
The Composition as Source Material for Improvisation: An Alternative Method
4:00 PM
Gammage 301
David Dees
Texas Tech University Saxophone Ensemble
4:00 PM
Nelson Fine Arts Center Plaza
Robert Eason
New Works for Soprano Saxophone and Piano
4:00 PM
Katzin Concert Hall
kathryn goodson
Songs4Winds
4:00 PM
W 218
Michael Mortarotti
Werner Wolf Glaser - Allegro, Cadenza, and Adagio
4:00 PM
Recital Hall
Larry Panella
Vocabulary Development for ii7 V7 Ima7 Progressions
4:00 PM
Gammage 311
Zachary Woolhouse
Let's Get Started! Setting up your saxophone student for success in the first year
4:00 PM
Ravenscroft
Matthew Hess
The Saxophone is My Voice
4:20 PM
Recital Hall
Patrick Jones
University of Idaho: Hamptonian Quorum
4:20 PM
Nelson Fine Arts Center Plaza
Shawn O'Kelley
Owasso High School Saxophone Ensemble
4:20 PM
Evelyn Smith Theatre
Henning Schroeder
Trio Music by David Colson (world premiere) and Keith Murphy
4:20 PM
Katzin Concert Hall
David Bixler
The Music of Ariel Kasler, featuring Andrew Bishop and David Bixler
4:40 PM
Evelyn Smith Theatre
Eric Lau
Univeristy of New Mexico Saxophone Choir
4:40 PM
Nelson Fine Arts Center Plaza
Stephen Page
Lang and Glass
4:40 PM
Katzin Concert Hall
Timothy Rosenberg
Works by Florida-based Composers
4:40 PM
Recital Hall

Sunday, March 8, 2020

Name
Presentation Title
Time / Venue
Aaron Burr
Duo Velox
8:00 AM
Gammage 301
cindy cripps
Weindy Saxophone Duo
8:00 AM
Gammage 311
Cadence Helleson
SDSU Saxophone Quartet
8:00 AM
Organ Hall
Clay Steiner
SmaX Duo
8:00 AM
Evelyn Smith Theatre
Jordan VanHemert
Finding the Individual Voice: Exploring the Role of Composition in Applied Jazz Pedagogy
8:00 AM
Ravenscroft
Arthur White
Central Coast Saxophone Quartet
8:00 AM
Gammage 209
Damian Cheek
Damian Cheek - Music for Saxophone and Electronics
8:20 AM
Recital Hall
Evan Clark
From Archive to Stage: Discovering Romanticism in Gustav Bumcke's Saxophone Manuscripts
8:20 AM
Gammage 209
Alexander Richards
Tharmas, the Father. Enion, the Mother: for sopranino saxophone
8:20 AM
Gammage 301
Scott Sandberg
New Works for Tenor Saxophone
8:20 AM
Gammage 311
Jack Thorpe
Vex Duo
8:20 AM
Organ Hall
Geoffrey Deibel
Cipher/Bas-Relief
8:40 AM
Gammage 301
Stephen Fischer
Sonic Tapestries for alto saxophone, violin, and piano
8:40 AM
Gammage 311
Hannah Hickman
Duo Opal
8:40 AM
Katzin Concert Hall
Scotty Stepp
Stepp/Bro/Kuo Proposal
8:40 AM
Evelyn Smith Theatre
Benjamin Still
Solo Work for Alto Saxophone
8:40 AM
Recital Hall
Lindsey Welp
ABRAXAS Quintet
8:40 AM
Organ Hall
Brianna Buck
Brianna Buck and Alexis Seah Duo Performance
9:00 AM
Gammage 301
Xin Gao
Ren Duo with Xin Gao and Taiki Azuma - Music for Two Saxophones
9:00 AM
Organ Hall
Keaton Garrett
among verticals
9:00 AM
Gammage 209
Jonathan Kierspe
Wind Collision Recital
9:00 AM
Recital Hall
Jordan Lulloff
Jordan Lulloff performs Emma O'halloran's
9:00 AM
Gammage 311
Tracy Patterson
Book of Duos II
9:00 AM
Katzin Concert Hall
Amy Robinson
New Works for Saxophone and Marimba
9:00 AM
Evelyn Smith Theatre
Matthew Younglove
Eric Wubbels' This is this is this is: Breaking down barriers of notation and preparation related to repetition, gesture, and timbre
9:00 AM
Ravenscroft
Brina Bourliea
Marimba and Saxophone Quartet
9:20 AM
Evelyn Smith Theatre
Steve Dillingham
Premiere Performance of Newly Commissioned Duo for Saxophone and Clarinet
9:20 AM
Katzin Concert Hall
John Hallberg
Pathways Saxophone Quartet - Music by West Coast Composers
9:20 AM
Organ Hall
Dan Moroz
Anomalous Liquidity (World Premiere)
9:20 AM
Gammage 209
Heidi Radtke
Partita for Soprano Saxophone and English Horn
9:20 AM
Recital Hall
Laurette Roddin
Lucida Duo - Nature Inspired Music for Saxophone Duo
9:20 AM
Gammage 301
Drew Whiting
New works for baritone saxophone and electronics
9:20 AM
Gammage 311
Allison Balcetis
Balcetis plays Bussad & Kaoutzani
9:40 AM
Katzin Concert Hall
Sean Fredenburg
Cascadia Saxophone Quartet
9:40 AM
Organ Hall
Joseph Murphy
John Anthony Lennon's
9:40 AM
Recital Hall
Nicki Roman
Romex Duo Recital
9:40 AM
Evelyn Smith Theatre
Joseph Spence
Duo TPK Chamber Recital
9:40 AM
Gammage 301
Michael Rene Torres
Torres Solo Performance Proposal
9:40 AM
Gammage 311
Rachel Wolz
In the Fullness of Time- Variations on Divinum Mysterium for Alto Saxophone
9:40 AM
Gammage 209
James Barger
Mirasol Duo
10:00 AM
Gammage 301
William Chien
New work for saxophone and organ
10:00 AM
Organ Hall
Eric Lau
Silver Reed Duo- Music for Saxophone and Flute
10:00 AM
Recital Hall
Jessica Maxfield
Solo Performance
10:00 AM
Evelyn Smith Theatre
Kristen McKeon
Five Pieces for Two Violins and Piano
10:00 AM
Katzin Concert Hall
Lindsey O'Connor
Kincaid Rabb's TBA for saxophone and piano
10:00 AM
Gammage 311
Melissa Scanlan-Duncan
Tips and Tricks to Managing Performance Anxiety
10:00 AM
Gammage 209
Barry McGinnis
Visitations from the Dark Mov. 1 Mirages Mov. 2 Midnight Messenger Mov. 3 Sprites
10:20 AM
Recital Hall
Doug O'Connor
Lake Effect Duo (Part 1)
10:20 AM
Katzin Concert Hall
Scott Phillips
Baroque Transcriptions for Soprano Saxophone
10:20 AM
Gammage 311
Justin Polyblank
Catch on Fire: A Composer Profile of Carlos Simon
10:20 AM
Organ Hall
Taimur Sullivan
Taimur Sullivan and Liz Ames; new transcriptions for soprano saxophone and piano
10:20 AM
Evelyn Smith Theatre
Matthew Tracy
T2 Duo: New Music from Douglas McCausland
10:20 AM
Gammage 301
Andrew Allen
New Works by Robert Lemay and Igor Karaca
10:40 AM
Recital Hall
Ashley Krogstad
The Nautilus Creatrix
10:40 AM
Gammage 311
Jeffrey Leung
Trailing Wings (Theo Chandler) - Piano Reduction World Premiere
10:40 AM
Ravenscroft
David Nabb
David Nabb: Sonata for Solo Saxophone by Robert Gross
10:40 AM
Organ Hall
Doug O'Connor
Lake Effect Duo (Part 2)
10:40 AM
Katzin Concert Hall
Daniel Phipps
Two new pieces for saxophone and electronics
10:40 AM
Gammage 301
Seth Carper
Saxophone Section Techniques: Articulation Styles for the Big Band
1:00 PM
Gammage 301
Connie Frigo
JacobTV's Boombox Works with Interactive Audio by INFO PHIL
1:00 PM
Gammage 311
Timothy McAllister
Masterclass
1:00 PM
Katzin Concert Hall
Sean Murphy
Rediscovering the Music of Pierre-Philippe Bauzin
1:00 PM
Ravenscroft
Jacob Nance
TIM MCALLISTER: Master Class Participant
1:00 PM
Katzin Concert Hall
Richard Schwartz
Duets for Clarinet and Piano [adapted for alto saxophone] by Gwyneth Walker
1:00 PM
Recital Hall
Jessica Voigt-Page
Danger! Are your private lesson teachers being "treated" correctly?
1:00 PM
W 218
Katherine von Bernthal
A Woman Should Be President
1:00 PM
Organ Hall
Robert Young
ThreeForm
1:00 PM
Evelyn Smith Theatre
Greg Riley
Duo Concertante
1:20 PM
Recital Hall
Brent Weber
Saxophone Chamber Works by Mackenzie Jacob LaMont
1:20 PM
Evelyn Smith Theatre
George Weremchuk
Hippocrene Saxophone Quartet performance of
1:20 PM
Organ Hall
Sage Degand
TIM MCALLISTER: Master Class Participant - Fidelis Quartet
1:25 PM
Katzin Concert Hall
Gilbert Garza
Classical Solo Performance
1:40 PM
Recital Hall
Kyle Jones
Blue Notes and Other Clashes
1:40 PM
Evelyn Smith Theatre
Alastair Wright
Dionysus: Hocket
1:40 PM
Organ Hall
James Barrera
Does it make a difference? Effect of materials and finish on saxophone tone quality.
2:00 PM
Gammage 301
Greg Bruce
Defying the Digital: The Analogue Electroacoustic Saxophone
2:00 PM
Gammage 311
Mariah Goulet
Crossroads Quartet presents Original Transcriptions
2:00 PM
Organ Hall
Andrew Hutchens
New Music for Saxophone and Marimba
2:00 PM
Evelyn Smith Theatre
Gail Levinsky
Committee on Status of Women: Navigating Early Years of College Teaching as a Woman
2:00 PM
Ravenscroft
Kyle Mechmet
Concerti for 2 Violins - Bach and Vivaldi
2:00 PM
Recital Hall
Wilson Poffenberger
Khroma and Soma Saxophone Octet
2:00 PM
Katzin Concert Hall
Thomas Smialek
Work Patterns of Late 19th-Century United States Saxophonists
2:00 PM
W 218
Tyler Young
The Third Stream Duo
2:00 PM
Gammage 209
Brendan Catalano
Squeaks, Squeals and Squawks: The Sordid Story of Soprano Saxophone
2:20 PM
Gammage 209
Katy Faracy
Shot In The Dark for Saxophone Quartet
2:20 PM
Organ Hall
Joshua Heaney
Spectral Radiance: A New Saxophone Concerto by Coleman Rowlett (World Premiere)
2:20 PM
Katzin Concert Hall
Gabriel Sanchez
Costa Rican Saxophone Music
2:20 PM
Recital Hall
Phil Scarff
North Indian Classical Music on Saxophone
2:20 PM
Evelyn Smith Theatre
Jonathan Hart
SoundMoves Blues
2:40 PM
Recital Hall
Matthew Koester
University of Michigan Graduate Quintet
2:40 PM
Organ Hall
Arthur White
Arthur White and MERGE
2:40 PM
Evelyn Smith Theatre
Wenbo Yin
Bab Boujloud
2:40 PM
Gammage 209
Kristen Zelenak
Kristen Zelenak and Silver Lining Duo: Newly Composed Works by Stacy Garrop and Kate Vincent
2:40 PM
Katzin Concert Hall
Preston Duncan
Duncan Master Class
3:00 PM
Ravenscroft
Grant Hollis
J. MICHAEL HOLMES: Grant Hollis - Master Class Participant
3:00 PM
Gammage 209
Kyle Jones
Beyond the DMA: Exploring Careers Outside of Academia
3:00 PM
Gammage 301
Matthew Koester
The University of Michigan Saxophone Ensemble
3:00 PM
Organ Hall
Ashley Krogstad
Pedagogical Perspectives: The Teachings of Joe Allard
3:00 PM
Gammage 311
Dylan Matheny
PRESTON DUNCAN: Saros Quartet
3:00 PM
Ravenscroft
Eric Nestler
American Concertino by Jindrich Feld
3:00 PM
Recital Hall
Jonathan Nichol
h2 quartet
3:00 PM
Katzin Concert Hall
Lindsey O'Connor
Las Vegas Youth Saxophone Ensemble
3:00 PM
Evelyn Smith Theatre
J. Michael Weiss-Holmes
Dr. J. Michael Weiss-Holmes Masterclass
3:00 PM
Gammage 209
Grace Gelpi
Queer Saxophonist Community Consortium
3:20 PM
Evelyn Smith Theatre
Evan Harris
New Quartet Transcriptions
3:20 PM
Katzin Concert Hall
Raphael Silva
Saxofone Performance in Jazz-Oriented Brazilian Popular Music
3:20 PM
W 218
CEHUAI Zhang
Chinese Stories in the Saxophone
3:20 PM
Recital Hall
Antonio Jarvey
J. MICHAEL HOLMES: Idyllic Quartet - I Call To Remembrance My Song In The Night: A Reflection on David Maslanka
3:25 PM
Gammage 209
Claire Salli
PRESTON DUNCAN: Masterclass
3:25 PM
Ravenscroft
Tsz Kiu Kwok
Dennis Kwok - Monology by Gregory Wanamaker
3:40 PM
Organ Hall
Wonki Lee
MSM Connection: New Saxophone Music by Manhattan School of Music Composition Faculty
3:40 PM
Evelyn Smith Theatre
Vanessa Sielert
Westwind Duo
3:40 PM
Recital Hall
David Stambler
Capitol Quartet: New Compositions by David Colson and Carter Pann
3:40 PM
Katzin Concert Hall
Matthew Evans
New Electroacoustic Works for Saxophone
4:00 PM
Gammage 301
Noah Getz
Voicing and the Altissimo Range
4:00 PM
Gammage 311
Davis Hale
Bruno Mantovani - Bug
4:00 PM
Gammage 209
Allen Harrington
Saxophone with electronics
4:00 PM
Evelyn Smith Theatre
Wilson Poffenberger
University of Illinois at Urbana-Champaign Saxophone Ensemble
4:00 PM
Nelson Fine Arts Center Plaza
Brian Rodesch
Straddling the Divide: A conversation on classical & jazz performance, practice, and pedagogy
4:00 PM
W 218
Brian Utley
World Premiere of a work by Mike D'Ambrosio
4:00 PM
Ravenscroft
Oscar Wei
NOAH GETZ: Brookhaven College Saxophone Quartet - Lacour Quatour
4:00 PM
Gammage 311
Nicholas Zoulek
Enter Branch
4:00 PM
Katzin Concert Hall
Rhett Bender
I Never Saw Another Butterfly by Lori Laitman
4:20 PM
Ravenscroft
Connie Frigo
University of Georgia Saxophone Ensemble
4:20 PM
Katzin Concert Hall
Glen Gillis
Homage To Hemke (Suite for Saxophone and Didgeridoo)
4:20 PM
Evelyn Smith Theatre
Colette Hall
Resurgam Quartet performs "I Could Hold This; I Could Not"
4:20 PM
Gammage 301
Matthew Kolar
Lampyris Quartet
4:20 PM
Organ Hall
Geoffrey Landman
...greifen..., part i
4:20 PM
Recital Hall
Shoko Nagami
San Jose State University Saxophone Ensemble
4:20 PM
Nelson Fine Arts Center Plaza
James Bunte
DIGITAAL New Work for Tabla and Saxophone
4:40 PM
Recital Hall
Seth Carper
The Music of Lee Konitz and Warne Marsh
4:40 PM
Evelyn Smith Theatre
william malone
William Malone performing Images in Sound: La Charmuese de serpents- Ryo Noda and Arret sur image (freeze-frame) by Robert Lemay
4:40 PM
Ravenscroft
Joey Resendez
Performance of La lune en paradis by Nagao
4:40 PM
Gammage 209
Laurette Roddin
Programmatic Works for Solo Saxophone
4:40 PM
Katzin Concert Hall
Joseph Spence
Ma'at Quartet Recital
4:40 PM
Organ Hall
Matthew Taylor
Solo Performance
4:40 PM
Gammage 301
Damian Cheek
Cheek/Dobbs Duo - Music Saxophone and Mallet Percussion
5:00 PM
Katzin Concert Hall

Monday, March 9, 2020

Name
Presentation Title
Time / Venue
Crystal Alexander-Duckett
Step-wise Motion: Propel Your Practice Forward with Mindfulness and Self Care
8:00 AM
Ravenscroft
James Buennig
Vincent Herring as a Model for the Aspiring Improviser
8:00 AM
Gammage 209
Reese Burgan
Ferling Etude Duet Arrangements
8:00 AM
Recital Hall
Po-Tsang Chen
some music should be played more
8:00 AM
Organ Hall
Jonathan Nichol
The University of Oklahoma Saxophone Ensemble
8:00 AM
Nelson Fine Arts Center Plaza
Ellie Parker
I Am My Future - A collaborative residency in a Youth Detention Facility
8:00 AM
Gammage 311
Chris Sacco
New Work to Raise Awareness for the Refugee Crisis - Unam aeternam
8:00 AM
Evelyn Smith Theatre
Yo-yo SU
Kapustin Saxophone Concerto
8:00 AM
Katzin Concert Hall
Nessyah Buder Gallagher
The Influence of Peter Clinch and Clive Amadio on the Creation of Original Concert Saxophone Repertoire in Australia
8:20 AM
W 218
wenbo feng
New Music from Maestro Chick Corea and Saxophone with Pipa.
8:20 AM
Organ Hall
Ricardo Martinez
Ricardo Martinez Saxophone Recital
8:20 AM
Katzin Concert Hall
Ann Bradfield
Three Reed Duo
8:40 AM
Recital Hall
Richard Brasseale
A Musical Essay on Coming Out
8:40 AM
Katzin Concert Hall
Michael Davis
Western Classical Music in South Africa: Concerto for Alto Saxophone and Orchestra (piano reduction) by Hendrik Hofmeyr
8:40 AM
Gammage 301
Christopher Dickhaus
Premiere of trio for Saxophone, Harp, and Marimba
8:40 AM
Evelyn Smith Theatre
Justin Rollefson
Justin Rollefson
8:40 AM
Organ Hall
Dylan Ward
University of Missouri–Kansas City Saxophone Ensemble
8:40 AM
Nelson Fine Arts Center Plaza
Allison Adams
A Systematic Approach to Saxophone Fundamentals
9:00 AM
Ravenscroft
James Barger
James Barger Solo Recital
9:00 AM
Recital Hall
Nicholas Bissen
A Performer's Guide To Score Study
9:00 AM
W 218
Clifford Leaman
RoseWind Duo
9:00 AM
Evelyn Smith Theatre
Courtney Long
An Analytical Approach for Performance of Dorothy Chang's Two Preludes for alto saxophone and piano: Trichord Transformation and a Quest for Symmetry
9:00 AM
Gammage 209
Jay Mason
CSULB/BCCM Saxophone Ensemble
9:00 AM
Nelson Fine Arts Center Plaza
Stacy Maugans
Sycamore Duo Recital
9:00 AM
Katzin Concert Hall
Kevin Norton
Tales of the Electric Soprano: The Music of Judith Shatin and Joel Matthys
9:00 AM
Gammage 301
Mark Watkins
From the Inside Out: An In-Depth Resource for the Development of Saxophone Sound
9:00 AM
Gammage 311
Christopher Creviston
Arizona State University Saxophone Choir feat. Derek Brown
9:20 AM
Nelson Fine Arts Center Plaza
cindy cripps
Anches Trio
9:20 AM
Katzin Concert Hall
Gregory Dewhirst
A GD Duo
9:20 AM
Evelyn Smith Theatre
Edward Goodman
Classical Solo Performance: Premiere,
9:20 AM
Recital Hall
Matthew Castner
Matthew Castner
9:40 AM
Gammage 301
Joseph Lulloff
Michigan State University Saxophone Ensemble
9:40 AM
Evelyn Smith Theatre
Tyler Schaefers
Chen Yi, Chinese Folk Dance Suite
9:40 AM
Recital Hall
Myles Boothroyd
Publishing with The Saxophone Symposium
10:00 AM
Ravenscroft
Joshua Bryant
Joshua Bryant & The Aruna Quartet Perform Music for Saxophone & Organ
10:00 AM
Organ Hall
Erik Elmgren
Creative Placemaking and Saxophone in Higher Education: Music with Social Benefit
10:00 AM
Gammage 311
Elissa Kana
Music for Saxophone and Piano by Guillermo Lago
10:00 AM
Katzin Concert Hall
Nikolai Klotchkov
Applications of scientific research in saxophone playing and pedagogy
10:00 AM
Gammage 209
Rafael Powell II
Protest Music for Saxophone and Electronics
10:00 AM
Gammage 301
Michael Shults
Michael Shults NASA Performance
10:00 AM
Recital Hall
Ben Whittier
Lecture Recital: Musical Palindrome and Sonata Form: A Formal Analysis and Performance of Sonate Pour Alto Saxophone Seul by Jeanine Rueff
10:00 AM
W 218
James Barger
West Texas A&M University Saxophone Ensemble
10:20 AM
Nelson Fine Arts Center Plaza
Griffin Campbell
Revisiting Electro-Acoustic Pieces
10:20 AM
Evelyn Smith Theatre
Yue Lu
Rhapsody in Blue arr. Nagao
10:20 AM
Recital Hall
Ben MacDonald
Excursions for Tenor Saxophone and Piano by Josh Trentadue - World Premiere
10:20 AM
Katzin Concert Hall
Patrick Murphy
Contrasts
10:20 AM
Organ Hall
Claire Salli
New works for baritone saxophone
10:20 AM
Gammage 301
cindy cripps
UTRGV Saxophone Ensemble
10:40 AM
Nelson Fine Arts Center Plaza
Benjamin Nichols
Crossover Quartet
10:40 AM
Evelyn Smith Theatre
Greg Rife
Catching Light (world premier)
10:40 AM
Gammage 301
Nicki Roman
Nicki Roman, Solo Performance
10:40 AM
Katzin Concert Hall
Andrew Allen
SAGA Quartet Performs Di/con[ver(gence/sions)] by David Dzubay
11:00 AM
Recital Hall
Caleb Burkhardt
Onot - The Four Israeli Seasons
11:00 AM
Organ Hall
David Detweiler
Don Wilkerson and the Texas Tenor Tradition of Improvisation
11:00 AM
Gammage 311
James Flowers
Bridges Saxophone Duo
11:00 AM
Evelyn Smith Theatre
Ryan LeMoine
Lingual Exposé: 2.0 - Ultrasonographic Observations of the Tongue During Saxophone Performance
11:00 AM
Ravenscroft
Robert Lopez-Hanshaw
New Possibilities for the Microtonal Saxophone
11:00 AM
Gammage 301
David Stambler
Compositions for Saxophone by David Stambler
11:00 AM
Katzin Concert Hall
Matthew Swallow
MIDI Electronic Wind Instrument: A Lecture Recital on Its History and Classical Repertoire by Dr. Matthew J. Swallow
11:00 AM
W 218
Soren Hamm
Onomatopoeia Trio
11:20 AM
Evelyn Smith Theatre
Laura Kramer
New Work for tenor sax, baritone sax, and electroacoustic media
11:20 AM
Recital Hall
Cameron Miller
Lessons of the Sky by Rodney Rogers: A Guide to Performance
11:20 AM
Gammage 311
Jonathan Nichol
Power Through
11:20 AM
Katzin Concert Hall
Uday Singh
Stravinsky Octet with Aruna and Scio quartets
11:20 AM
Organ Hall
Nicholas Childs
Wet Ink Duos - Childs-King Duo
11:40 AM
Evelyn Smith Theatre
Elissa Kana
Colere Quartet
11:40 AM
Organ Hall
John Nichol
John Nichol Performs Marais and O'Riordan
11:40 PM
Katzin Concert Hall