2016 North American Saxophone Alliance Biennial Conference
Mark your calendars now to join us March 10-13, 2016 for the NASA 2016 Biennial Conference at Texas Tech University in Lubbock, Texas.
David Dees — Host
— Conference Program Committee Chair
— NASA Director of Marketing
#NASA2016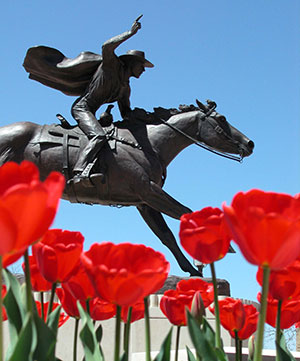 2016 North American Saxophone Alliance Biennial Conference
Texas Tech University
Lubbock, Texas
March 10-13, 2016
March 10 — Opening Concert : 7:30 PM
March 11 — Concerto Concert with Lubbock Symphony : 7:30 PM (Broadway Church of Christ)
March 13 — Closing Concert : 3:00 PM
David Dees — Host
2016 Biennial Conference Program Committee
Committee Chair: , Duke University
Brad Leali, Jazz Chair, University of North Texas
Julia Nolan, The University of British Columbia
Otis Murphy, Indiana University
Gene Smith, Kennedy-King College / City Colleges of Chicago
Wildy Zumwalt, The State University of New York at Fredonia
Conference Registration
Thank you for your interest in attending NASA 2016 Biennial Conference. Online registration is now closed. On-Site registration will be in the Red Raider Lounge in the TTU Student Union Building, starting Thursday, March 10, 3:00 - 7:00 PM, then 9:00 AM - 5:00 PM Friday and Saturday. Your NASA membership must be current in order to attend the conference. If you are not a member of NASA, you must join NASA first in order to register and attend. You can also renew your membership on-site when you register. If you have any questions about joining or NASA 2016 Biennial Conference, please contact the NASA Membership Director James Romain by or 515-271-3104.
Conference registration includes access to all conference concerts, master classes, lectures, etc., on a FIRST COME FIRST SERVED BASIS. Please note that the Opening Concerto Concert featuring the TTU Symphonic Wind Ensemble and TTU Symphony Orchestra will be held in TTU's Hemmle Recital Hall, with a seating capacity of 550.
Registration Type
Early
12/01/2015 - 01/31/2016
Regular
02/01/2016 - 02/22/2016
On-Site
After 02/22/2016
NASA Members — Includes Conference Program
Professional and Overseas Members
$85
$95
$130
Student
$55
$65
$80
Senior
$75
$85
$120
Other Registration Types — Additional $10 for Conference Program
(Available On-Site)
Composers
FREE
FREE
$25
Non-Saxophonist Collaborative Musician
FREE
FREE
$25
Spouses/Family
FREE
FREE
$25
Night Concerts Only (non-student)
$20
$20
$20
Night Concerts Only (w/ student ID)
$12
$12
$12
Extra Conference Program
$10
$10
$10
Day Passes —

Available On-Site

Day
Non-Student
Student
(w/ valid student ID)
Friday (includes night concert)
$60
$40
Saturday (includes night concert)
$60
$40
Sunday
$45
$25
Evening Concerts Only —

Available On-Site

Concert
Non-Student
Student
(w/ valid student ID)
Individual evening tickets will be sold to the Friday, March 11 Lubbock Symphony and Saturday, March 12 TTU Jazz Ensemble with Rich Parry. Due to space limitations, individual evening concert tickets will NOT be sold to the Thursday, March 10 opening concert.
Lubbock Symphony Orchestra - Concert Information
Lubbock Symphony Orchestra - Purchase Tickets
$20 per event
$12 per event
Posters and T-Shirts —

Available On-Site

Poster
T-Shirt
2016 Biennial Conference Posters and T-Shirts will go on sale at 9:00 AM on Friday March 11, in the exhibits. We have a limited supply of both.
$4
$15
Important Notes About Registration
We will be checking badges, and we don't want anyone to get upset for being turned away from a performance because they don't have a badge; thus, we have asked that all collaborative musicians (that wish to attend any performances) register for the conference. Please note that collaborative musicians must be registered by the NASA member whom they are collaborating with. The NASA member should list all collaborators when registering themselves. This will generate name badges for those collaborators. It is completely free (up until March 1). If the collaborative musician isn't going to attend any concerts, then they don't need to be registered.

The same applies to non-saxophonist composers and non-saxophonist spouses. Registration is free (until March 1), and required if they wish to attend any performances. Saxophonist spouses and composers, if they are performing, must join NASA as either professional or student members, and also register for the conference.

Cancellations after March 7, 2016 will not be eligible to receive any refund.

Day Passes can be purchased at the NASA registration table in the Red Raider Lounge in the Student Union Building (connected to the Music Building). Day Passes do not include program booklet.

Evening Concerts Only tickets to be purchased directly from the ticket office. Limited availability.

Registrants will be seated on a first-come, first-served basis for the Thursday night concert.
Exhibiting and Advertising
The 2016 North American Saxophone Alliance Conference would not be possible with out the generous support of our sponsors, exhibitors, and advertisers. With nearly 1,000 saxophonist expected to attend this four-day event, it is a great opportunity for vendors to showcase their products to amateur and professional saxophonists from around North America. A limited number of Premium Sponsors will be available during the 2016 NASA Conference. These sponsors will help support the prizes of the five competitions that are run during the conference and are a great way to support students' educational and performance achievements. Please see our information on exhibitors and advertising for the 2016 NASA Conference.
Lubbock Weather
#NASA2016